Oh they'll be plenty kind to both our cards. I can all but guarantee that we will both be able to play Crysis maxed...or pretty close.
Quote:
I would what the HD 2900XTX can bring to the table.
They use duct tape around all of the motherboard components surrounding the area with the mousepots. The duct tape prevents the LN2 from creating frost, which turns into water in the outer, warmer areas...thus shorting VRMs.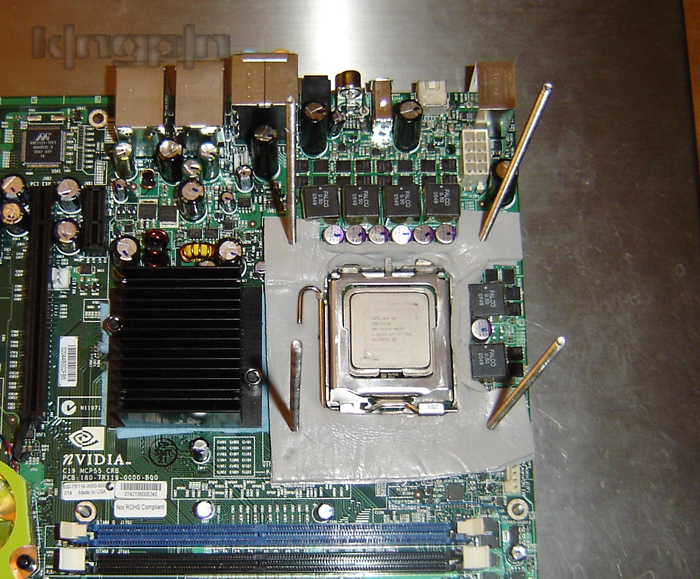 CPU
Motherboard
Graphics
RAM
4930K @ 4.6 GHz
ASUS Rampage IV Black Edition
MSI GTX 1080 FE Heatkiller Acetal
16 GB Corsair Vengeance 1600C9
Hard Drive
Optical Drive
Cooling
OS
2x Samsung 840 Pro
ASUS DVD-RW SATA
Koolance 380i & 2x HW Labs 480GTX
Arch Linux x86_64, Windows 7 x64
Monitor
Keyboard
Power
Case
LG UC88-B Ultrawide, ASUS VS278Q
Ducky
Corsair AX1200i
Caselabs STH10
Mouse
Mouse Pad
Audio
Logitech G500
Func 1030
ASUS Xonar Essence STX
View all
hide details
CPU
Motherboard
Graphics
RAM
4930K @ 4.6 GHz
ASUS Rampage IV Black Edition
MSI GTX 1080 FE Heatkiller Acetal
16 GB Corsair Vengeance 1600C9
Hard Drive
Optical Drive
Cooling
OS
2x Samsung 840 Pro
ASUS DVD-RW SATA
Koolance 380i & 2x HW Labs 480GTX
Arch Linux x86_64, Windows 7 x64
Monitor
Keyboard
Power
Case
LG UC88-B Ultrawide, ASUS VS278Q
Ducky
Corsair AX1200i
Caselabs STH10
Mouse
Mouse Pad
Audio
Logitech G500
Func 1030
ASUS Xonar Essence STX
View all
hide details