For all you P180 owners, i have pics posted of how you can manage your cables. hope you find this useful. btw, my p180 is the older version that does not have the cool little extras that the newer p180/p182's come with, Like pre-drilled holes for water cooling or the holes already cut out on the mobo backplate..
The Evolution of my P180.......
Here is the old set up.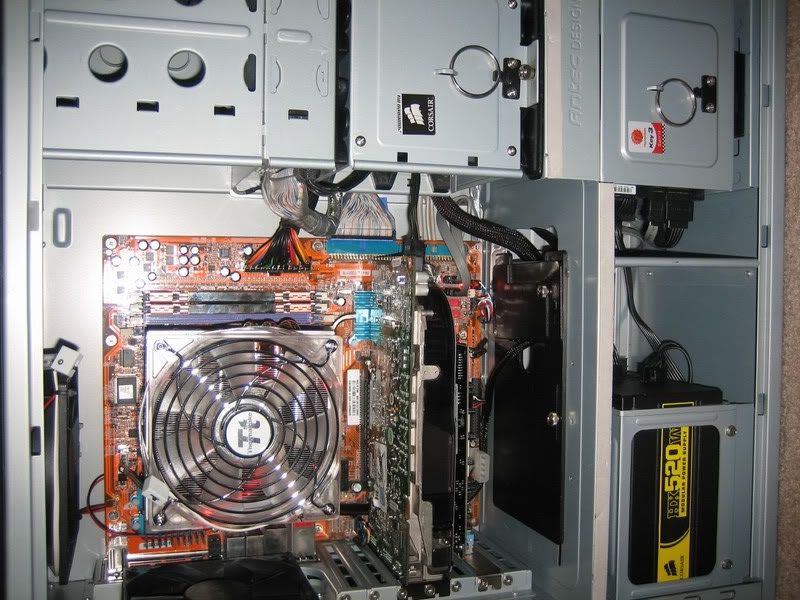 UPDATED PICS 10/26/2007
I recently upgraded to a C2D e6750 with an Abit IP35-E mobo with some Crucial Ballistix. So with this I decided to fix a few things when installing it this time around.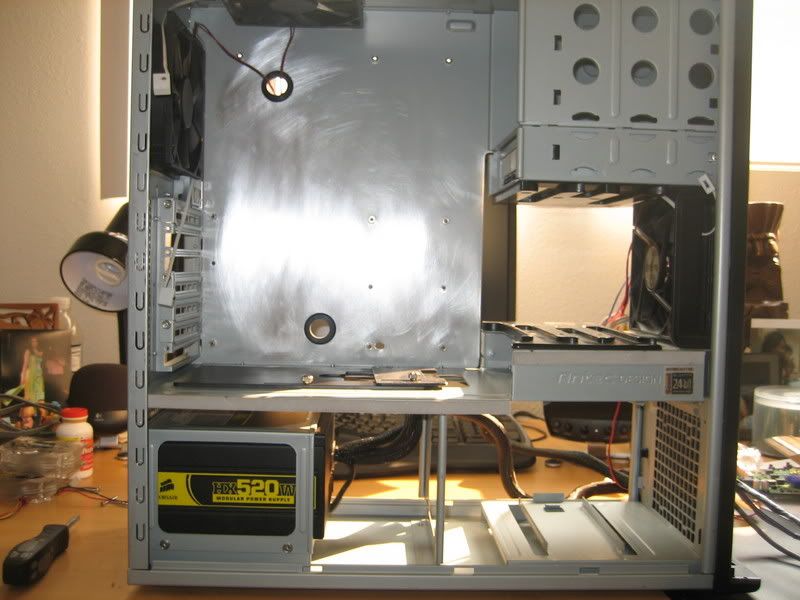 First and foremost, I wanted to make my case look a lot cleaner and the first thing I did was to remove all the components. Next you will notice that my case has two 1 inch holes drilled (with a hole saw) with two 1 inch rubber grommets (from Home Depot, 90 cents). This way I could route the wires through the back. I also removed the rails for the lower hdd cage, and I also removed the metal piece that was in front of the drive cage. Below you can see the fan sitting in the square piece that I removed.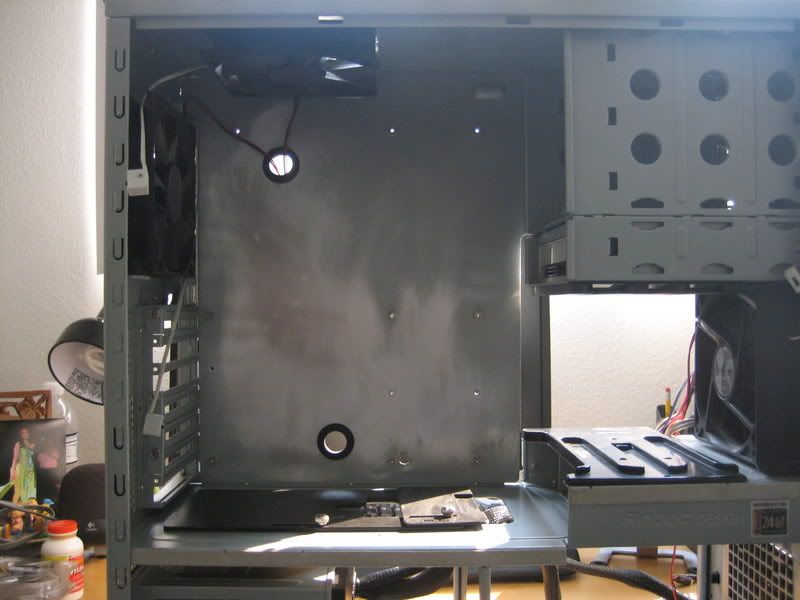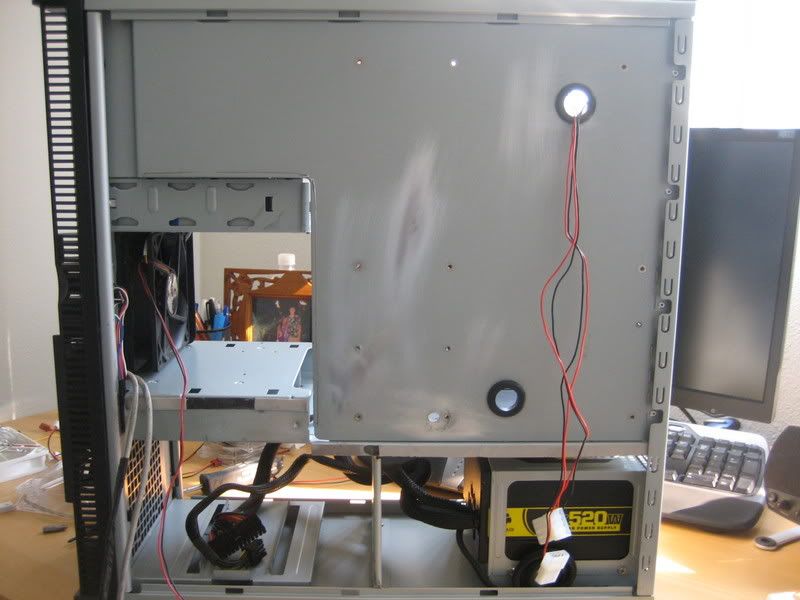 Here is a shot from the other side.
I removed the rails the top hdd cage too. In the bottom chamber is where there was a a piece that was attached to the case with rivets ( I had a black fan here in one of the pictures above.) I just popped them right off and made sure not to bend anything. It came off easy. Also if you cant tell, I filed down an area for the front panel wires and I ran them through that space along the 3 1/4" drive slot.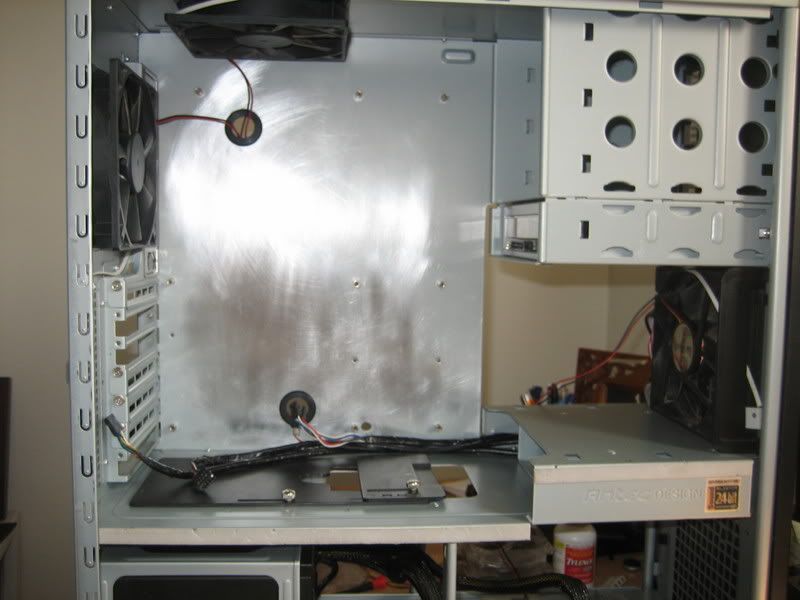 Here is a better shot of whee the front panel wires come out. I used black tape because I didnt have any wiring sleeves (ghetto!).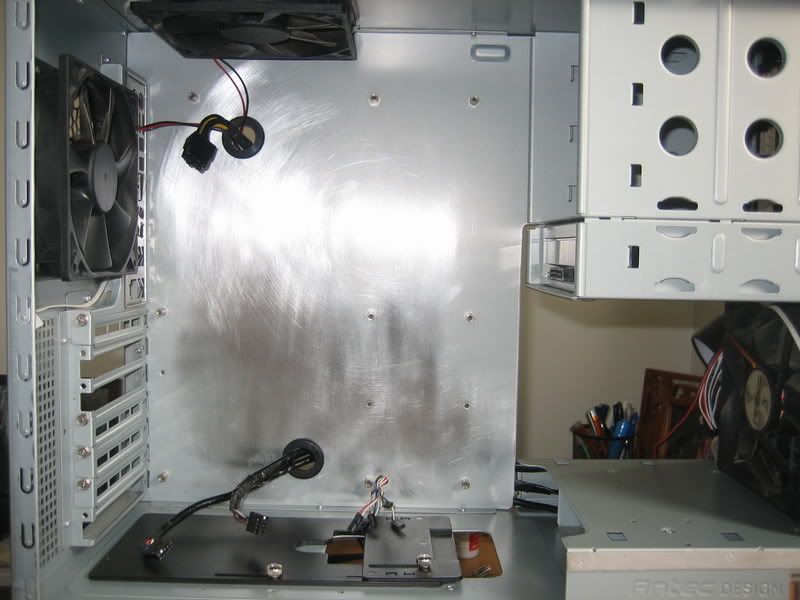 Now I have the front panel wires coming through the holes I cut out.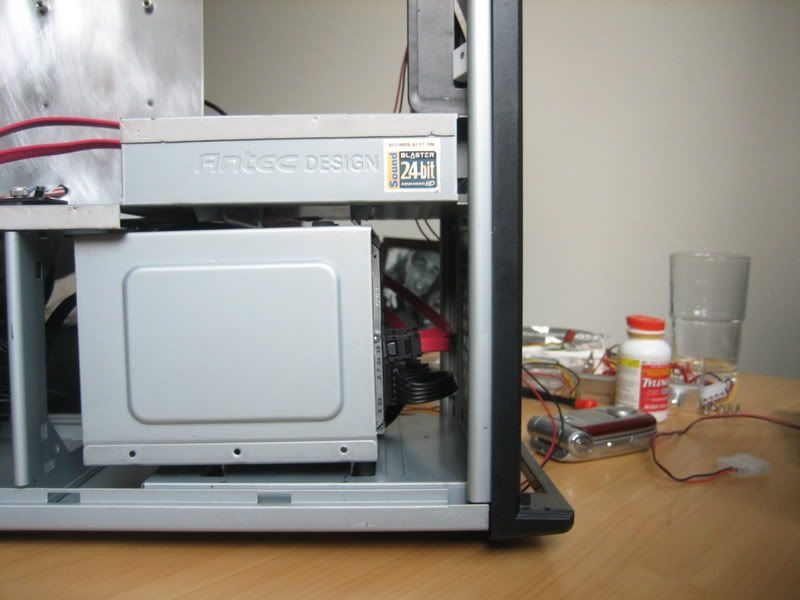 I took out the rails for the hdd cage so I could fit the cage in leaving enough space for a 120mm fan. I also turned it the other way around so I could hide the wires of my hard drives.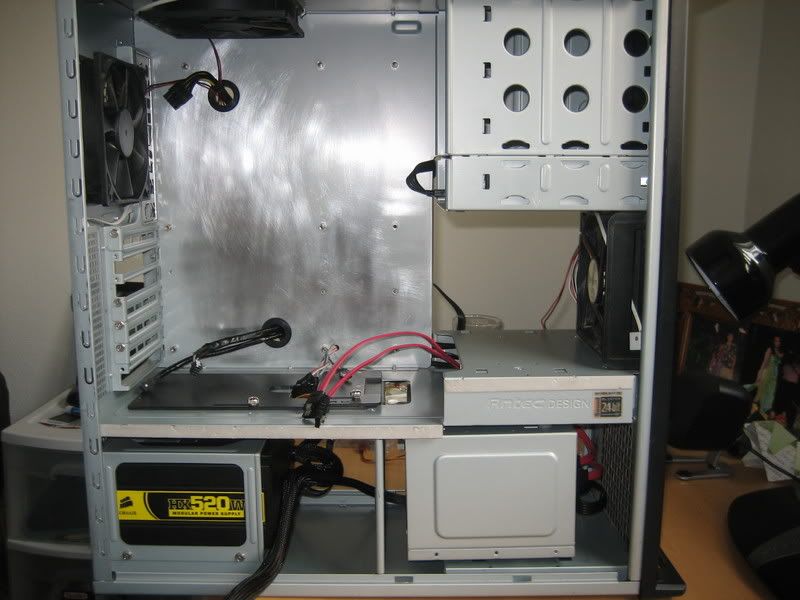 I was finally able to fit a 120mm fan in the lower hdd chamber after removing some parts of the case. Now I have 2x 120mm intake fans and 2x 120mm exhaust fans.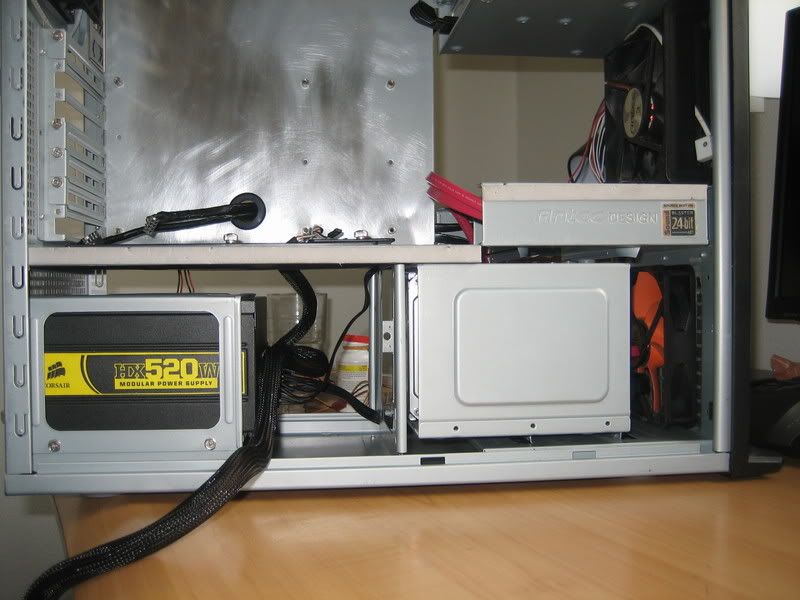 Here are is a shot of the back side of the case with most of the wires in their proper places.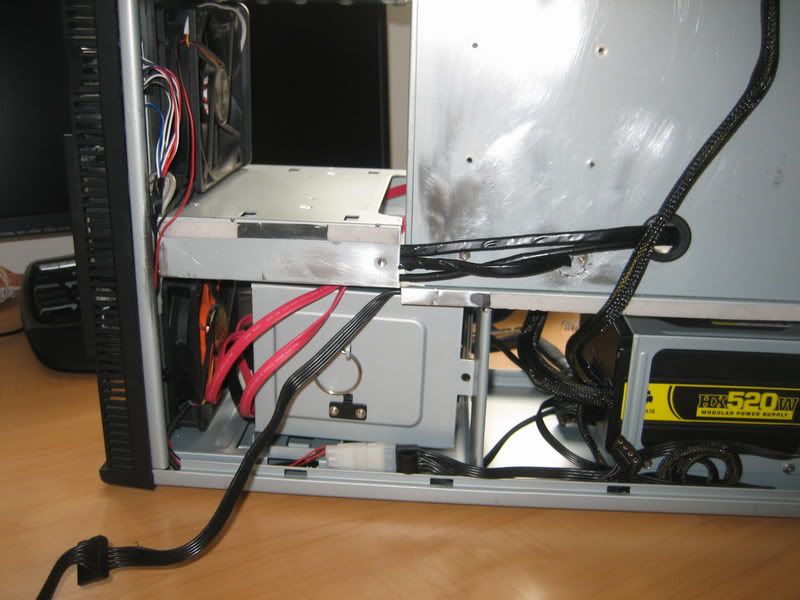 The motherboard was easy to get in but had to watch out for all the wires coming out from the holes I cut. I didnt want any to get stuck behind it.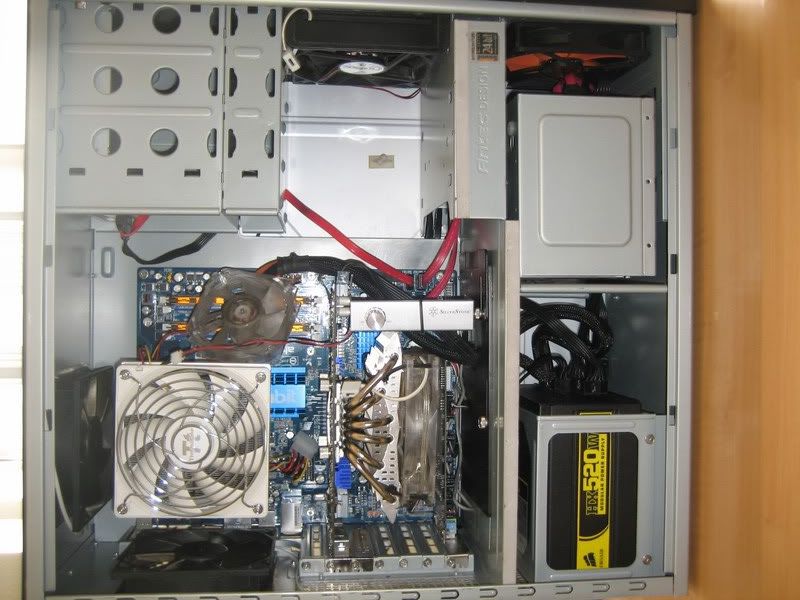 Everything is in now. I also put an extra 80mm fan on my Ballistix.
Any feedback or advice on what i should/could change is greatly appreciated.
New Pics Added 02/05/2008
Since I fried my Abit IP35-E motherboard I had to buy another one while this one is being shipped back for RMA service.
I got a Foxconn Mars and so far havent done much other than reformatting the HDD.
Here are some pics though with the new motherboard in place and with my new Thermalright Ultra 120 Extreme. I also did some other stuff to the case. Have yet to paint it though.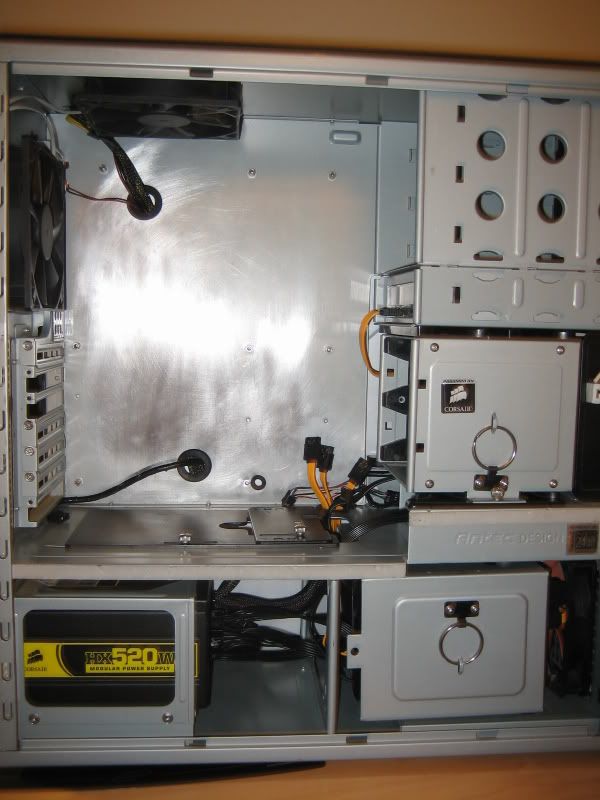 If you noticed I put the middle HDD cage back in because I am using it to hide wires behind. I have the 24-pin psu cable back there, as well as a sata cable and a sata power cable. I used a dremel with reinforced cutoff discs to cut out a 1 inch section. I also had to cut out a section of the black plastic rail that is used to guide the HDD cage in to place. I cut out a 1 inch section of that as well. I didnt get a picture of that, sorry. I will post pics of that soon when I have time.
It looks a lot cleaner now doesnt it.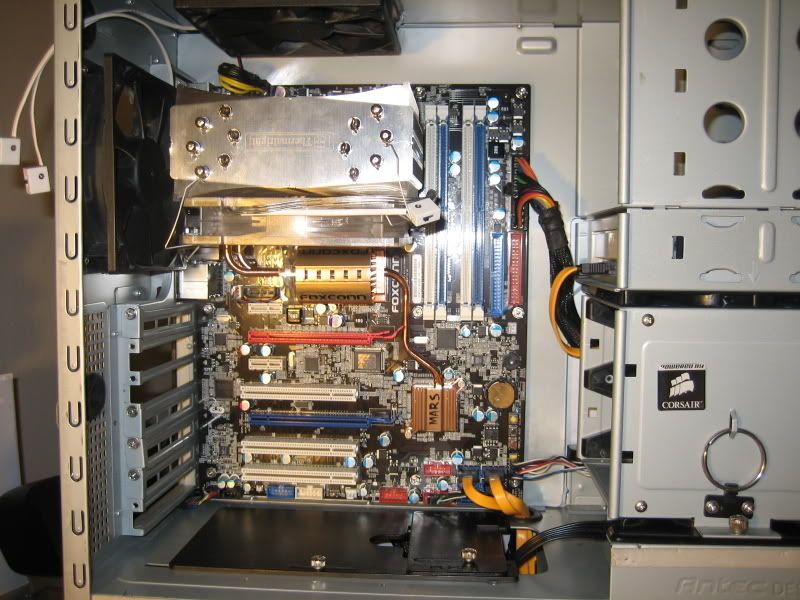 I wanted to have my TRUE120 blowing out the rear exhaust fan not the top, but it would not fit because of the NB heatsink is too big. Oh well. the heat is still blowing out of the case, but through the top exhaust now.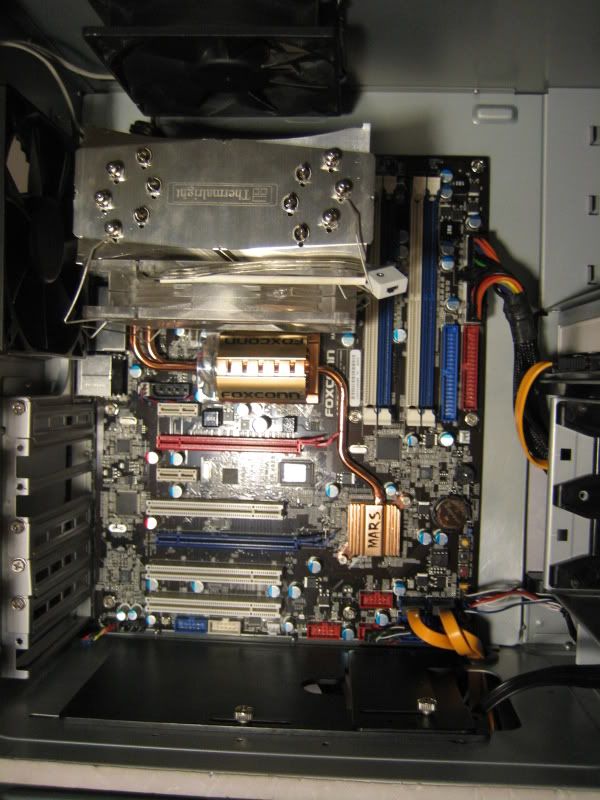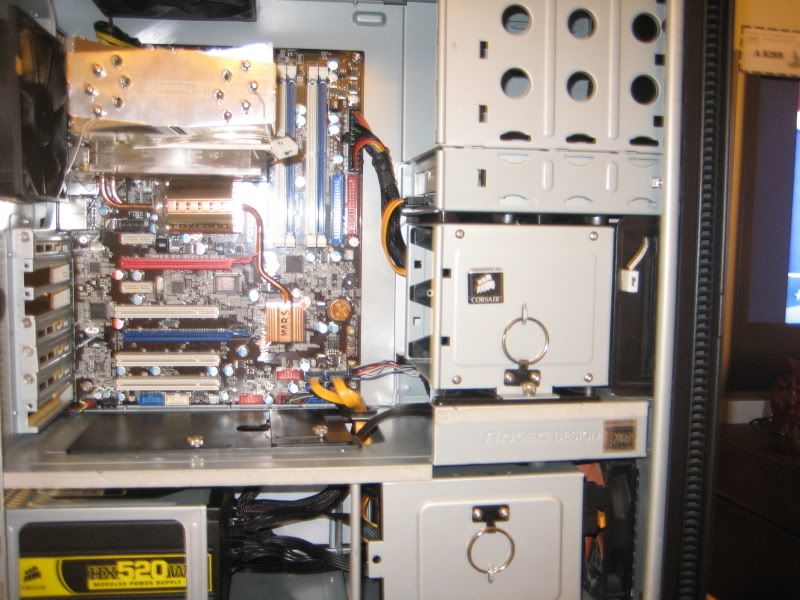 Now I have everything installed and it is looking good. Still waiting on that paint job now.
I forgot to take pics of the back with the rear side panel off
Will post more some time this week.
Pics of the new paint job
02-24-2008
i know it not the greatest paint job but it looks ok for now. i used Dupli-Color sandable primer and bumper coating (black). i taped off the top portion so i dont get paint all over it.
here is the finished product with most of the parts in it. looks a lot better in black.
in the top right i have some paint that looks a little rough. i was too lazy to fix it LOL, and it is freezing out here at my parents house. painting in the cold when it is raining isnt recommended either. oh well. looks good enough for the time being. summer is coming up and i can paint it again.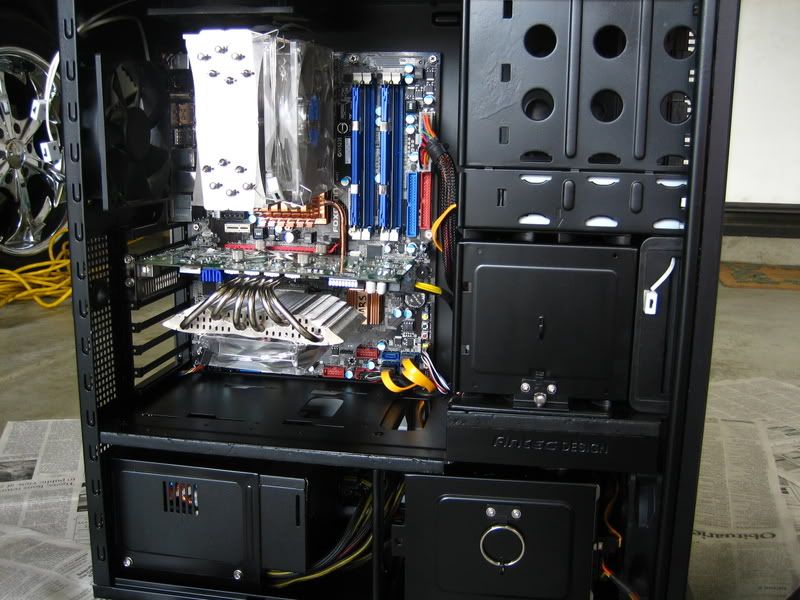 i guess i couild make a projct log out of this
next i plan on painting the side panels. who know when that will be though
NEW PICS **08/11/2008**
Now I have a P5E motherboard with an HD4870 in as well. Also added HR-05 SLI NB cooler and Enzotech SLF-1 SB cooler with fan.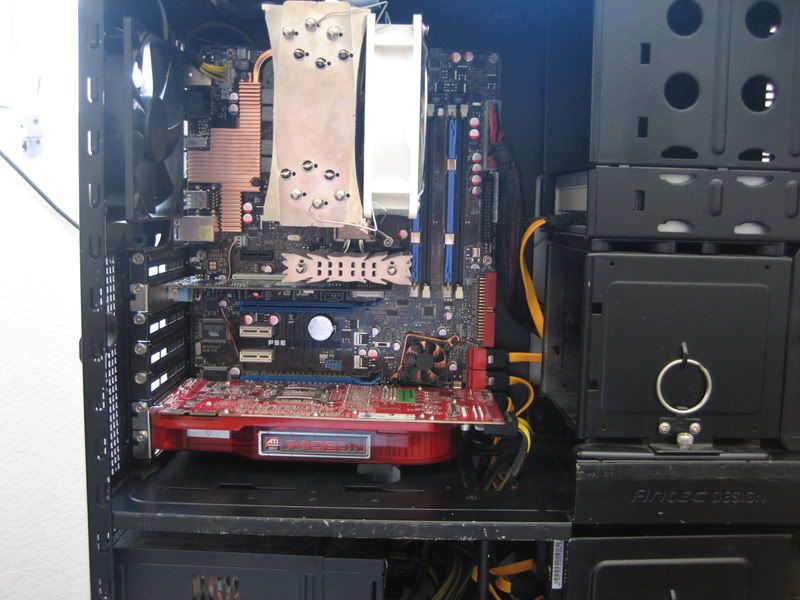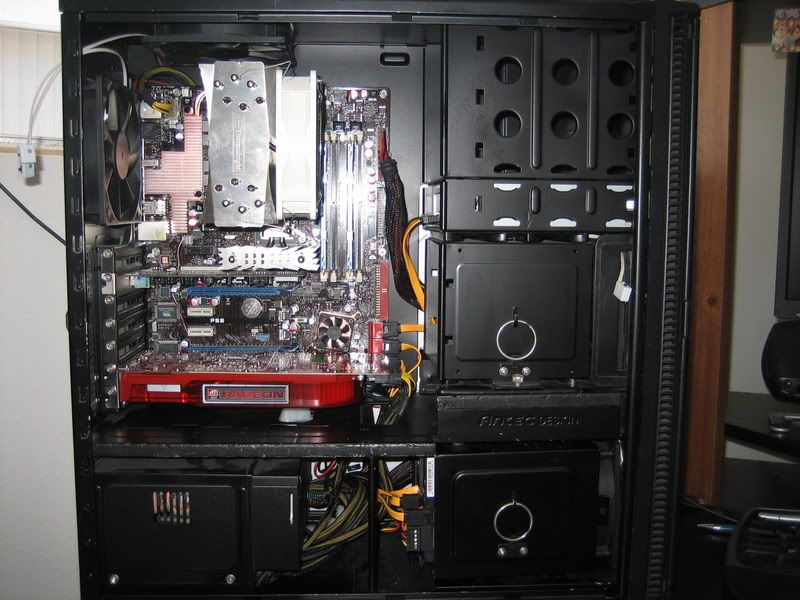 I need a new paint job
I think I am going to go with a black and red theme, maybe paint the case black again but throw some red on both HDD chambers and the PSU cage. I dont know yet.
Edited by spacegoast - 8/15/08 at 12:27am