How to erase ALL hard disk data, securely
Intro
One of the most common questions I answer to people is "how do I format this disk so people cant get my files?". Of course, there are several reasons why you might want to securely destroy and overwrite all data;
Selling the hard disk and dont want people snooping at your personal data
Concerned about identity theft
MFT / MBR corrupt and not repaired with a windows reinstall
You have had Linux installed, then gone to install Windows and GRUB remains
For this guide, I'll go through my personal favourite, "Active KillDisk".
Other software that may do the job, but may not be as secure
Total Wipe Pro
http://www.freedownloadscenter.com/U..._Download.html
Dariks Boot N Nuke
http://dban.sourceforge.net/
How to securely format using Active Killdisk
When you delete a file, Windows changes a special byte and marks the occupied space as free space,
but the file contents remains unchanged on the disk
, the same goes for Windows formatting. The MBR and filing tables have all their entries removed, as do the file location entries on the disk.
The software works on the physical level via the BIOS, bypassing the operating systems logical drive structure organization. Thus it does not matter which operating systems and file systems are on the machine, it can be DOS, Windows 95/98/ME, Windows NT/2000/XP, Linux, Unix for PC, and also on ANY physically connected drive.
It wipes to the following standards (in order of increased security)
One Pass Zeros (Secure, fast)
One Pass Random
US DoD 5220.22-M
German VSITR
Russian GOST p50739-95
Guttman (Extremely secure, extremely slow)
The Free version of Killdisk only allows One Pass Zeros. This is fine for people selling on hard disks, that have just been used for surfing, games, and word processing, as most home file recovery software will now not be able to recover any data.
If you ever did anything on your machine that could be used for identity theft ie. Online Banking etc, it is highly recommended to perform a US DoD 5220.22-M wipe at minimum, or destroy the drive, as people who are more determined, will try harder to retrieve data.
How to use the software
Get yourself to
http://www.killdisk.com
and download the .ISO file, then burn this image to a CD.
Put this in the computer, and tell it to boot from CD.
1. When the CD has booted, choose the 2nd option, "Active Killdisk"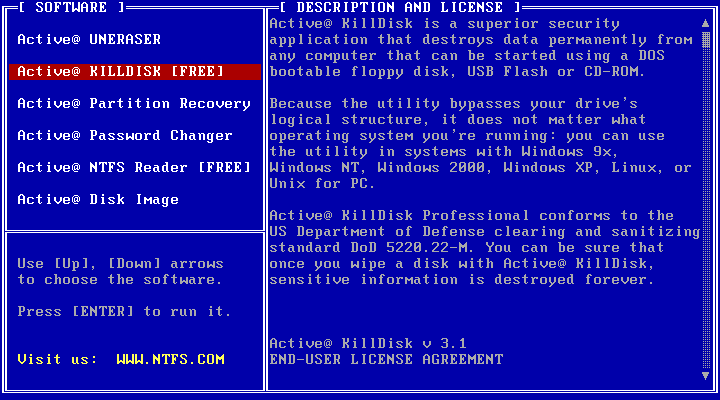 After a moment, the Killdisk main screen shows:
Down the left hand side, are all drives connected, as detected by the BIOS. As you can see, I have a 10GB hard disk attached, with 2 partitions, Local Disk (C), and "Unallocated" (8MB).
The top floppy drive is the physically connected A: drive, the Virtual Disk Drive is an emulated floppy drive. These will change depending on your setup.
If you scroll to highlight the partition it also tells you more information about it including file system, volume label (If any), serial number, sectors, and total size. You have the option to preview sectors by pressing Ctrl+S but to most people, does this actually mean anything??
You can now choose to erase a partition, or a drive. In the image showing the erase methods available, i have had a partition selected (note it has chosen a sub-level under Hard Disk Drive.
Now to format...
Scroll up and choose the drive to erase, then press F10, you get this screen;
Erase method is set to One pass zeros (only option available in free, and secure enough for most purposes)
Passes = 1 (no point writing 000000 over 000000). For random methods such as 000xf00 and 0xf00f then running multiple passes will really scramble things up.
Verification; not really needed for home use. Businesses with very confidential data may wish to run this to make sure its all gone.
Retry attempts; if the drive fails to complete the format for whatever reason, it will try again, this many times
Ignore Errors; nuff said.
Skip Confirmation (not recommended), see below

Once done, select confirm and erase, and press enter



if you're 100% sure, do what it says, no going back once you've done it.

The bottom section of the screen will update on the progress. For large drives (100GB+), this can take the best part of a half day to do, depending on speed. It'll then update with its log screen





When complete, press ESC to exit, reboot, and with no CDs in the drive, you should get something like this;



Jobs a good'un

You can now reinstall any OS as normal, more importantly you can sell your drive on knowing that they cant easily recover your deleted data.






Failing these methods, theres always this.....

My 1st how to, I hope it helps some people.

Extra info / Thanks to;
Demoship
ra2shadow
redsox83381


CPU
Graphics
RAM
Hard Drive
Core 2 Quad Q8400
XFX 9500GT 1GB
8GB
2x Raptor 160GB - RAID 0
Optical Drive
OS
Monitor
DVD-RW
Windows 7 Ultimate x64 SP2
2 x 2207WFP
View all
hide details
CPU
Graphics
RAM
Hard Drive
Core 2 Quad Q8400
XFX 9500GT 1GB
8GB
2x Raptor 160GB - RAID 0
Optical Drive
OS
Monitor
DVD-RW
Windows 7 Ultimate x64 SP2
2 x 2207WFP
View all
hide details