I've seen many posts asking the difference between the x38 and P35 chipsets, so here you go:
Source:
X-bit labs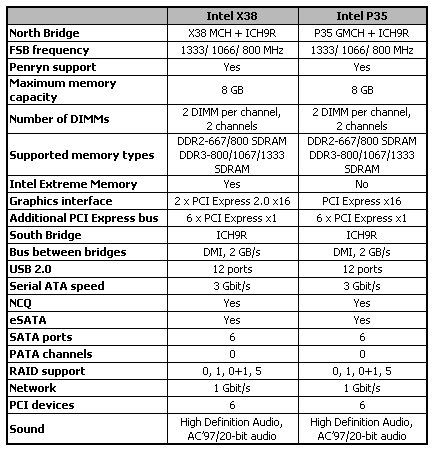 Quote:
The newer chipset acquired XMP (Extended Memory Profiles) technology support. It is somewhat similar to Nvidia EPP (Enhanced Performance Profiles) Intel introduced for DDR3 SDRAM. In fact, it implies SPP extensions with information needed to use these memory modules for overclocking needs. Corresponding profiles added to the SPD bear the info on frequency, voltage and timings settings.

These are about the only differences between X38 and P35. However everything we have just mentioned turned out more than enough to require significant changes in the North Bridge of the new core logic. Of course, it affected the heat dissipation in the first place. The Intel X38 North Bridge features 36.5W typical heat dissipation, while the same characteristic for Intel P35 equals only 16W. Although the new chipset is manufactured using pretty up-to-date 65nm production process, the high TDP forced Intel to equip the chip with the same type of a heat-spreader lid that we have only seen on CPUs and server chipsets before.

Intel X38 chipset costs $50, which is about $20 more than the price of Intel P35.