Quote:
Originally Posted by
ericeod
Here is what I've got so far with my DDR3. I am by no means done tweaking it. But you really have to dig into the sub timings to squeeze more performance out of the modules. I have all my primary timings, as well as Command rate and tRFC set in bios. All other timings I set using memset. these settings are stable 9hrs Prime95. I cant wait for the X48 bios version of the Maximus Extreme (I think it is the Pinot Noir).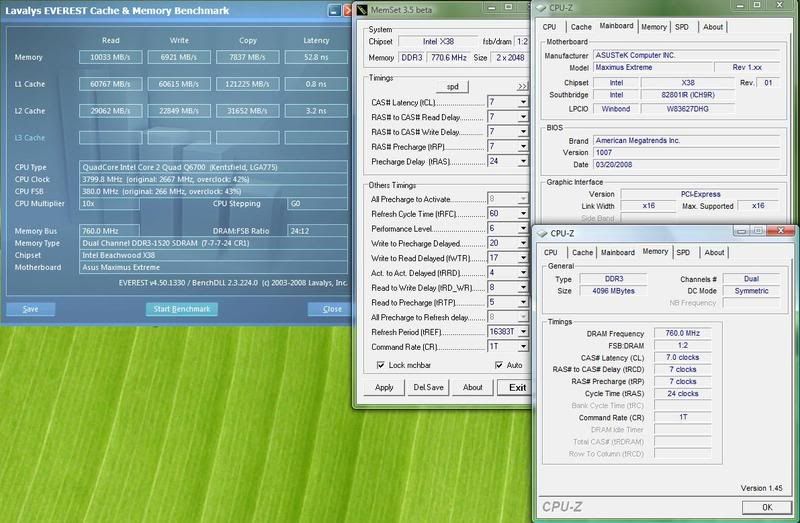 That's what I was afraid of when I saw the timings on DDR3. CAS 7-8 at 1600MHz (one clock=0.625ns) is nearly the same as CAS 6 at 1200ish (one clock=0.83ns) or CAS 5 at 1000ish. If you do the math, CAS 8 @1600 and CAS 6@ 1200 are exactly the same....5.0ns.
Still though, you're getting over 10K read and under 60ns which ain't too shabby. I think with some serious work you could see up to 15% better performance- should you be able to break the 800MHz barrier. You can do it ...I know you can!
CPU
Motherboard
Graphics
RAM
Q6600 SLACR L727A903 1.2875VID (450*8)@1.40V
Maximus Rampage X38
Visiontek HD4870(512) 825/1100
4x1G Elpida E5108AJBG 8E 1128MHz 4-5-5-15 PL6 2.1V
Hard Drive
Optical Drive
OS
Monitor
6X 500Gb 7200.12: 4X & 2X RAID 0 arrays
Memorex 52X/Pioneer 16x CD/DVDRW
Host:Vista Ultimate X64 SP1 Guest:Ubuntu Linux
2x Samsung 941BW 4ms LCD
Keyboard
Power
Case
Mouse
Natural Ergonomic 4000
Thermaltake Toughpower 700W
Silverstone TEMJIN06 B/W
MS 3button optical
Mouse Pad
none baby......they suck
View all
hide details
CPU
Motherboard
Graphics
RAM
Q6600 SLACR L727A903 1.2875VID (450*8)@1.40V
Maximus Rampage X38
Visiontek HD4870(512) 825/1100
4x1G Elpida E5108AJBG 8E 1128MHz 4-5-5-15 PL6 2.1V
Hard Drive
Optical Drive
OS
Monitor
6X 500Gb 7200.12: 4X & 2X RAID 0 arrays
Memorex 52X/Pioneer 16x CD/DVDRW
Host:Vista Ultimate X64 SP1 Guest:Ubuntu Linux
2x Samsung 941BW 4ms LCD
Keyboard
Power
Case
Mouse
Natural Ergonomic 4000
Thermaltake Toughpower 700W
Silverstone TEMJIN06 B/W
MS 3button optical
Mouse Pad
none baby......they suck
View all
hide details