First of all, this is not my invention. I have seen a while ago something similar on
www.silentpcreview.com
, but the materials and the "how to" are from my personal experience.
The fact it's an 1$ method should not make anyone think it's a cheapo way to improve something, it is the only way to do it. You can try rubber mounts and plastic screws, but they give unsatisfactory results in my book. This is cheaper and better with the following disadvantage: the HDD is suspended in mid-air, so there is a high risk of flapping it against the case if you move the rig a lot, so it's a no-go for lan-boxes.
What you gain with this method is a dead quiet HDD, no matter what brand/speed it is. When I say quiet I mean it will erase especially those annoying rattle/chainsaw noise when it's searching for something that is very noticeable on Seagate HDDs and WD Raptor. This was tested on my RAID-0 Seagate 7200.10 matrix, a friend's Raptor X and my server's Fujitsu 5400rpm 6.4GB.
They say a picture's worth more than a thousand words, so here's the basic:
What you need:
- the HDD (blue) and a free 5.25" bay (black)
- some 20cm (14inch) per HDD of rubber or elastic bands - 1$/meter from any general store
- optionally you'd need a fan

How to do it:
- clear the 5.25" bay of anything it may have inside
- the walls of the 5.25" bays usually have 2 holes for each side where you can insert the elastic bands; start from one side (from outside-in), traverse the 5.25" bay, get it out thru a hole on the other side and then get it back thru different holes that are just above/below the ones you used the first time.
- tie a knot and you have one of the supports
- make a second support
- put the HDD in and enjoy the silence
Optional fan:
WHY a fan? HDDs produce a lot of heat (especially if you're having Raptors or Seagates). The heat usually transfers to the case by the means of direct contact between the HDD and the case when pressed in a 3.5" bay. Applying this method to silence the HDD removes this contact and I noticed the temp rising from 44°C to 55°C, quite dangerous. This is maybe a worse case scenario because I have an awfully crowded case and two Seagates in Raid-0 which are by no means "cool". The Raptor was even worse, its temp rose above 60°C without the fan (from 54°C before the mod). The Fujitsu was as cool as always, its 5400rpm allowing it to stay cool - so no fan needed.
A 80mm fan on 5V (low speed inaudible) has reduced the temp by 12-15°C. In my case it was a necessity, I don't even dream on letting my disks at over 50°C. It's likely that any modern HDD (maybe except Samsung) needs this fan if you're to do the mod.
That's it, enjoy.
*EDIT There are some very good pictures on ericeod's post if you'd like to scroll down to no18.
*EDIT2 Some more pics, courtesy of diligenthunter (post 43):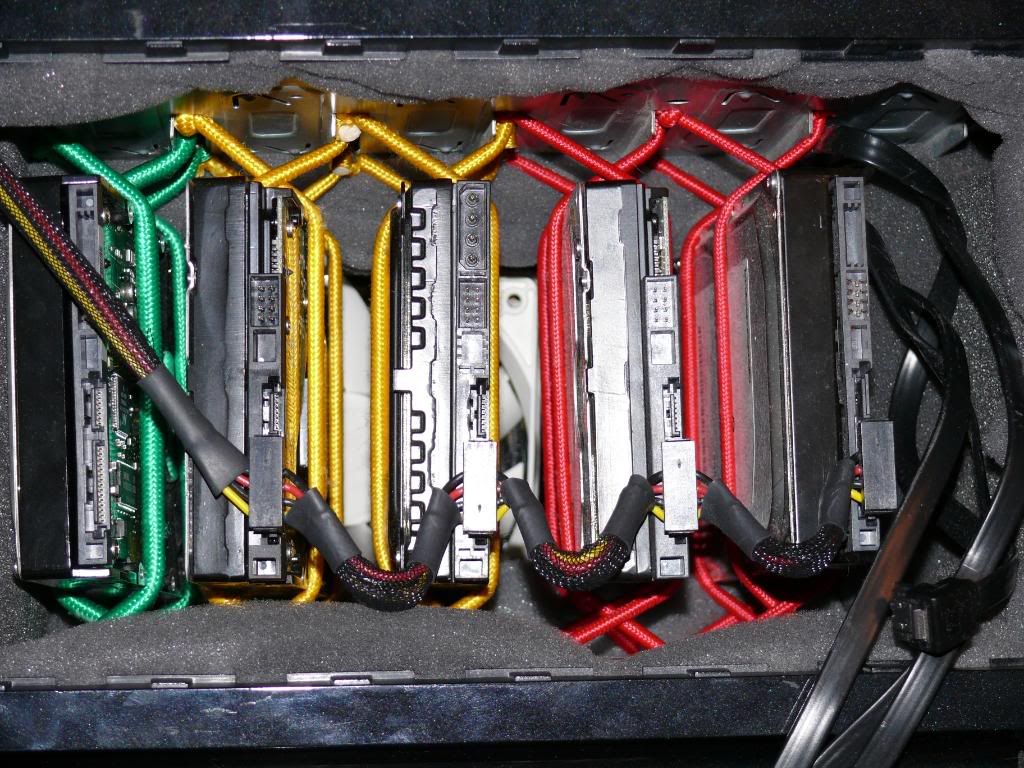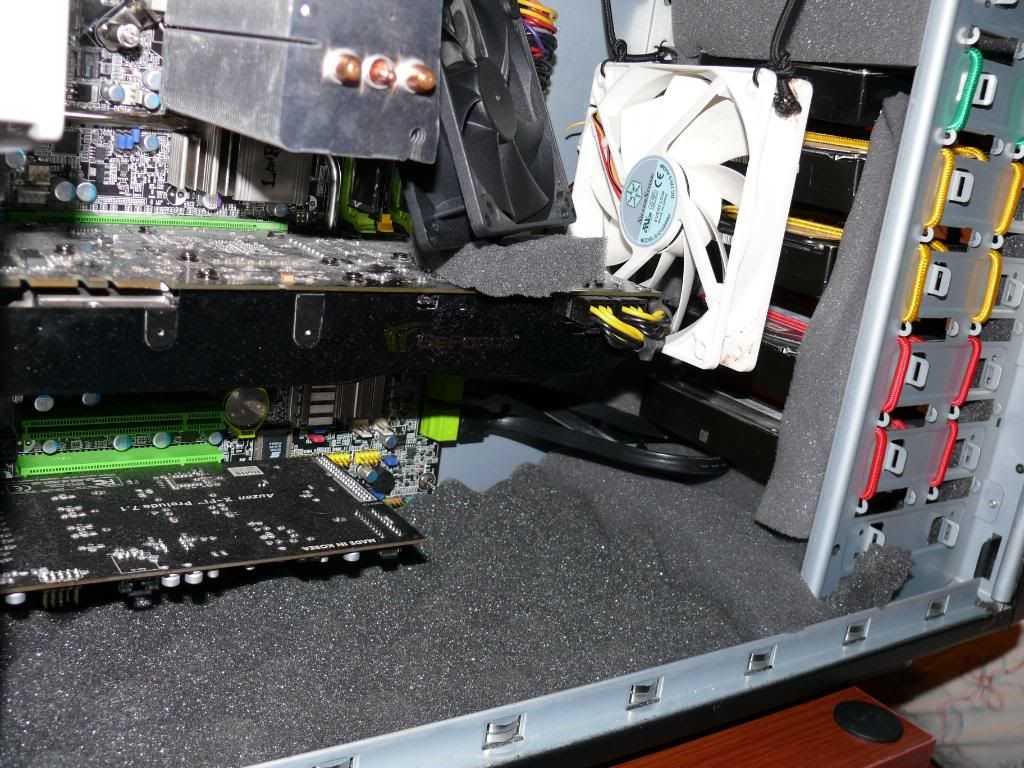 Edited by dragosmp - 3/22/09 at 9:58am
CPU
Motherboard
Graphics
RAM
Phenom II 940 @3.3GHz 1.25V
Gigabyte 790X-DS4
XFX 5850
8GB OCZ DDR2-800
Hard Drive
Cooling
OS
Monitor
Corsair Force 3
TRUE
Win 7 Pro x64
ACER 23" TN
Power
Case
400W Silverstone Strider
Antec P182
View all
hide details
CPU
Motherboard
Graphics
RAM
Phenom II 940 @3.3GHz 1.25V
Gigabyte 790X-DS4
XFX 5850
8GB OCZ DDR2-800
Hard Drive
Cooling
OS
Monitor
Corsair Force 3
TRUE
Win 7 Pro x64
ACER 23" TN
Power
Case
400W Silverstone Strider
Antec P182
View all
hide details