Program Category:
Benchmarking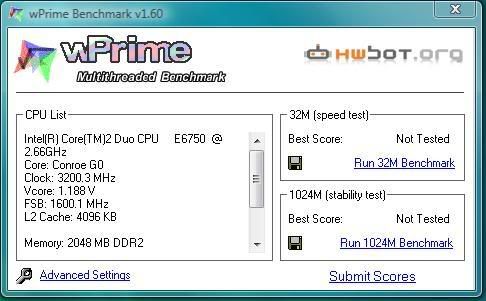 Multi-threaded benchmark
Uses 100% of CPU while running
Uses CPU-Z to retrieve hardware information
Both 32M and 1024M tests are benchmarks recognized by hwbot.org and you can submit them directly to their database by simply pressing the "submit scores" button found in the application.
This application is used to test your processors performance. A suitable example of this style of threading is
Folding@Home
which allows you to run several instances of the work at any one time.
Current Version:
2.00
Publisher:
http://www.wprime.net/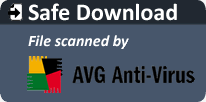 CPU
Motherboard
Graphics
Hard Drive
Q6600 B3
Asus P5K-C
8800 GTS 320
Seagate 7200.10 320GB, WD Caviar Green 2TB
Optical Drive
OS
Monitor
Keyboard
LG DVD DL writter
7 Ulitimate
Asus VS248H (1920*1080)
Logitech Illuminated
Power
Case
Mouse
PCP&C Silencer 750
Antec 900
Razor Lachesis
View all
hide details
CPU
Motherboard
Graphics
Hard Drive
Q6600 B3
Asus P5K-C
8800 GTS 320
Seagate 7200.10 320GB, WD Caviar Green 2TB
Optical Drive
OS
Monitor
Keyboard
LG DVD DL writter
7 Ulitimate
Asus VS248H (1920*1080)
Logitech Illuminated
Power
Case
Mouse
PCP&C Silencer 750
Antec 900
Razor Lachesis
View all
hide details