Thanks for stopping in pjlietz.
Quote:
Originally Posted by
prosser13
How much were those knobs? Any chance of getting some shipped over?
Hiya prosser.
They weren't too bad in the scope of things, but I guess for just knobs with no technology attached, they weren't too cheap. $5.66 USD each before shipping. I sent them an inquiry to see if they shipped overseas.
(If they do, they have a host of different sorts to choose from. All different finishes, materials, and sizes)
I had the afternoon off, so I made a little progress on the front bezel today.
Last installment you saw where I cut holes for the new switches. That little groove running vertical down that right side didn't look too conducive to a clean install of flush mounted switches. The solution was to give them a clean mounting surface.
First, I decided that I would future proof myself, and made allowances for a solid switch mounting in the lower right corner of the bezel as well. Last night I used epoxy, but this afternoon, I just super glued a bit of un-used steel mesh in place. Both the super glue and the JB-weld held fine for me while filing and what not:
It's kind of hard to see in the photo, but I filed down the edges of the steel to a pretty solid bevel. I knew those edges would be a bear down the line when I was trying to finish everything off with the body filler.
There were a few places I wanted to reinforce a bit with stranded filler, so the whole bezel got a good scuffing. You can make out in this photo where I used the straight file to knock off the high spots. I taped off anywhere I didn't want to get the fiberglass on just to be safe:
The rule of thumb I was always taught was a golf ball sized dollop of filler to one inch strip of hardener:
Five minutes later, you're done, whether you want to be or not.
Sanded down the fiberglass, and laid on a bit of lightweight filler. Sanded that too: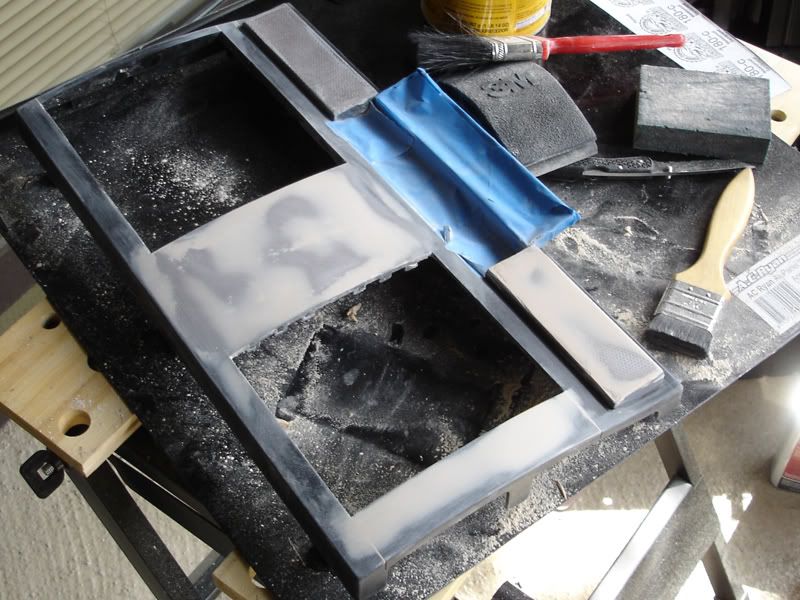 I didn't much care for the workability of the filler I bought, so I tried some spot glazing putty. I'd never used this stuff before. It dries pretty slowly, but its relatively easy to work with, not having to use a hardening agent: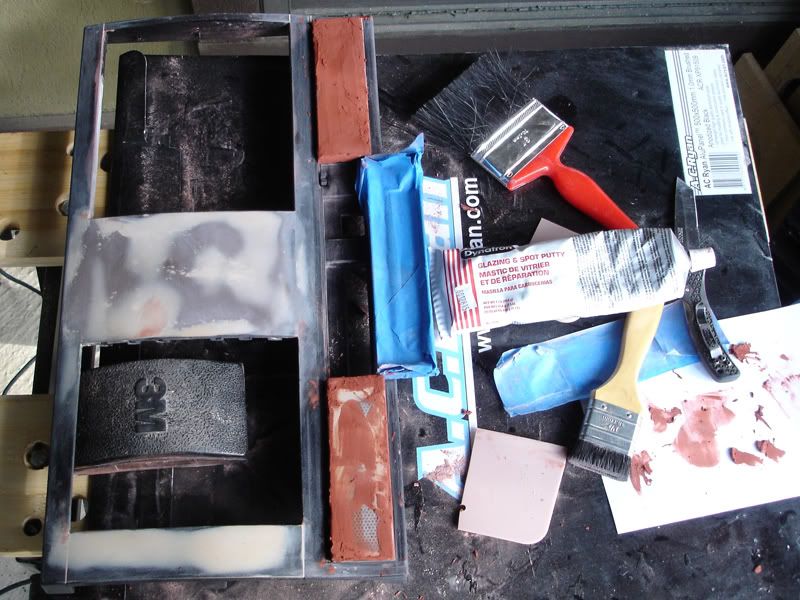 That's where I'm parking it for the night. What a mess.
The center section is coming out like a dream. The right side sections are proving to be every bit the pain in the rear that I expected them to be. Once I get those all shaped up, I'll peel the tape on the door and tape the top and bottom off, so I can give it the same treatment.
'til next time folks.