What's goin on guys....i sold my antec 900 and decided to totally redo my water cooling while i was at it and do it right this time
Pictures of my old rig are in my sig.....this build includes:
CPU: Lapped Q6600 @ 3.6
Mobo: Abit IP35 Pro
RAM: 2x2GB G. Skill DDR2-1000
Video Card: PNY 8800 GT with Iandh unisink
Sound Card: X-FI XtremeGamer
Hard Drive: 2x74GB Raptors in RAID 0
PSU: PC P&C Silencer 750
Case: U2 UFO
Water Cooling:
CPU: D-Tek Fuzion with Pro Mount + quad nozzle
GPU: MCW60
Pump: Swiftech MCP655 Vario modded by martin
Rad: Thermochill PA120.3 with 3 120x38mm San Aces + shroud + 2x NCIX thermochill barbs bored out by martin (supplied by cyberdruid)
Sorry in advance for the crappy pics.....cant find my Sony W80
Had to use my garbage Canon Powershot from like 5 years ago that barely works
.....enough talk, time for pics!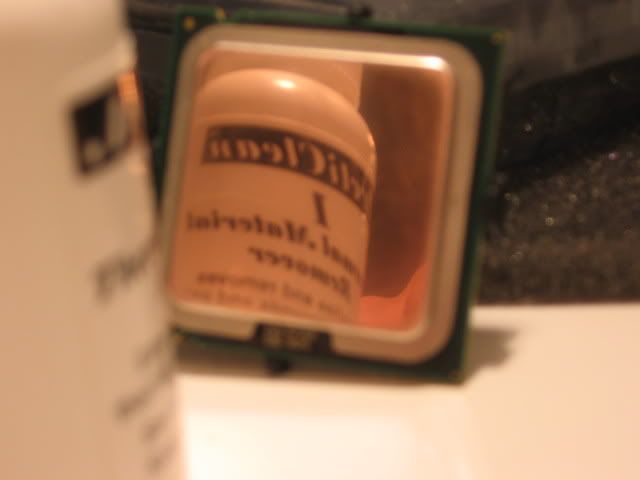 Lapped Q6600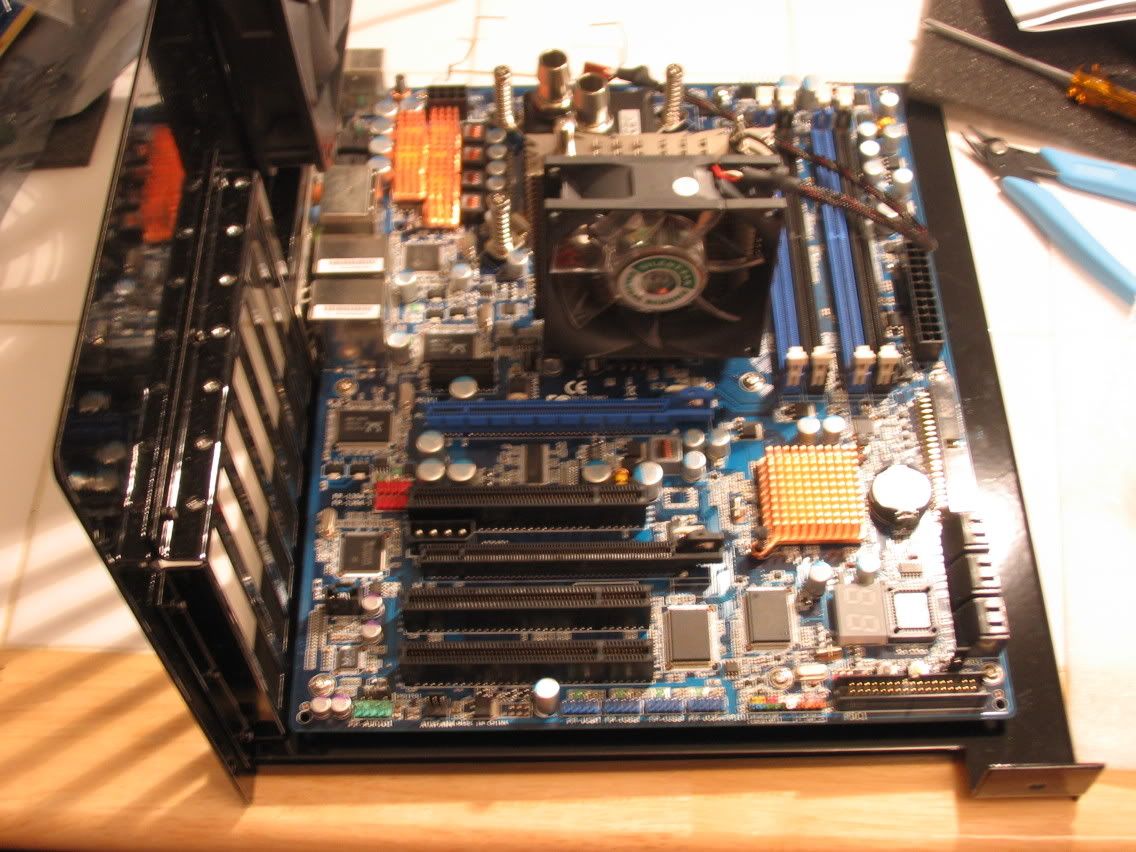 Removable mobo tray FTW! Seriously makes life so much easier....first case i've had that has one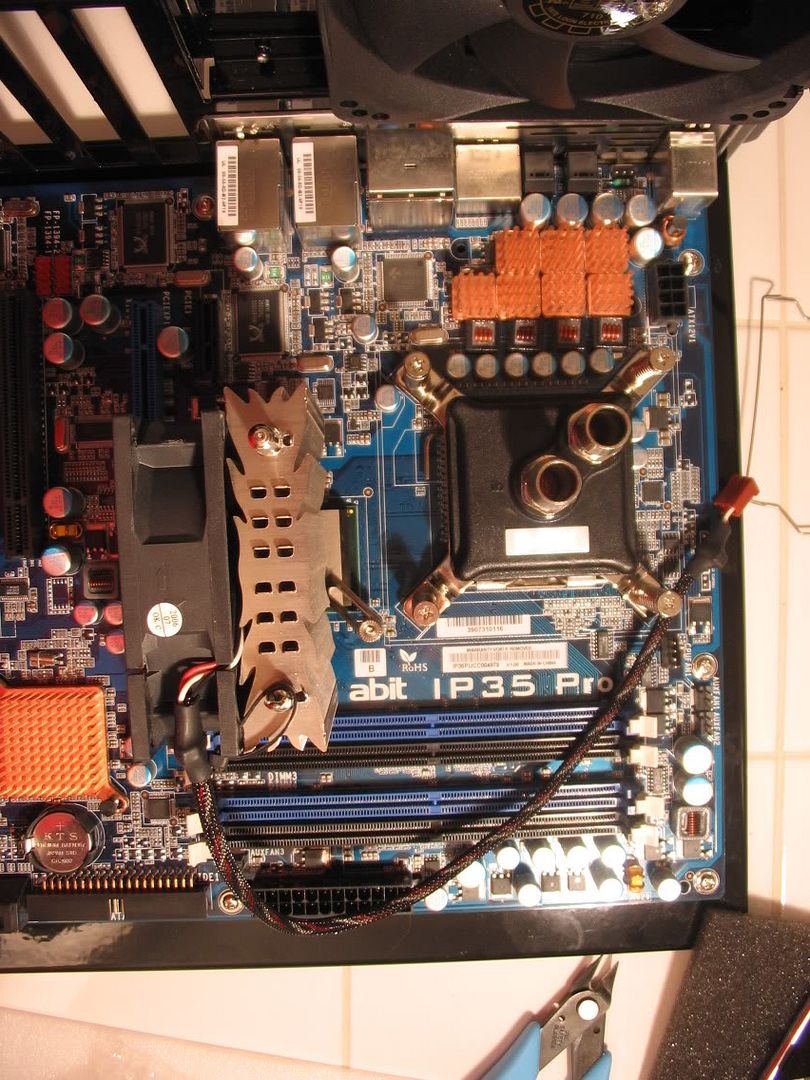 Damn Ramsink fell off
Added more zip ties to the HR-05 IFX (aka PITA to mount) after all these pics were taken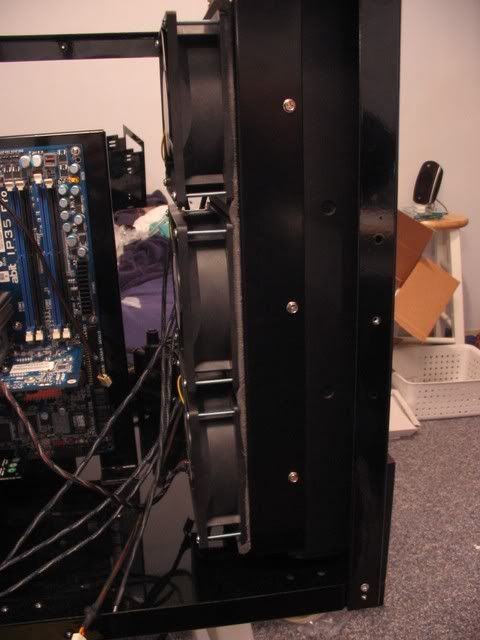 PA120.3.....damn that thing is huge with the shroud + San Aces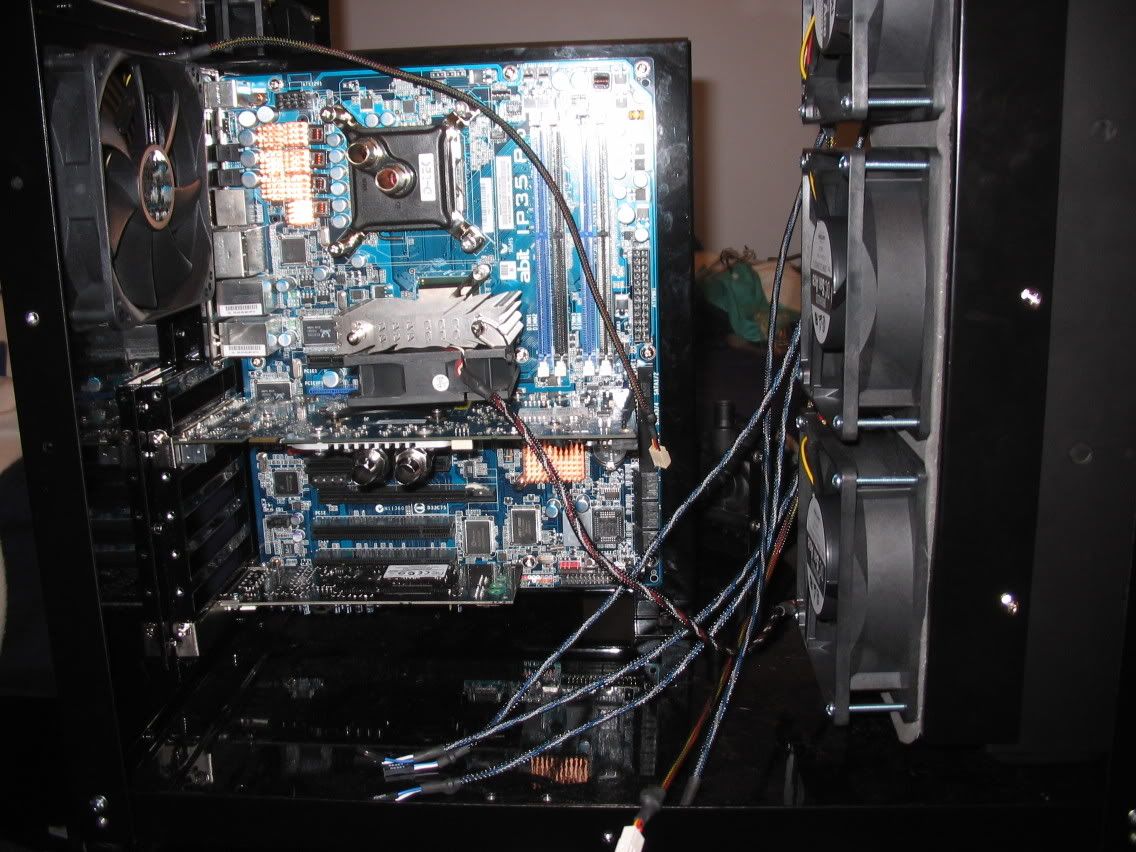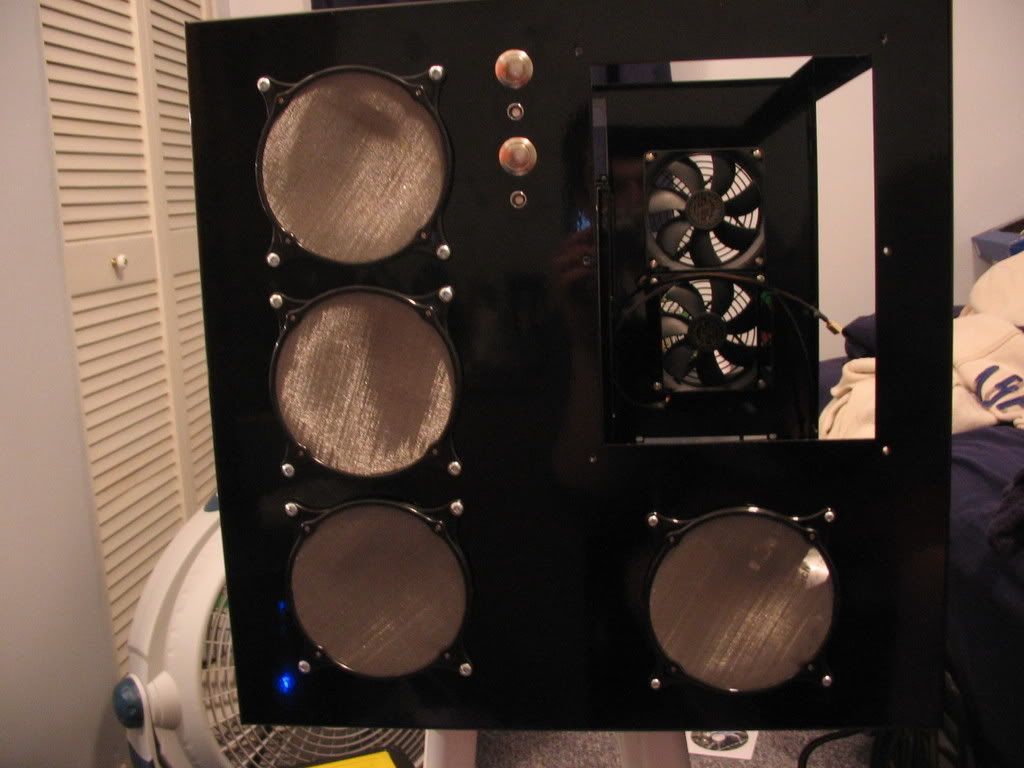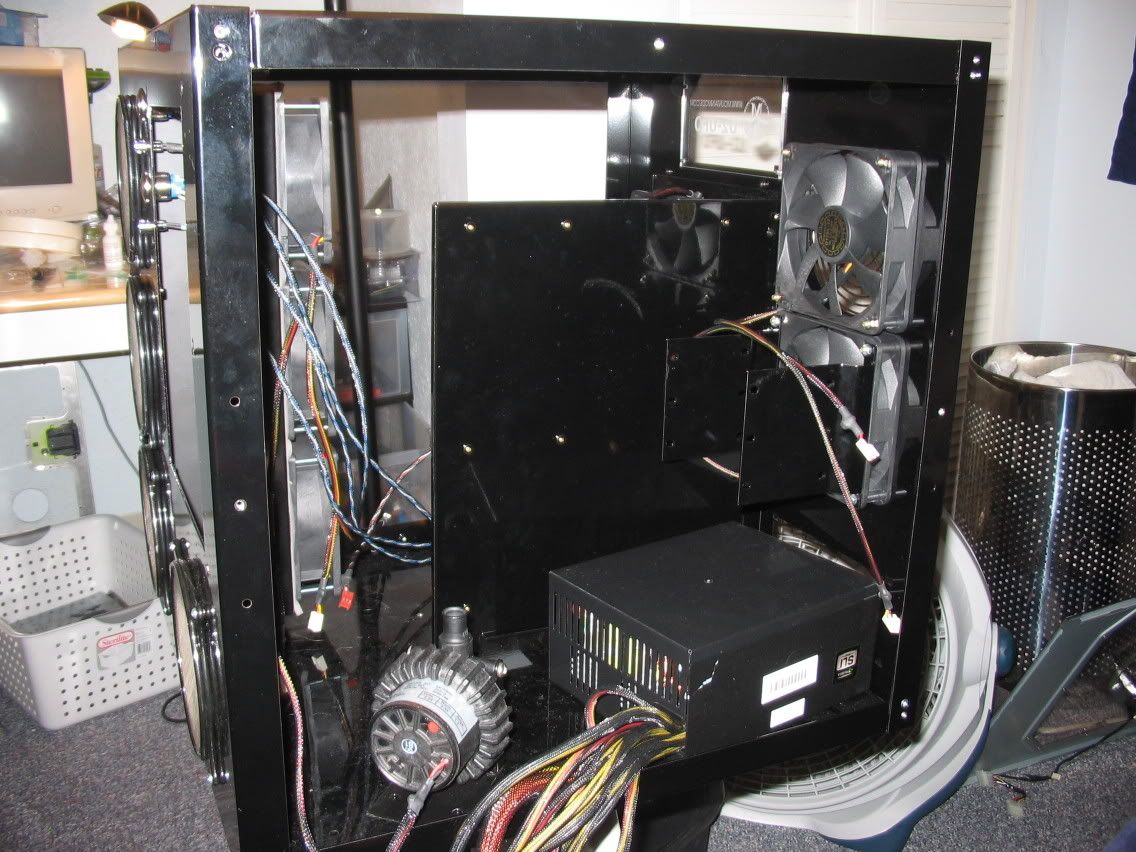 Everything sleeved and ready to go
I was trying to figure out which way would be easiest to route the PSU cables.....i flipped it over after this pic as it made things much easier.... and yes that is a huge scratch on my silencer 750
Injured it by being impatient when i removed it from my 900....that'll teach me
I apologize again for the crappy pics, the lighting has to be just right or this camera refuses to take halfway decent pics even with a flash
More to come later tonight!
CPU
Motherboard
Graphics
RAM
i5-6600k @ 4.7
MSI Krait Gaming 3x
MSI Gaming X GTX 1070
2x8 GB DDR4 3000
Hard Drive
Cooling
OS
Monitor
Samsung 850 Evo 500
Cryorig R1 Ultimate
Windows 10
Dell S2716DGR
Power
Case
Seasonic SS-660XP
Fractal R5
View all
CPU
Motherboard
Graphics
RAM
i5-3570k @ 4.5
Asus Gene V
MSI Gaming X RX 480
2x8 GB DDR3 2000
Hard Drive
Hard Drive
Monitor
Power
3x4 TB HGST
Samsung 840 Pro 256
Sony XBR65X900E
SeaSonic X650
Case
Audio
Fractal R5
Denon AVR-1713, Infinity P363, PC351, P163BK, E...
View all
hide details
CPU
Motherboard
Graphics
RAM
i5-6600k @ 4.7
MSI Krait Gaming 3x
MSI Gaming X GTX 1070
2x8 GB DDR4 3000
Hard Drive
Cooling
OS
Monitor
Samsung 850 Evo 500
Cryorig R1 Ultimate
Windows 10
Dell S2716DGR
Power
Case
Seasonic SS-660XP
Fractal R5
View all
CPU
Motherboard
Graphics
RAM
i5-3570k @ 4.5
Asus Gene V
MSI Gaming X RX 480
2x8 GB DDR3 2000
Hard Drive
Hard Drive
Monitor
Power
3x4 TB HGST
Samsung 840 Pro 256
Sony XBR65X900E
SeaSonic X650
Case
Audio
Fractal R5
Denon AVR-1713, Infinity P363, PC351, P163BK, E...
View all
hide details