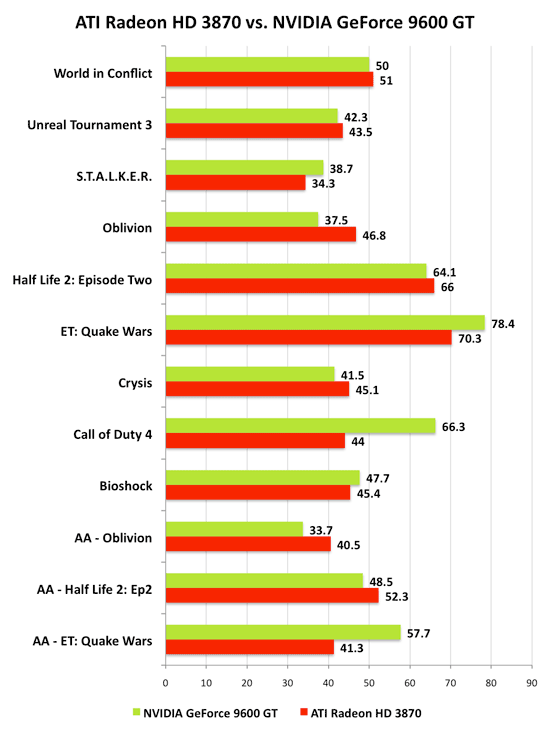 The Article
Quote:
As we suspected in our original review, the GeForce 9600 GT and Radeon HD 3870 are quite competitive with one another thanks to AMD's most recent price cuts.

From a performance standpoint, the Radeon HD 3870 comes out slightly ahead by outperforming the 9600 GT in one more game (and two benchmarks). The 9600 GT, although winning fewer benchmarks, manages a higher margin of victory in those games that it does win in. Performance issues in Quake Wars and Call of Duty 4 give the nod to NVIDIA, especially when you take into account a lower average selling price for the 9600 GT.

Looking back at our power consumption numbers, the 9600 GT does run a bit cooler under load, while the 3870 has a lower thermal envelope at idle. Neither card has a passively cooled reference design, so HTPCers will either want to look for something aftermarket or go further down the food chain for a truly silent PC.

If you're deciding between overclocked and stock 9600 GTs, EVGA's SSC version showed a 10% increase in performance for just over a 12% increase in price. The problem is that if you can afford a 12% increase in price over a stock 9600 GT, you may want to start looking at even faster GPUs.

Next week we'll have a follow-up looking at how the 9600 GT stacks up to the 512MB Radeon HD 3850 and the almighty 8800 GT 512.