http://www.newegg.com/Product/Produc...82E16814150275
Quote: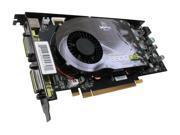 Core clock 580MHz
Stream Processors 96
Memory Memory Clock 1400MHz
Memory Size 384MB
Memory Interface 192-bit
Memory Type GDDR3
Seems like a decent deal, ships free... $149.99 - $30MIR = $119.99 shipped.
-EDIT- $20 MIR drops the price to $124.99 shipped for both items
.
-
EDIT #2
- Finally found a review for anyone who may be interested...
http://en.expreview.com/2008/01/21/r...s-384mb-768mb/

-EDIT #3-
MIR has been upgraded to $30, however no free flash drive.(Credit goes to Ben the OCer)
Also other 8800gs cards @ the egg(EVGA may sport better memory ICs?):
XFX PVT88SFDD4 8800GS 384MB 680mhz Core for $139.99 after $30MIR + S/H
EVGA 384-P3-N851-AR 8800GS 384MB 550mhz Core for $134.99 after $20MIR + S/H
EVGA 384-P3-N853-AR 8800GS 384MB 650mhz Core for $149.99 after $30MIR + S/H
CPU
Motherboard
Graphics
RAM
Q6700 @ 3.7Ghz 1.37V
DFI LT X48-T2R vNB 1.24
EVGA 460GTX
4x2GB Patriot 1000mhz CL5
Hard Drive
OS
Monitor
Power
2x x-25m
Vista x64
24" BenQ G2400WD
Corsair VX550W
Case
CM Cosmos 1000
View all
hide details
CPU
Motherboard
Graphics
RAM
Q6700 @ 3.7Ghz 1.37V
DFI LT X48-T2R vNB 1.24
EVGA 460GTX
4x2GB Patriot 1000mhz CL5
Hard Drive
OS
Monitor
Power
2x x-25m
Vista x64
24" BenQ G2400WD
Corsair VX550W
Case
CM Cosmos 1000
View all
hide details