so i put the q6600 that i got from the intel retail edge program into my lanbox, and what do ya know, idle temps are a bit too high lol. So today i had an idea to put some more exhaust flow into my case w/ a 120mm fan mounted on the outside. Temps were idling around 45c for core 1 & 2 before i put this on here.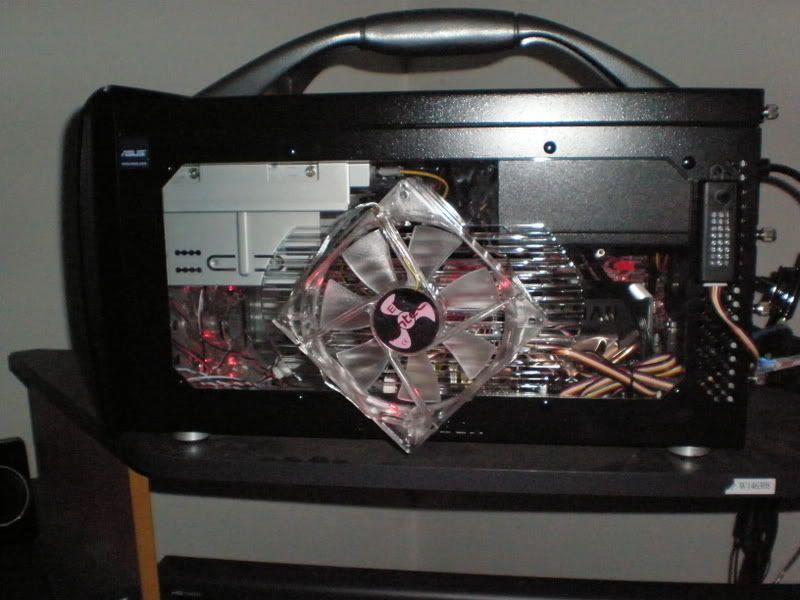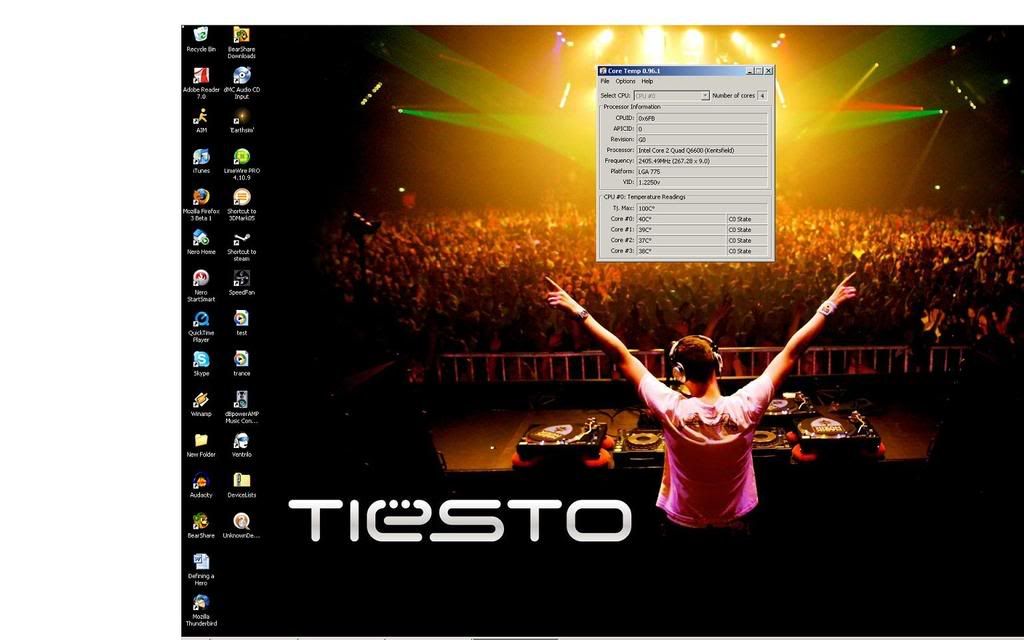 So yea, i'd always wanted to put a 120 on there, but there was never enough room on the inside for it, so i put it outside. I think the 45 degree turn looks better too
But anyway, now my temps are about 39-40c idle w/ the tricool on medium and my cnps8000 fan all the way up. When i turn the fan on the 8000 all the way down, the temps rise back to about 44-45c idle w/ the tricool still on medium. I'd love the leave the cnps8000 fan on all the time, but it gets really loud. Should i reseat my heatsink? I was thinking about turning the 92mm intake fan into an exhaust, because i hear having negative air pressure will give better results. Plus theres another vent on the other side window like the one the tricool is mounted on. I'm about to put in my awsome 60mm fans w/ a fan controller on them, cuz the ones i have right now dont push a lot...or at least not enough. I'm starting to think i wont be able to get this cool w/o it being really loud lol. Thoughts?
CPU
Motherboard
Graphics
RAM
Core i7 920 D0
Asus Rampage Extreme 2
eVGA GTX 295
OCZ 6gb 1600mhz
Hard Drive
Optical Drive
OS
Monitor
OS-75gb Raptor | 320 WD
LG DVDRW/ SONY BluRay ROM
Windows Vista Ultimate 64 Bit
40" Samsung 1080p 25000:1
Power
Case
Mouse
Blackwidow 850w Modular
Thermaltake Armor Mod
Logitech MX518
View all
hide details
CPU
Motherboard
Graphics
RAM
Core i7 920 D0
Asus Rampage Extreme 2
eVGA GTX 295
OCZ 6gb 1600mhz
Hard Drive
Optical Drive
OS
Monitor
OS-75gb Raptor | 320 WD
LG DVDRW/ SONY BluRay ROM
Windows Vista Ultimate 64 Bit
40" Samsung 1080p 25000:1
Power
Case
Mouse
Blackwidow 850w Modular
Thermaltake Armor Mod
Logitech MX518
View all
hide details