so ive been messing around w/ my fan setup on my lanbox, and i cant seem to get a good idle temp on my q6600 that i have inside of it. Ive setup a poll to ask you guys what you think the best cooling setup to have is and what you think of each one (pros and cons)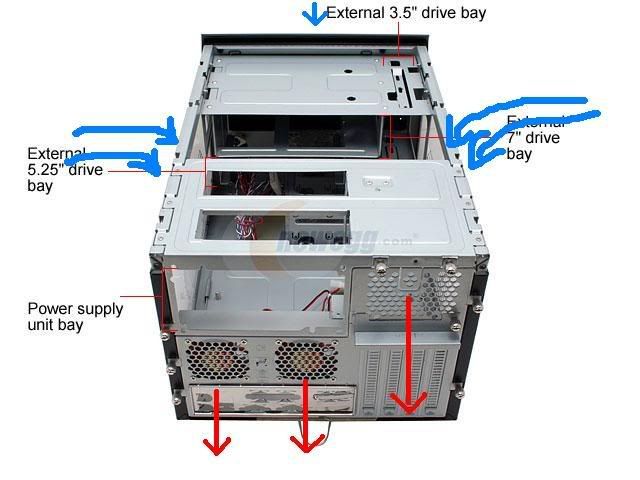 This is the stock cooling setup.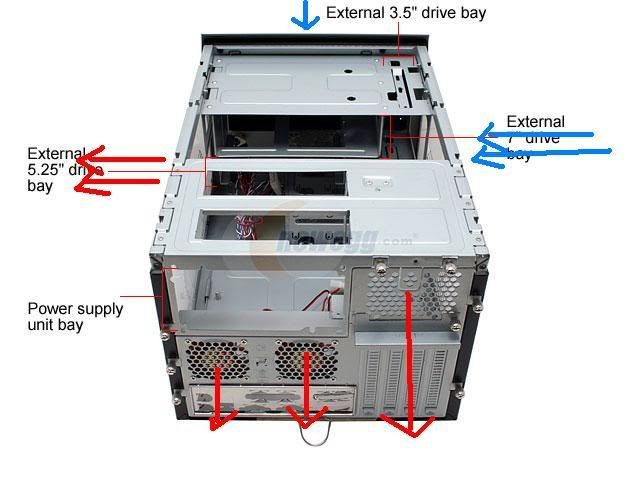 This is my current setup. All I have done is add a 120mm tricool fan on left side where the red arrows point left.
I was thinking this might be good because that way the cpu hs will get direct cold air (even if its from the back) and have just the 120mm exhaust fan.
This one also crossed my mind because ive always heard its better to have a negative air pressure inside the case, so i figured i would just allow the fans to pull the cold air over all the components from the other window and exhaust it through all the fans.
Please tell me what you think, be critical, i dont care i need some opinions on this because i idle at about 42-43c on my current fan setup.
P.S. i'm also about to put some much stronger 60mm fans on the back and put a fan controller on them.
CPU
Motherboard
Graphics
RAM
Core i7 920 D0
Asus Rampage Extreme 2
eVGA GTX 295
OCZ 6gb 1600mhz
Hard Drive
Optical Drive
OS
Monitor
OS-75gb Raptor | 320 WD
LG DVDRW/ SONY BluRay ROM
Windows Vista Ultimate 64 Bit
40" Samsung 1080p 25000:1
Power
Case
Mouse
Blackwidow 850w Modular
Thermaltake Armor Mod
Logitech MX518
View all
hide details
CPU
Motherboard
Graphics
RAM
Core i7 920 D0
Asus Rampage Extreme 2
eVGA GTX 295
OCZ 6gb 1600mhz
Hard Drive
Optical Drive
OS
Monitor
OS-75gb Raptor | 320 WD
LG DVDRW/ SONY BluRay ROM
Windows Vista Ultimate 64 Bit
40" Samsung 1080p 25000:1
Power
Case
Mouse
Blackwidow 850w Modular
Thermaltake Armor Mod
Logitech MX518
View all
hide details