Quote:
Originally Posted by
dragosmp
You could try to check the SMART status of your HDD. Speedfan can read the SMART data and it computes a coefficient for reliability and performance, it's worth checking. If after 8 years it still works it's a bonus already and I don't think it's gonna fail any time soon. A couple of years ago all the parts had better quality, I still have a 15years old 5GB Fujitsu HDD for the OS in my server.
I ran that SpeedFan test,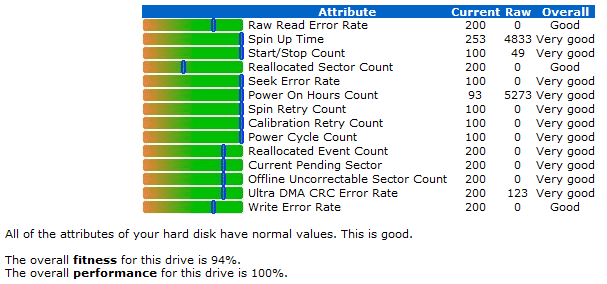 Came back pretty good
. I am definitely going to replace the drive soon I would like somthing faster, and I am getting close to filling this one up. Also the HD just shuts off sometime for no reason (I can hear it turn off and then back on) which freezes my computer.. I just had it happen again about 30 minutes ago. So thats a bit annoying. I am definitely going to keep this HD until it dies though, prolly put it in another computer or something.