Hey all! I just built myself a new rig and I've been curious in learning about overclocking. I've browsed through this forum and other's such as Tom's Hardware about overclocking the AMD 5000+ Black Edition. However, I kinda want to make sure my overclocked CPU and RAM are in stable condition. Only overclocked in my BIOS, changing the CPU multiplier to 15x and bumping up my volt for the RAM to 2.1V and the CPU runs between 37-39 idle and 54-56 at full load. I have also performed the Orthos Blend test and have received no errors for my current speeds (CPU @ 3.0 and RAM @ 4-4-4-12). That means it's stable right?
But when I try to play games like Company of Heroes or Need for Speed Carbon, the games would crash to my desktop 15 min in. Is that a result of my system being unstable?
And I'm really quite clueless when people talk about HT, FSB, or all that memory timing stuff. Can anyone direct me to a good link that explains those terms and how it affects my performance?
And here are a couple screenshots of my CPU-Z.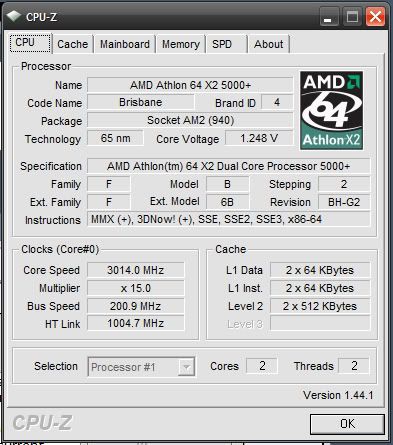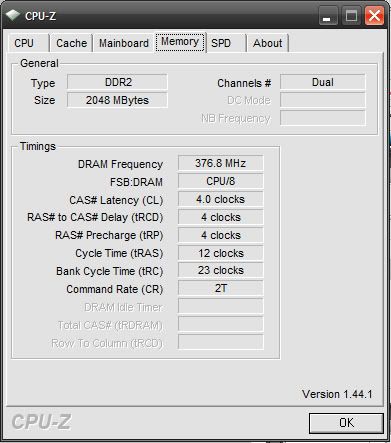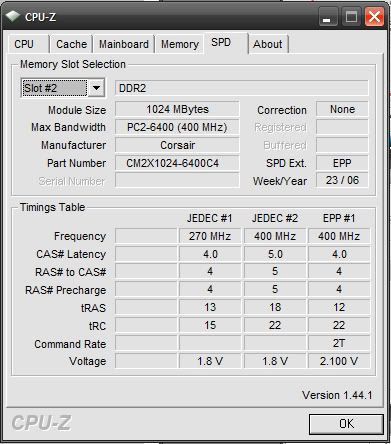 Thanks!
CPU
Motherboard
Graphics
RAM
Intel i5-2500K
Asus P8P67
NVIDIA GTX 460
G.Skill 12GB DDR3
Hard Drive
OS
Power
Case
Samsung F3 1TB
Windows 7 Pro 64-bit
Antec EA750W
Antec 902 V2
View all
hide details
CPU
Motherboard
Graphics
RAM
Intel i5-2500K
Asus P8P67
NVIDIA GTX 460
G.Skill 12GB DDR3
Hard Drive
OS
Power
Case
Samsung F3 1TB
Windows 7 Pro 64-bit
Antec EA750W
Antec 902 V2
View all
hide details