Hey guys, I just put in my Q6600. I wanted to see if this temperature is fine. I"m using watercooling and it isn't overclocked yet. This is idle temperature with nothing running.
Also... when I turn on cpu-z, core speed and multipler changes, sometimes its 1600 with multipler of 6 and then it changes to 2400 with multipler of 9. What's up with that?
This is when running orthos.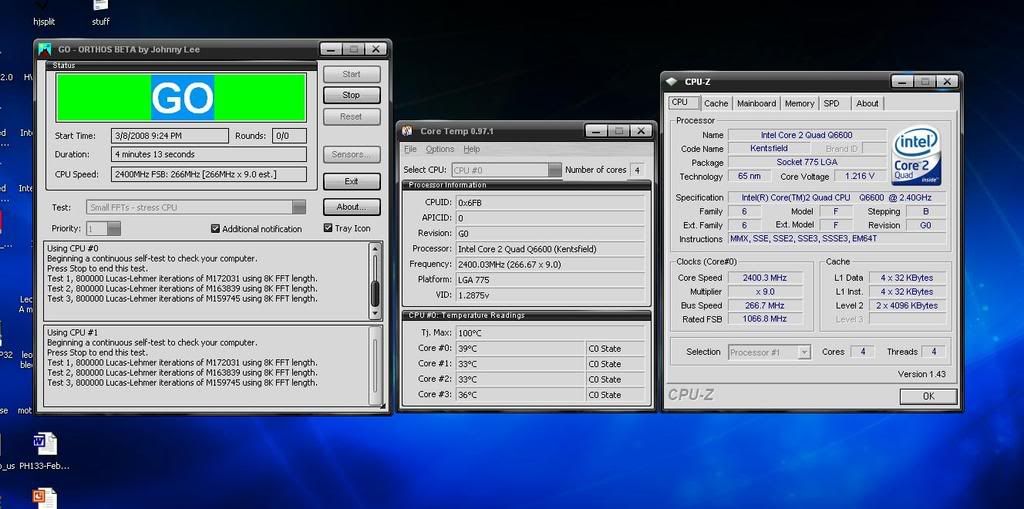 CPU
Motherboard
Graphics
RAM
Q6600 G0 - OC to 3.6 GHz
DFI Lanparty DK P35
XFX 8800GTS 512MB
2x1gb G.Skill Hz @ 1000mhz + another 4GB
Hard Drive
OS
Monitor
Keyboard
500GB WD5000AAKS
Windows XP Pro
22" Samsung and 50" Sharp LCD
G15 Rev 2
Power
Case
Mouse
Ultra 600W
Antec 900
Logitech VX
View all
hide details
CPU
Motherboard
Graphics
RAM
Q6600 G0 - OC to 3.6 GHz
DFI Lanparty DK P35
XFX 8800GTS 512MB
2x1gb G.Skill Hz @ 1000mhz + another 4GB
Hard Drive
OS
Monitor
Keyboard
500GB WD5000AAKS
Windows XP Pro
22" Samsung and 50" Sharp LCD
G15 Rev 2
Power
Case
Mouse
Ultra 600W
Antec 900
Logitech VX
View all
hide details