Someone had a question about sawing holes in my project log. I didn't see one of these in the sticky, so I thought I would post one. If there is a guide on this site somewhere for this, please accept my appologies.
This is what works for me when I'm sawing holes, even into a somewhat unruly material, like heavy gauge diamond plate.
Please let me know if there's anything else that should be included.
WHAT YOU'LL NEED: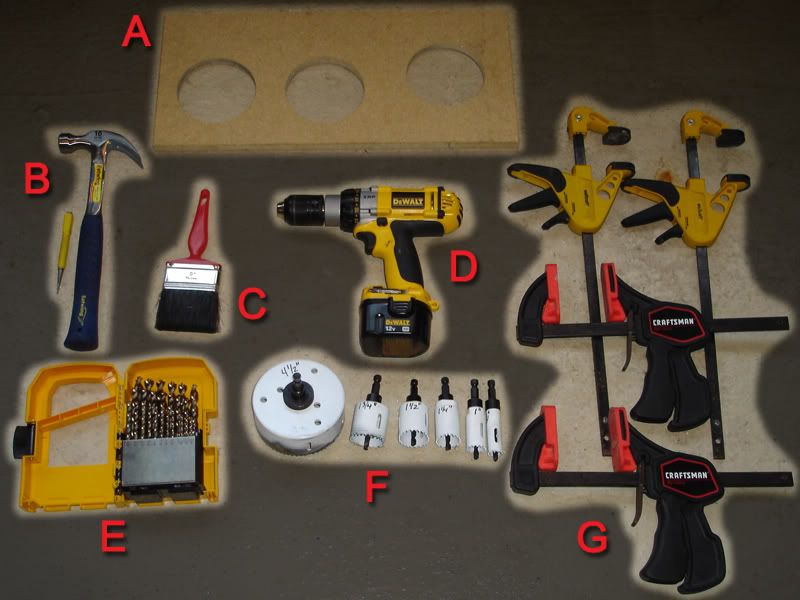 A) A guide board. This is something you have to make yourself, but think of it as practice! I used half inch particle board, but any scrap that's large enough for the hole and several clamps to bite down on is enough. You only need one hole. Just cut the size hole you plan to use in your project into the board. Make sure its a good one, you can use this over and over!

B) Hammer and a nail set. Don't need to be high speed here. Old tired and rusty is fine.

C) Paint brush? I use that little guy more than any tool in my shop. It's great for a quick cleaning off metal shavings that you will inevitably get everywhere.

D) Duh. A drill. This doesn't need to be anything too spectacular either. As you can see, I use a 12v cordless. It works fine, just keep those batteries charged.

E) Regular drill bits. This is for your pilot hole. All my hole saws use a quarter inch guide bit in their arbor, but double check what your saws use, this might vary.

F) Hole Saw bits. Bi-Metal. You need two pieces. The saw (the white part) and the arbor. The arbor is what attaches to the drill, and holds the guide bit. Lots of hole saw sets will come with both, but sometimes you may need to get them seperately, especially on larger sizes.

For the US modders out there, this list will give you hole slightly smaller than your fan diameter:

5.5" saw = 140mm fan hole
4.5" saw = 120mm fan hole
3.5" saw = 90mm fan hole
3.0" saw = 80mm fan hole
2.25" saw = 60mm fan hole


G) Clamps. As many as you can find. They don't have to be high speed like the ones pictured, but you do need them. I recommend at least 3 good ones, more if you have them and can find a place to fit them on your project.

NOT PICTURED:

You'll also need a workbench of some sort to clamp things to. I use a black and decker Job Mate, but I don't recommend them. They're a pain in the arse to assemble.

Next, you'll probably need files. Nothing too fancy, but a standard half-round file will help you clean up your cut. If you are using a U-Channel type molding, you may not even need files at all.

Also, I really recommend cutting lubricant of some kind. I've used everything from thread tapping fluid to WD-40. It really does help for a slightly cleaner cut, and more more importantly, it will radically lengthen the life of your tools.

Finally, find yourself some safety glasses and a respirator. While this job isn't especially bad for flying particles, safety equipment should always be worn when working with power tools.

STEP ONE:
Layout your holes. If you're doing a simple fan grill like I am in these pictures, just X your screw holes. That's your center.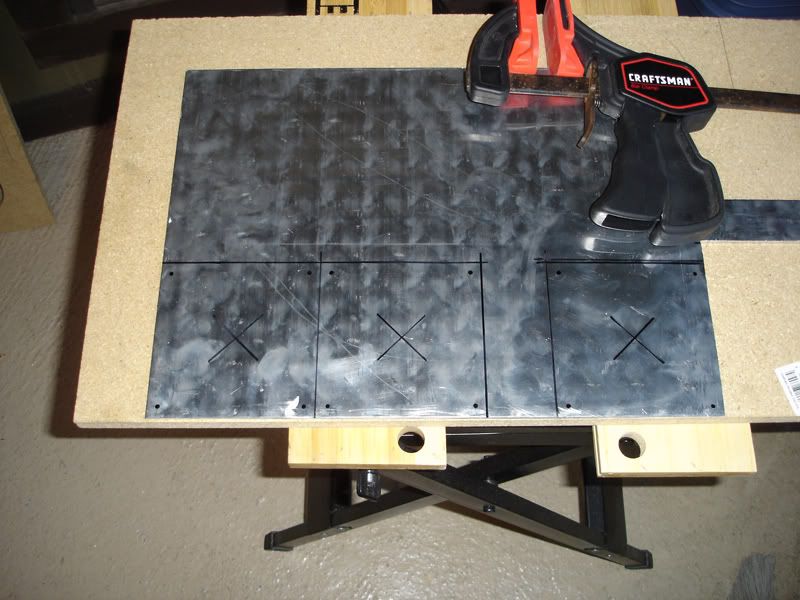 STEP TWO:
Center Punch where you are going to drill. Figure out what size the guide bit is for your hole saw's arbor. In this case, it's 1/4 inch. Drill a pilot hole at your center with a normal drill bit.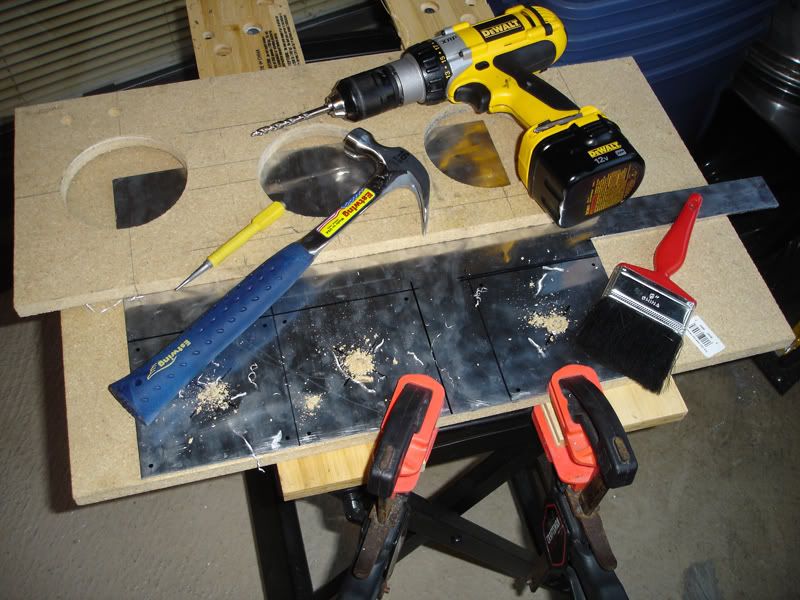 STEP THREE:
Take your hole saw bit and drop it in your pilot hole. Make sure the back side of your work is facing up if you are working on a loose panel.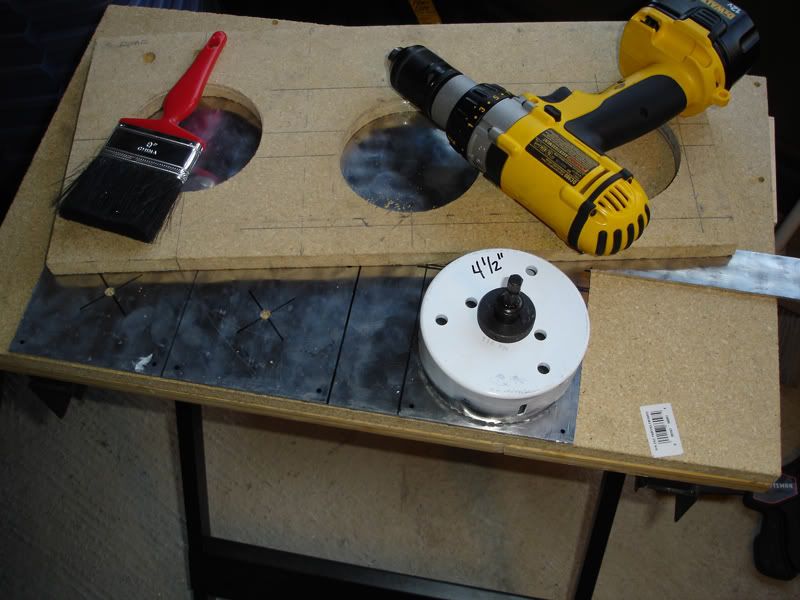 STEP FOUR:
Clamp the guide board over your work. Using the hole saw guide bit in your pilot hole to keep everything lined up.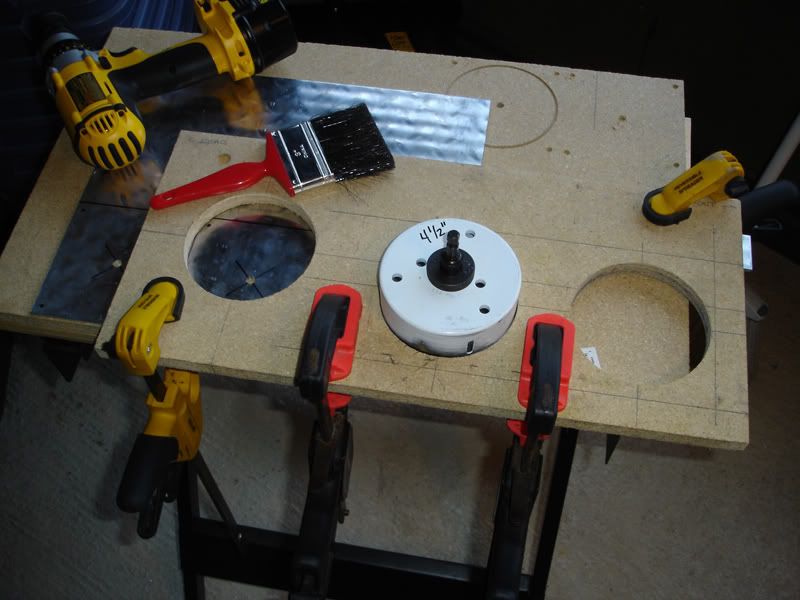 If you aren't using a loose panel, but drilling directly into an assembled case panel,
STEP THREE
and
STEP FOUR
will look something like this: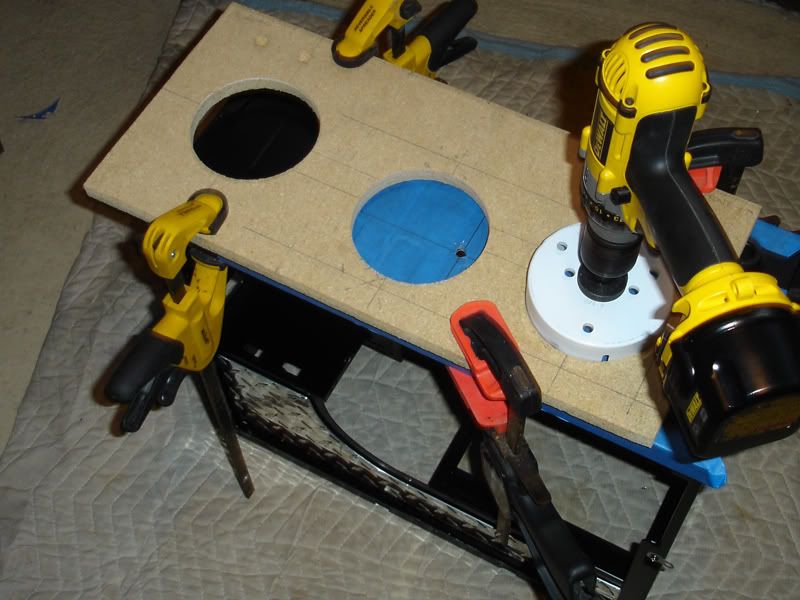 You'll have probably have to skip the next two steps in a scenario like that last picture. Don't worry. You're still good, you just might need to file a bit more to clean up the burrs after your cut.
STEP FIVE:
This step I actually discovered by accident while making this guide. After you have your work clamped down over your centered holesaw bit, pull out the bit and attach it to the Drill. Then saw only partially through your panel. Just enough to cut a groove in it. Remember, you are working
into
the
back
side of your panel at this point.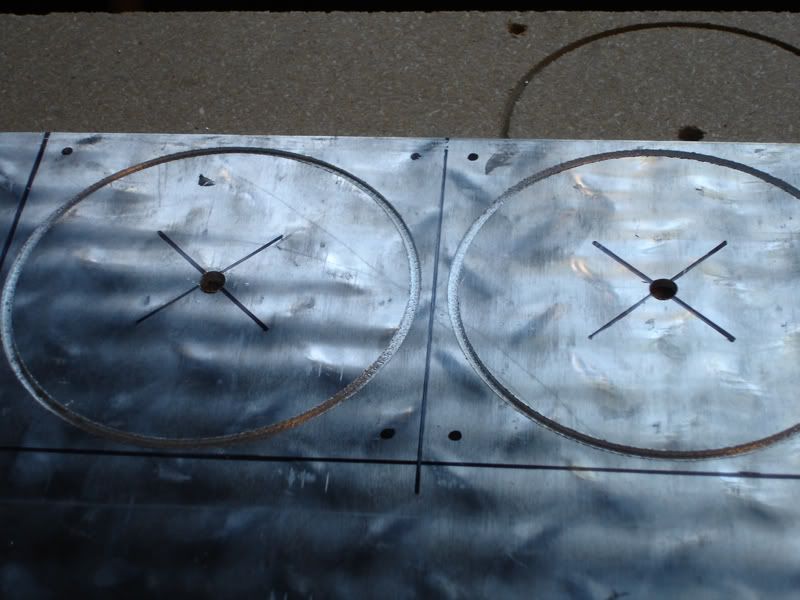 STEP SIX:
Flip your work over, and repeat
STEP THREE
and
STEP FOUR
, but this time with your finished front side of your panel facing up.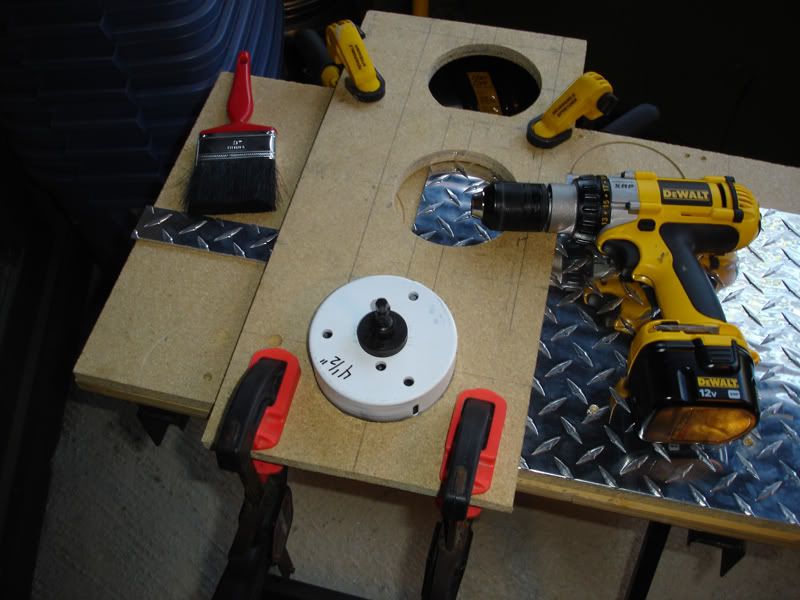 What we just did was insure that we have a lot fewer burrs to clean up after our cut. By cutting from both sides, you end up with a much cleaner overall cut. The last part of the cut, as your
not-quite-perfectly-level-despite-your-best-efforts
hole saw bit chews its way through the last of the panel, is also made a much smoother process by this step. If you are cutting into an assembled case, you probably wont have the room to do this, but if you can, it really does smooth out the whole process.
Making sure your pilot hole is the same size as the guide bit on your hole saw arbor is critical to this process.
Any play here and your holes aren't going to line up well.
STEP SEVEN:
As you are cutting, periodically pull your bit out and check to make sure you are still lined up well with your guide board. Do this especially if you get a little off kilter and your project bucks around on you at all.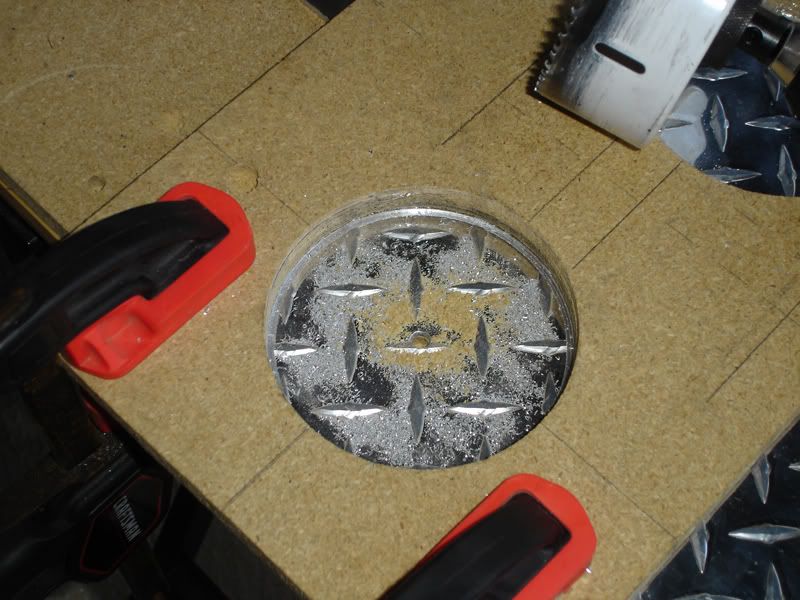 STEP EIGHT:
Blink in surprise as you go through your panel, easy as pie.
STEP NINE:
Take a silly picture of your finished hole.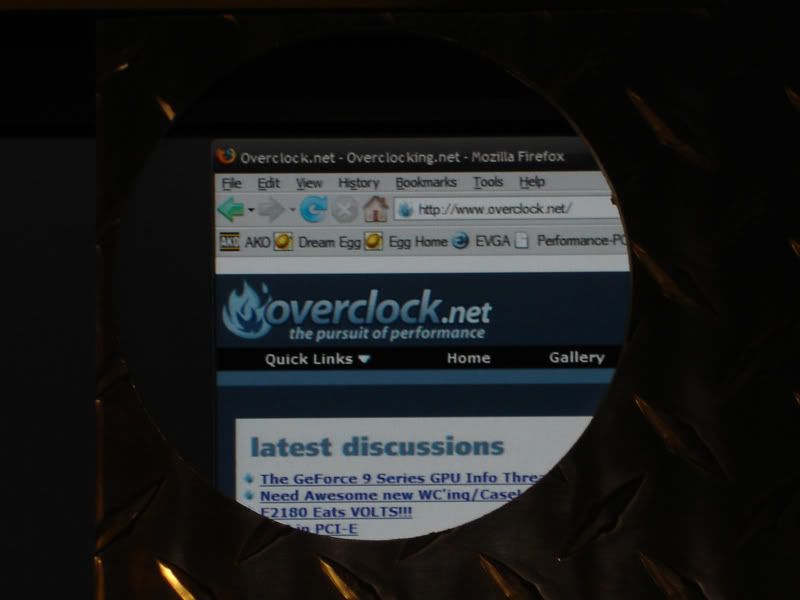 That's it. That's how to make a clean hole saw cut. Hope I helped.
Edited by Warfarin88 - 7/9/09 at 5:26am