Program Category:
Memory Tweaking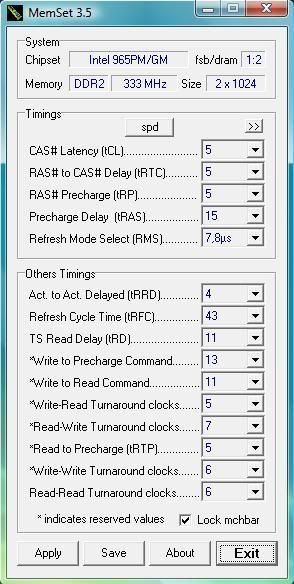 MemSet is a memory tweaker for:
Intel 815 845 855 865 875 915 925 945 946 955 965 975 P35 & X38
AMD K8 ddr&ddr2
AMD K10 ddr2&ddr3
NVIDIA NForce2, NForce 650i & 680i
VIA KT266/333/400/600.
Current Version:
4.1
Change Log:
Add support for NVidia NForce 650 Ultra & NForce 790 chipsets.
Add support for Intel PM965/GM965 (Mobile) chipsets.
Add support for Intel P45 chipsets.
Add spd informations for Intel chipsets with DDR/DDR2/DDR3.
Add some higher timings values for 965/P35/X38 chipsets.
Add reading some frequency with AMD Phenom CPU.
Add Intel X48 detection ID.
Improve reading memory frequency with Intel extreme CPU.
Improve reading Command Rate with intel P35/X38 on some boards.
Publisher:
http://www.tweakers.fr/