HI, well I previously was using an E2180 until I bought an E6600 at fry's for cheap. I only had stock cooling on the e2180 and only after buying the e6600 did I buy better cooling. I think I might have hit a wall with the e6600 and it's starting to get to me. A buddy posted a thread for me a while back before I became a member about my temps with the e6600. Since then I have done some experimenting but can't do much about temp. I honestly think that my ambient is too high or either my cpu runs too hot, but I think its the ambient.
Since it seems that I hit a wall with the e6600 I'm kinda wanting to go back to the e2180 and take care of some unfinished business. Does that seem like a waste of time, or should I try to figure out some more why I can't keep working the e6600?
The highest I got on the e2180 was 3.2ghz, and the highest I've been able to reach on the e6600 is 3.3ghz. I'm currently trying to reach 3.4 but I'm stuck at 3375mhz. I've raised v.core more than usual, tried raising mch, and it still gets an error on p95 at about 1hr 20min every time. Vcore is about 1.41v which is 1.475 in the bios.
Earlier today when I woke up, ambient in my room was around 16° and core temp was at 35°c idling and I think 49-50°c load at 3.3ghz. Right now with a 22°c ambient, idle temp is 44° and it reached 60°c load while checking stability at 3375mhz.
Any suggestions or advice would be appreciated. I also ran some tests the other day with everything sitting outside of the box to see if my airflow was the cause of my high temp.
I tested everything open air using a lapped TRUE with lapped E6600. I tried 2 different fans on the true, one was a scythe s-flex at 1200rpm and the other was some evercool that I think is rated at 79cfm @ 2000rpm. I then did a idle test at stock settings with the scythe, then I continued with idle and load tests at 3.3ghz. I chose 3.3 because I had ran p95 for around 10hrs with no problems.
My results were as follows: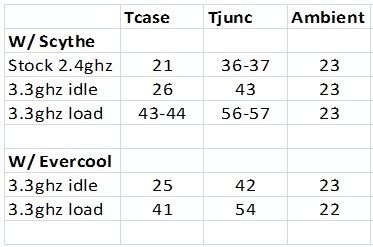 Disclaimer: the accuracy of el cheapo thermometer used to measure ambient temp may be questionable.