Due to personal reasons, I will be moving along very slowly until approximately Mid/End of June.. Small updates may occur from time to time ~ Last update today 05/24/08
First off, I'd like to thank all of you that have contributed ideas and given feedback in the thread I started
Here
.
I'd also like to thank GI_Manny for selling this at just the perfect time!
What this is going to be is an external RAD Box for cooling 1-3 Loops.
So far, for the modding part, the only equipment purchased is the enclosure & 2 Bonneville Heater Cores that fstfrddy is fabricating for me. I need to think about how I am going to make manifolds for this as I'll need some way to "shut-off" flow to barbs I'm not using at that moment.
I'm hoping that a relative "unknown" vendor will be supplying me the pumps & reservoirs, but I'm waiting to hear back from the guy. <--- this is all that I will elaborate on until I do hear a yeah or nay, so please do not ask. If that falls through, i've already been offered a really good deal on 2 - D5s.
Anyways, on to the start of the pictorial section.
First off, this is GI_Manny's rendition of the unit to start with: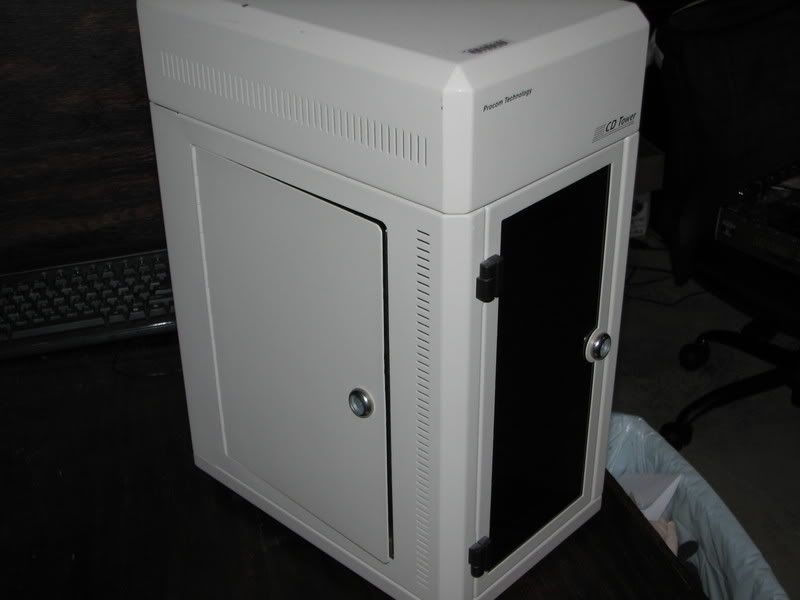 I received it today via our mail-carrier who goes maybe 5'2" at most &
She
was lugging all 38+lbs of this beast lol.
Here's what I received:
Pretty cool device for a company network, I must say!
Here's the Wow Factor:
Before:
After:
Now to show you the beast before I get to work stripping/sanding & cutting:
Bottom; had to remove the feet to get at the retainer screws for the drive bay.
A little prying to get it out, but I was able to fix the bend I made in the case :O .. they must have wrapped this steel case around the drive bay before final assembly. There was also a solid metal piece that was mounted just above the drive bay for rigidity.
Here's the unit as I wanted it
:
Thought I'd just document some of the measurements for thoughts in case I had to refer to them again
And finally, I need to decide what to do with the Heater Cores as far as mounting. The doors are going by-bye as there's no reason to keep them.
Vertical:
or Horizontal (room for both on one side?):
The PSU:
Well, that's it for now, tomorrow it's sanding it down, then thinking if it'd be worth it to do some body filler.
Edited by Indignity - 11/18/08 at 5:52am
CPU
Motherboard
Graphics
RAM
Intel Q6700 @ 3.6
Asus P5K Deluxe Wifi
eVGA 8800GT KO
4x1GB Tracer PC2-8500
Hard Drive
Optical Drive
OS
Monitor
2x74GB Raptor+1.5TB Samsung F1s
DVD-RW
Vista Ultimate x64
Samsung 22"
Keyboard
Power
Case
Mouse
M$ Elite
FSP Group (Fortron) FX Series FX700-GLN-E
Antec 900 (CyberDruid Custom)
M$ Elite
View all
hide details
CPU
Motherboard
Graphics
RAM
Intel Q6700 @ 3.6
Asus P5K Deluxe Wifi
eVGA 8800GT KO
4x1GB Tracer PC2-8500
Hard Drive
Optical Drive
OS
Monitor
2x74GB Raptor+1.5TB Samsung F1s
DVD-RW
Vista Ultimate x64
Samsung 22"
Keyboard
Power
Case
Mouse
M$ Elite
FSP Group (Fortron) FX Series FX700-GLN-E
Antec 900 (CyberDruid Custom)
M$ Elite
View all
hide details