Some one said something in my other thread about rumors of overclocking this card giving a lower score on benchmarks. I ran the tests and just thought I'd post a thread with my results for everyone.
I'm using an EVGA geforce 9600 GT 512MB
This is before overclocking, with factory settings of:
Core 675MHz
Memory 900MHz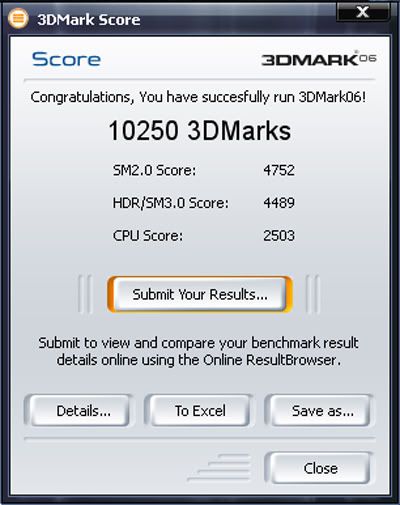 This is after overclocking to the following settings:
Core 720MHz
Memory 950MHz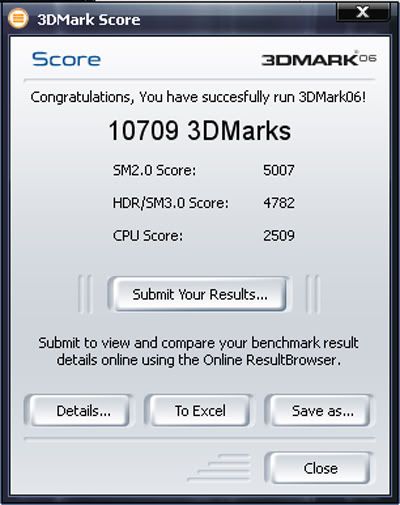 It seems like a pretty good boost to the score IMO. I'm no expert with benchmarking, but I don't see how overclocking this card is bad. Looks good to me.
CPU
Motherboard
Graphics
RAM
E8400 @4.05G 1.42V
EVGA 680i T1 SLI
2 x EVGA GeForce 9800GT
4x1GB OCZ Dual Ch PC6400
Hard Drive
OS
Monitor
Keyboard
West Digi Caviar SE16 250GB SATA-300
Windows Vista Ultimate SP1
Samsung 19'' Widescreen
Logitech G15
Power
Case
Mouse
Ultra 550W Modular
COOLER MASTER 690
Logitech VX Nano
View all
hide details
CPU
Motherboard
Graphics
RAM
E8400 @4.05G 1.42V
EVGA 680i T1 SLI
2 x EVGA GeForce 9800GT
4x1GB OCZ Dual Ch PC6400
Hard Drive
OS
Monitor
Keyboard
West Digi Caviar SE16 250GB SATA-300
Windows Vista Ultimate SP1
Samsung 19'' Widescreen
Logitech G15
Power
Case
Mouse
Ultra 550W Modular
COOLER MASTER 690
Logitech VX Nano
View all
hide details