Quote:
The days when people sat around a campfire singing songs together are long gone, and if Belkin's latest gizmo is anything to go by, listening to music looks set to become even less of a social experience.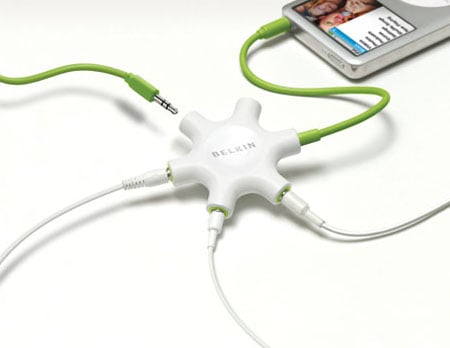 Belkin's RockStar: one music player to five sets of ears

The Belkin RockStar may look like something a Ninja would chuck around after it's been given a makeover by Apple, but it's actually a fancy five-way headphone splitter.
The gizmo has one dedicated input port and five outputs that'll let you and four friends listen to a connected music source.
Source
CPU
Motherboard
Graphics
RAM
Q9450
ASUS Striker II Extreme 790i
eVGA 9800GTX
OCZ (2*2) 4GB DDR3 1333MHz
Hard Drive
Optical Drive
OS
Monitor
RaptorX 150GB, 2*7200.11 1TB
2*Samsung DVD-RW
Vista Ultimate SP1 64Bit
Samsung 2232BW 22" Widescreen
Keyboard
Power
Case
Mouse
Microsoft Ergonomic Desktop 7000
Enermax Galaxy 1000W DXX
Armor+
Microsoft Ergonomic Desktop 7000
View all
hide details
CPU
Motherboard
Graphics
RAM
Q9450
ASUS Striker II Extreme 790i
eVGA 9800GTX
OCZ (2*2) 4GB DDR3 1333MHz
Hard Drive
Optical Drive
OS
Monitor
RaptorX 150GB, 2*7200.11 1TB
2*Samsung DVD-RW
Vista Ultimate SP1 64Bit
Samsung 2232BW 22" Widescreen
Keyboard
Power
Case
Mouse
Microsoft Ergonomic Desktop 7000
Enermax Galaxy 1000W DXX
Armor+
Microsoft Ergonomic Desktop 7000
View all
hide details