In the process in modding my Thermaltake Armor case. Its going to be a while so I decided to pick up the Tech Bench.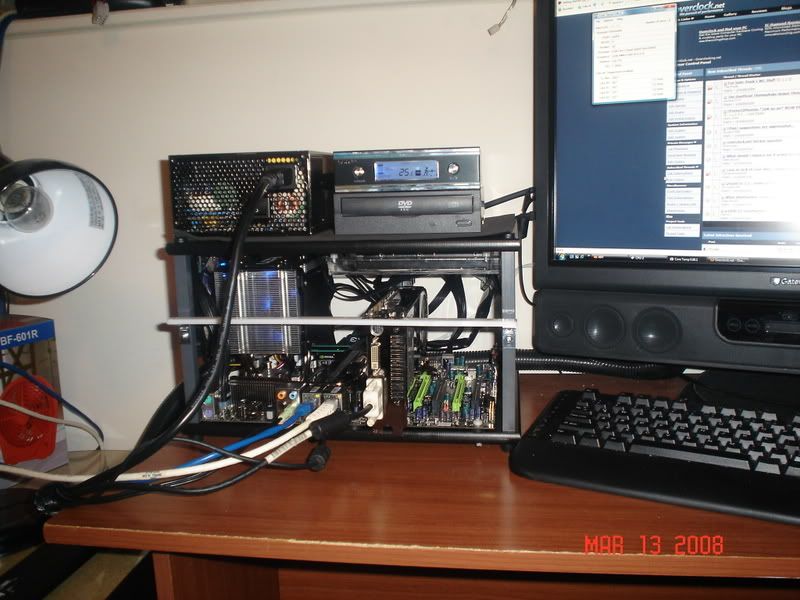 In the TT Armor, Q6600 at 3.2 ghz. I was getting idle 36c-40c idle (depending what core).
Now that I put in all in the work bench. Idle 29c-36c depending what core. Huge drop from being in a case.
CPU
Graphics
RAM
Hard Drive
X6 1100T 4.0ghz
2x 6950 2gigz
16 gigz
OCZ SSD x2 Raid 0
OS
Monitor
Keyboard
Power
W764U
Eyefinity 5040x1050
G15
Ultra X3 1000 watt
Case
Mouse
Mouse Pad
Battlefield Mod
G500
Steel Series
View all
hide details
CPU
Graphics
RAM
Hard Drive
X6 1100T 4.0ghz
2x 6950 2gigz
16 gigz
OCZ SSD x2 Raid 0
OS
Monitor
Keyboard
Power
W764U
Eyefinity 5040x1050
G15
Ultra X3 1000 watt
Case
Mouse
Mouse Pad
Battlefield Mod
G500
Steel Series
View all
hide details