First, let me say something - if you have Grado Prestige headphones,
you want to do this mod
(SR325i might be an exception). It takes a good bit of time, money, and effort, but I can say with absolute certainty that there is no other mod for these headphones that can make such a profound impact on a sound signature that I had already adored previous to the woody.
Tomorrow I'll update with pics in natural light that will give a much better representation of the wood. The flash makes the graining look unrealistic compared to the real thing.
A comparison:
*Before*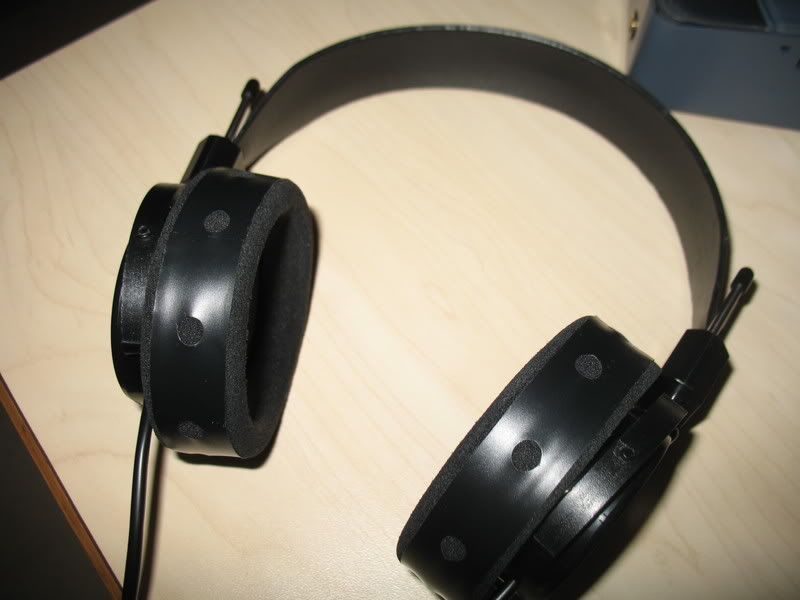 *After*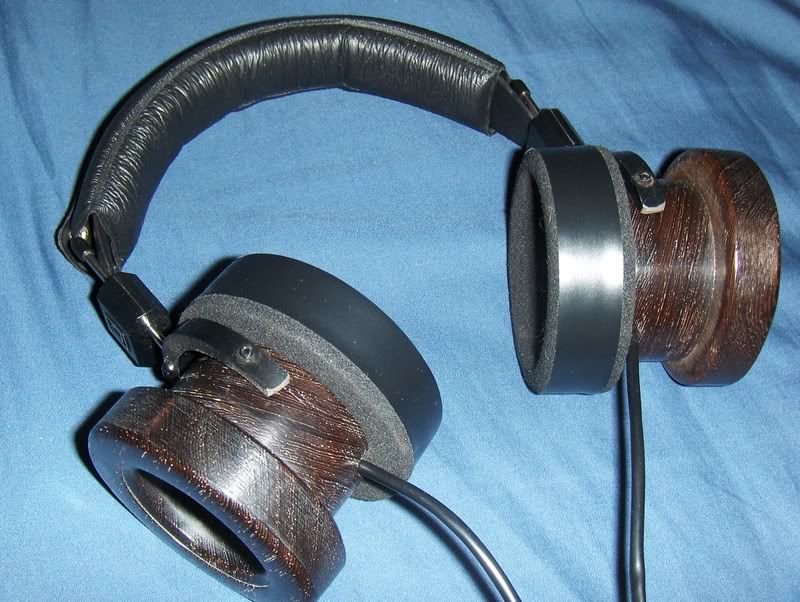 A couple more shots: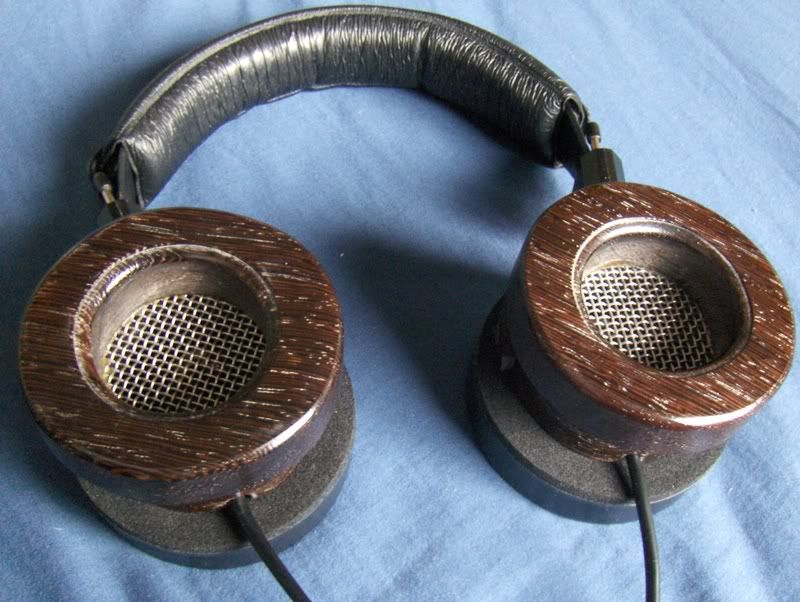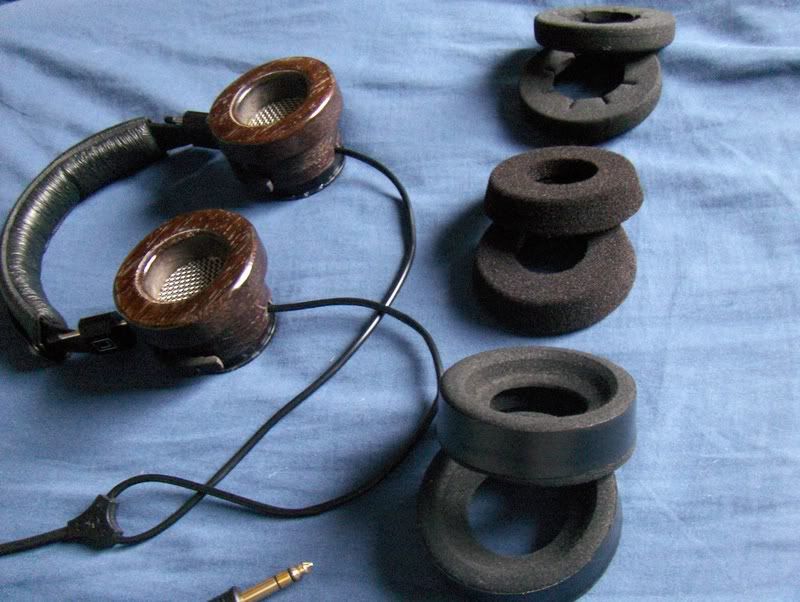 What exactly does this do to the sound?
My immediate impressions
:
- More impact and strength of bass. Combined with taped bowl pads, I'm hearing bass that sounds far superior to the stock setup.
- Widened soundstage. It's not a huge change, but the music has spread itself out slightly.
- Sparkling treble. I love the treble on stock Grado's, but it has been further refined with wood.
- Forward representation. I like bowl pads because they sit the listener back a tad bit from the sound (as opposed to the radically-forward flats and non-reversed HD414 pads). With the woodies I feel a little bit closer to the stage; again, this is a slight change but worth mentioning.
What I will change if I do this again
:
- Use a softer wood. Wenge is sophisticated, subtle, and has wonderful grain patterns, but it is hard as damn steel. My grandfather and I ruined 5 blades on his scroll saw in the process of cutting out the cups. Thank god they were not terribly expensive. Harder wood has sonic advantages, but I'd like to go with something a little more "workable" next time (if that makes sense).
- Use a lathe on the top portion of the cups. They are a little bumpy, not quite sure if you can tell or not. This is me being a perfectionist.
- Not underestimate the time needed to construct the cups. It took 3 separate days and about 7 hours total. We used probably 8-9 different tools in the process. When this was a concept I thought it would take 1 day and maybe 3 hours. Oh well, it was worth it
.
Thanks for looking, hope you like them, I sure do. I'm thinking this is the first woody mod for an OCN headphone guy. C'mon, you know you want to do this yourself!
CPU
Motherboard
Graphics
RAM
C2D e6600 (3.3ghz)
Asus P5Q (P45)
eVGA 8800GTS 320mb (670/1000)
2x1GB G.Skill HK (900mhz @ 5-5-5-15)
Hard Drive
Optical Drive
OS
Monitor
WD Black 640GB (OS) / WD AAKS 500GB + WD JS 250GB
Sony DVD-RW
Vista Ultimate 32bit
Dell E207WFP (1680 x 1050)
Keyboard
Power
Case
Mouse
Basic Dell ;>
Corsair HX520w Modular
Modded CM Centurion 590
Logitech G5
Mouse Pad
XPS pad
View all
hide details
CPU
Motherboard
Graphics
RAM
C2D e6600 (3.3ghz)
Asus P5Q (P45)
eVGA 8800GTS 320mb (670/1000)
2x1GB G.Skill HK (900mhz @ 5-5-5-15)
Hard Drive
Optical Drive
OS
Monitor
WD Black 640GB (OS) / WD AAKS 500GB + WD JS 250GB
Sony DVD-RW
Vista Ultimate 32bit
Dell E207WFP (1680 x 1050)
Keyboard
Power
Case
Mouse
Basic Dell ;>
Corsair HX520w Modular
Modded CM Centurion 590
Logitech G5
Mouse Pad
XPS pad
View all
hide details