I just got my Q6600 and it Oced easily to 3.6
-Influencing specs:
Vcore : currently 1.41 (probably can lower it more, will try later)
VID: 1.2875 (is this high? thought it was avrg...now i think its 1.275)
OC: 400mhz x 9 (with 4gb tracer-1066 at at 1:1, 800mhz)
Case: Cosmos with front intake and fan above cpu turned to intake instead of exhaust)
ambient: 71C (LOOOL JUST READ THAT HAHA!! its in F my bad
) on wall thermy, about 21-22C (winter in montreal
)
-Idle temps 36 36 31 31 without letting it wait. I have 0 patience. also no power saving options turned on.
-load temps (100% on prime95) about 55 55 47 47 after 30 mins
Do you think iits better to keep the tracer ram at only 800mhz with low timings (say 3-3-3-8?) and have 8x multiplier
OR
keep tracer at whatever (like 1150mhz, 5-5-5-15) with 9x multi for FSB?
Pic added to help people with picture-sensitive memory who forget what they were typing about.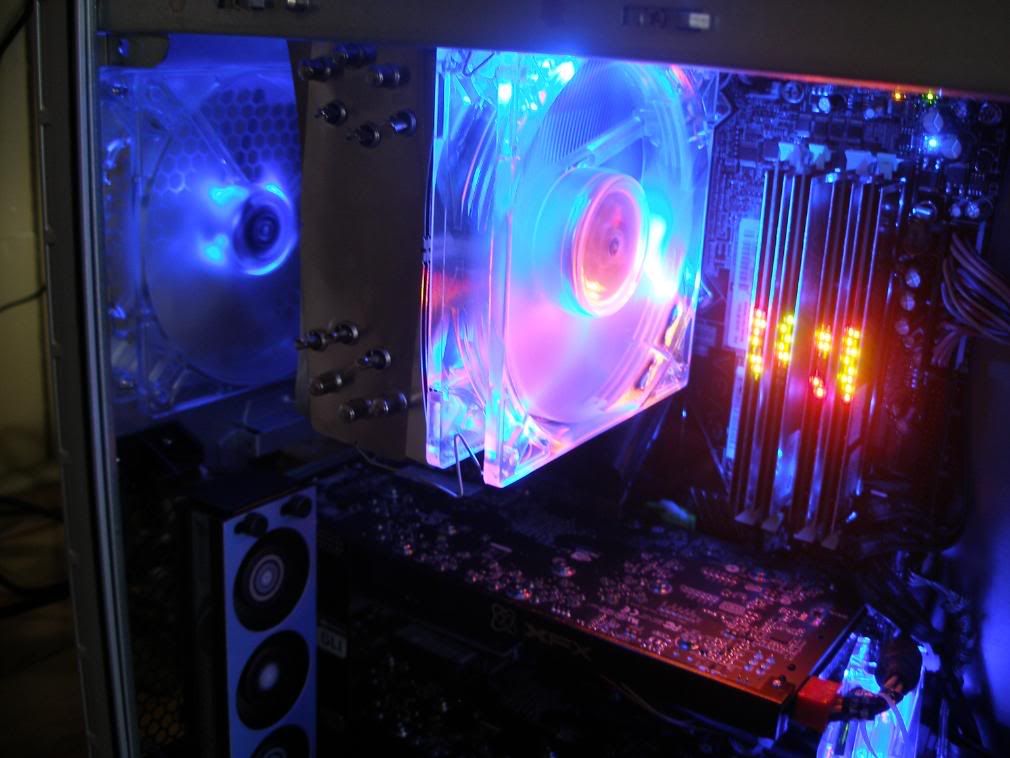 CPU
Motherboard
Graphics
RAM
i7 930 3.6ghz 1.146v
EVGA x58
GTX470 water
6GB 1600mhz 6-8-6-18 1.6V
Hard Drive
OS
Monitor
Keyboard
SSD (80+60GB) HDD (2+2TB)
Windows 7 x64
24" + 22"
G15
Power
Case
Mouse
M12D 850W
800D
G9
View all
hide details
CPU
Motherboard
Graphics
RAM
i7 930 3.6ghz 1.146v
EVGA x58
GTX470 water
6GB 1600mhz 6-8-6-18 1.6V
Hard Drive
OS
Monitor
Keyboard
SSD (80+60GB) HDD (2+2TB)
Windows 7 x64
24" + 22"
G15
Power
Case
Mouse
M12D 850W
800D
G9
View all
hide details