Quote:
Originally Posted by
iandroo888
oh man. that picture is nice!

btw.. what kind of metal did you use? and how much it cost?
The wire management is made from .050" 5052 Aluminmu Alloy. I had sheets left over from a old unfinished project(Project 5052), so i just used the rest. You can pick up sheets on ebay rather cheaply tho. The sub floor is made from a Mac G5 side panel, and is about .125" thick.
Edit:
Here is my shameless plug of Project 5052. This has been running for a long time, and I can't wait to finish it. I hope to have it complete before GTA drops.. It's a xbox 360 btw.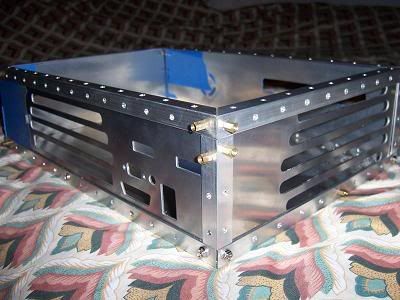 DVD slot
CPU
Motherboard
Graphics
RAM
E5200@ 3.75Ghz 1.34v
EVGA 680i A1 (vdroop mod)
MSI 8800GT OC
4GB GeiL Black Dragon @ 1066
Hard Drive
Monitor
Power
Case
WD RE 160x3 RAID 0
Westy 37w3
CM Real Power 750
Rocketfish Mini
Mouse
MX-518
View all
hide details
CPU
Motherboard
Graphics
RAM
E5200@ 3.75Ghz 1.34v
EVGA 680i A1 (vdroop mod)
MSI 8800GT OC
4GB GeiL Black Dragon @ 1066
Hard Drive
Monitor
Power
Case
WD RE 160x3 RAID 0
Westy 37w3
CM Real Power 750
Rocketfish Mini
Mouse
MX-518
View all
hide details