Okay, I know this is a question asked by many (myself included) but think I finally have the answer
Just swapped out my MSI Neo platinum p35 for an ASUS P5E. In 3Dmark06 I got a 1000 point increase to 17498 (swapped the case too for a Lian-li PC-A71B).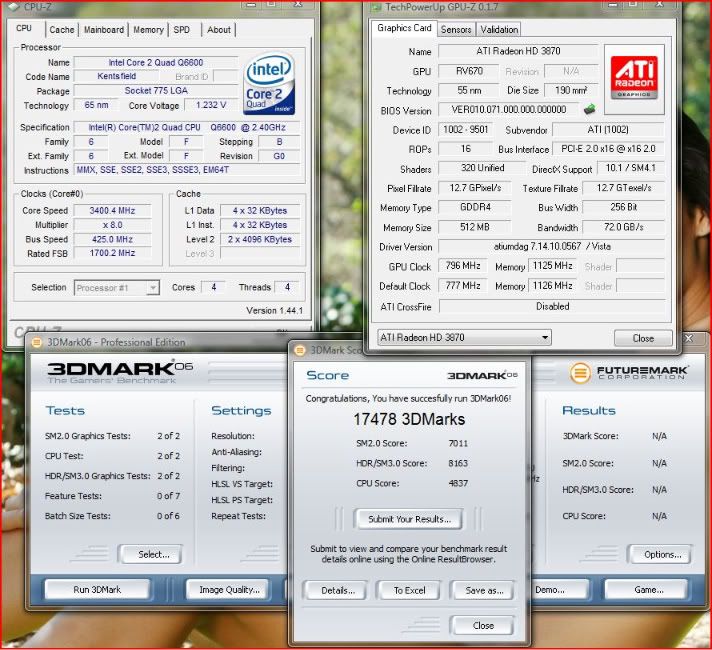 But in Crysis I got a whopping 1/2 fps more at 1920x1200 high detail dx10
So, in essence for standard HD3870's in crossfire: x38 will outbench the p35 but in Crysis it's all a bit same same...
CPU
Motherboard
Graphics
RAM
Q6600 G0 @3.4'ish
ASUS P5E
XFX HD6950 s/w to HD6970
4GB OCZ DDR2 1066 @850 4-4-4-12
Hard Drive
OS
Monitor
Keyboard
3x1TB & 3x320GB Barracuda's
Win 7 Ultimate 64 & XP PRO X64
ACER P243W 1920x1200 :D
Logitech DiNovo
Power
Case
Mouse
Mouse Pad
OCZ ModXstream 700W
Lian-li PC-A71B
G5
Everglide Ricochet
View all
hide details
CPU
Motherboard
Graphics
RAM
Q6600 G0 @3.4'ish
ASUS P5E
XFX HD6950 s/w to HD6970
4GB OCZ DDR2 1066 @850 4-4-4-12
Hard Drive
OS
Monitor
Keyboard
3x1TB & 3x320GB Barracuda's
Win 7 Ultimate 64 & XP PRO X64
ACER P243W 1920x1200 :D
Logitech DiNovo
Power
Case
Mouse
Mouse Pad
OCZ ModXstream 700W
Lian-li PC-A71B
G5
Everglide Ricochet
View all
hide details