Ok, I was one of the lucky ones to get a max extreme for 30bux. You can follow my rebuild here. The rig will consist of the following...
-E8400(going back to a quad soon)
-ASUS Maximus Extreme
-2x1 OCZ DDR3 1600 7-7-7-20
-Sapphire 3870(not sure what im doing here. Either CF these or most likely wait for next gen ATI.
-2x Seagate 160GB in RAID 0
-PC Power and Cooling 750 quad(I know over kill... just the way I like it)
-Tuniq Tower(going water soon)
-Win Vista Premium x64
-CM690(switching to full tower when I go watercooling)
I have pics of everything except the new mobo. It will be here tomarrow. My P5e is in the pics below. The pics also show my new RAM next to my old Ballistix 8500. Enjoy...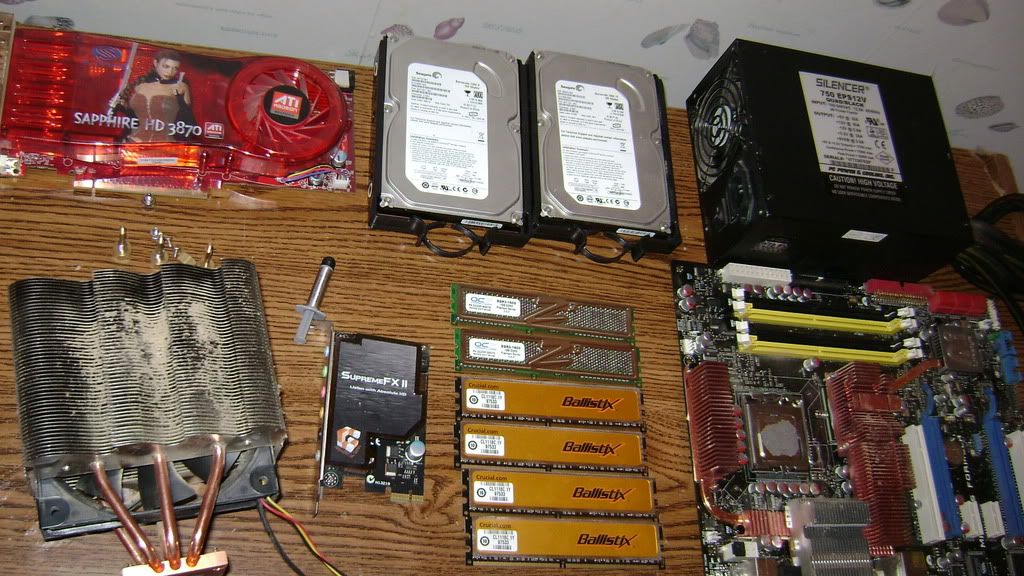 Bob saying hi to OCN. Yes, Bob is a female.
CPU
Motherboard
Graphics
RAM
Undecided
Maximus Extreme
Sapphire 3870
2x1GB OCZ DDR3-1600
Hard Drive
Optical Drive
Monitor
Power
160GB Seagate
LiteON
22"
PCP&C 750
Case
RocketFish(gonna cut this up)
View all
hide details
CPU
Motherboard
Graphics
RAM
Undecided
Maximus Extreme
Sapphire 3870
2x1GB OCZ DDR3-1600
Hard Drive
Optical Drive
Monitor
Power
160GB Seagate
LiteON
22"
PCP&C 750
Case
RocketFish(gonna cut this up)
View all
hide details