Quote:
As is known, on 20 April intel company will lower the prices of 65 nm four core processors, and the model core 2 Quad q6600 (2.4 GHz) will be proposed for $224 in parties from 1000 pieces. From other side, AMD company will propose its three core processors, which will possess attractive prices with performance level close to four core phenom processors . Intel company in this situation could propose inexpensive 45 nm processors with four core, which have low prime cost.
Quote: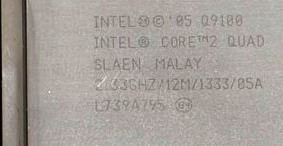 Here is the processor core 2 Duo e8100 (2.33 GHz) with marking SLAPE.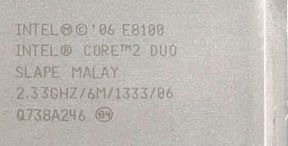 Both processors support 1333 MHz system bus and operate at 2.33 GHz frequency . Core 2 Quad q9100 has 2 X 6 mb cache, but here Core 2 Quad q9300 (2.5 GHz) has only 2 X 3 mb cache in the second level .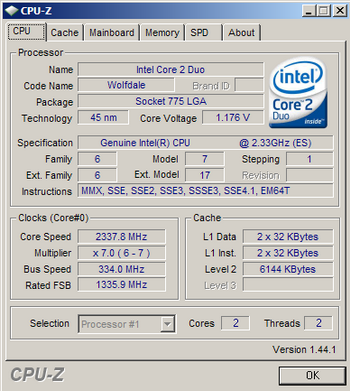 Core 2 Duo e8100 (2.33 GHz) also has 6 mb cache.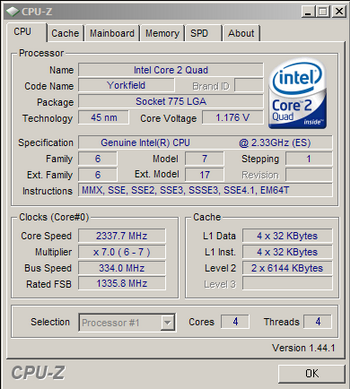 Both processors are based on unknown stepping. Current Wolfdale processors are based on C0 stepping , while yorkfield processors are based on newer C1 stepping .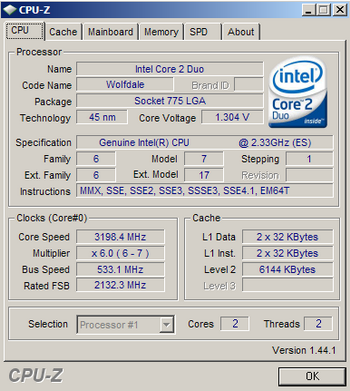 These processors are limited by the low multiplier 7x. even with high system bus frequencies they can overclock to only 3150-3200 MHz.



There are no proofs that Core 2 Quad q9100 (2.33 GHz) will appear as series processors.
Source
CPU
Motherboard
Graphics
RAM
Q9450
ASUS Striker II Extreme 790i
eVGA 9800GTX
OCZ (2*2) 4GB DDR3 1333MHz
Hard Drive
Optical Drive
OS
Monitor
RaptorX 150GB, 2*7200.11 1TB
2*Samsung DVD-RW
Vista Ultimate SP1 64Bit
Samsung 2232BW 22" Widescreen
Keyboard
Power
Case
Mouse
Microsoft Ergonomic Desktop 7000
Enermax Galaxy 1000W DXX
Armor+
Microsoft Ergonomic Desktop 7000
View all
hide details
CPU
Motherboard
Graphics
RAM
Q9450
ASUS Striker II Extreme 790i
eVGA 9800GTX
OCZ (2*2) 4GB DDR3 1333MHz
Hard Drive
Optical Drive
OS
Monitor
RaptorX 150GB, 2*7200.11 1TB
2*Samsung DVD-RW
Vista Ultimate SP1 64Bit
Samsung 2232BW 22" Widescreen
Keyboard
Power
Case
Mouse
Microsoft Ergonomic Desktop 7000
Enermax Galaxy 1000W DXX
Armor+
Microsoft Ergonomic Desktop 7000
View all
hide details