Quote:
Originally Posted by
Penicilyn
there's a 24 hour bump rule you know not 45 minutes. Anyways, yes there would be a massive difference, that s939 Opteron is getting very dated now.
that's a bold faced lie, either that or it's ignorance. Crysis is almost completely GPU bound. I get the roughly same FPS with my c2d at 2.13Ghz as I do at 3.6GHz, it's indistinguishable.
pretty much any dual core CPU does alright in crysis and his opteron 175 is a dual core CPU... just as much as my old opteron 165 was.
Quote:
Originally Posted by
Villainstone
Also you will get the added benefit of ddr2, not to mention about 3.2-3.8 on that CPU. You will most definitely see an actual real world difference.
AMD side the IMC for DDR1 is propbably a bit better than for DDR2 since there's little performance gained under AM2 than over 939...
intel side the system bus kind of criples memory IO performance anyway so it's not THAT big of a deal. Single channel DDR2 is not a deal breaker, atleast not in all things, yes performance takes a noticeable hit but it's not devastating and I'd assume dual channel DDR1 outperforms single channel DDR2 in more or less all regards.
Quote:
Originally Posted by
Armadi110
You will see a massive performance increase if you were to upgrade to a Skt 775 rig using a E6600 and SLi'ed 8800GT's, mostly because your hardware is dated and not optimized as well, however Crysis is very CPU intensive so a Q6600 would be a far better choice than an E6600 as it wouldnt cause a bottleneck. In terms of DDR3, yes it is very expensive but IMO if you are building a new rig then i would recommend getting a DDR3 motherboard as you will use it sooner or later, but using the 8800GT's should give you at least a 100% performance increase if not 200%, hope all goes well with this build
guess you haven't seen any CPU scaling benchmarks for crysis which show dual to quad core scaling to be in the neighborhood of 1%
atleast in realworld scenarios. I'm sure that if you're using the sandbox editor and you setup a few thousand explosive barrels and you set them off simultaneously it'd scale better but that doesn't seem too significant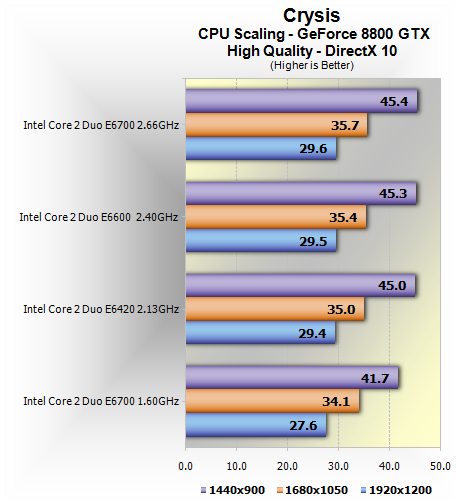 http://www.neoseeker.com/Articles/Ha...lenecks/5.html
and here is the best resource
http://google.com/
here and now you DON'T buy a highend CPU for gaming, you buy it for everything BUT gaming.
anyone telling you to upgrade your CPU for this game should NOT be listened to. Maybe if you were looking at supreme commander it might be more justifiable, be even then it's not an epic leap. c2d is roughly 20% faster per clock. it clocks roughly 10-20% higher than k8(depending on the age of the core of course) under air. yes that's as high as 50% in some cases. but quite frankly if you've got a solid ~3Ghz k8 system there is no reason for an upgrade if your sole interest is gaming and you aren't made of money
CPU
Motherboard
Graphics
RAM
Phenom II x4 720be
Gigabyte ud4p
4870 512mb
4GB (2*2GB) Super talent micron d9
Hard Drive
Optical Drive
OS
Monitor
80GB Intel x25-m + 640GB WD cavier
Lite On DVD burner
Windows 7
Dell 2005 FPW & Dell e207wfp
Keyboard
Power
Case
Mouse
Logitch Ultra X
Corsair TX 750W
Lianli PCV-1000II
Logitech MX518
View all
hide details
CPU
Motherboard
Graphics
RAM
Phenom II x4 720be
Gigabyte ud4p
4870 512mb
4GB (2*2GB) Super talent micron d9
Hard Drive
Optical Drive
OS
Monitor
80GB Intel x25-m + 640GB WD cavier
Lite On DVD burner
Windows 7
Dell 2005 FPW & Dell e207wfp
Keyboard
Power
Case
Mouse
Logitch Ultra X
Corsair TX 750W
Lianli PCV-1000II
Logitech MX518
View all
hide details