This is a guide to cutting any heatpipe on your board or cooler, in particular here the NB chipset heatpipe on the Asus P5N32E-SLi motherboard. It's necessary to either buy aftermarket memory/mosfet coolers from companies like Swiftech or Vantec, possibly the Thermalright HR-09. But, if you would like to keep the mosfet coolers... here we go.
Thanks to Dostoyevsky77 and USlatin.
1. I used a tubecutter called the "Imp". Place the pipe on the grooves and set it in with the dial, but do not tighten the blade right away.
I decided to leave most of the pipe and have it open. Squeezing will pinch the pipe shut and not let heat circulate out through the pipe.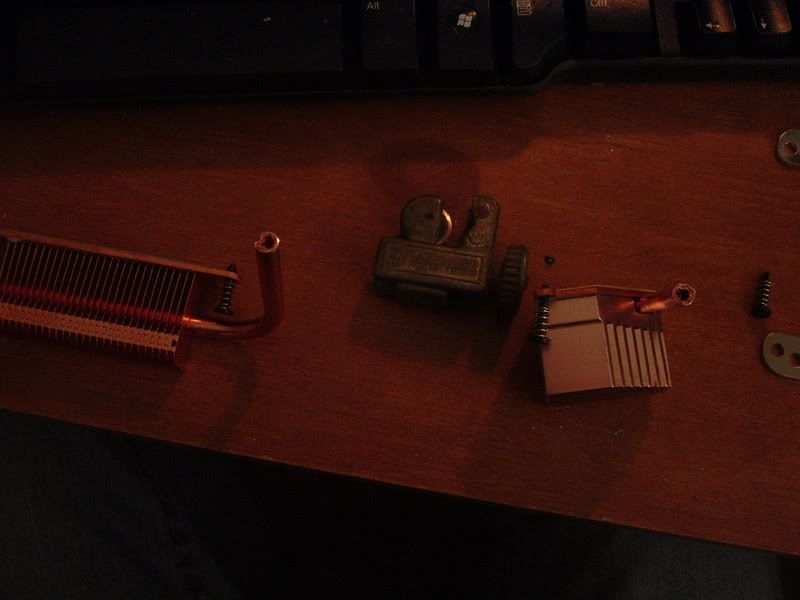 2. Make a twisting motion a couple of times, making a groove all the way around the pipe. Then tighten a little and do the same thing. After a few repititons of twisting and tightening, the pipe will easily pull apart.
3. Lastly you want to keep from cutting your self. Grab a pocketknife and stick the pointed end inside the pipe. Twist the blade around inside too smooth out the end and shave off the jagged pieces of copper.
Hope this helps. Great way to keep your mosfets but get the advantage of active cooling. I replaced my NB stock cooler with a Jing Ting Forcetake.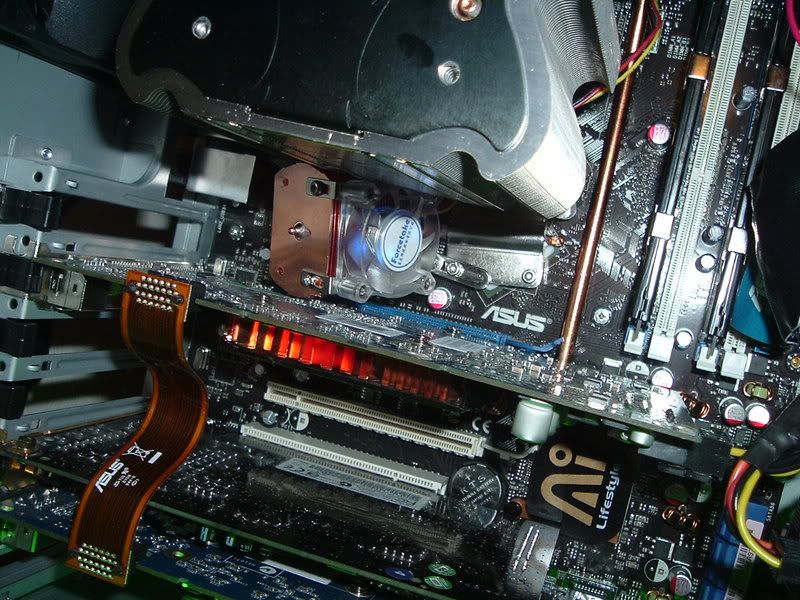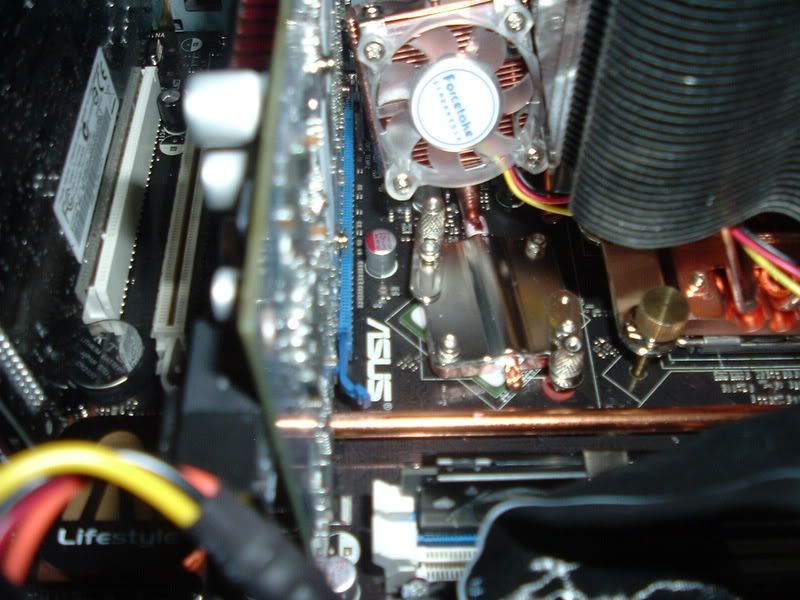 CPU
Motherboard
Graphics
RAM
[i7 870 @ 3.88, 1.38v]
[Asus P7P55 LX (1201)]
[2x XFX 6870 (900/4200)]
[Crucial Ballistix 4GB]
Hard Drive
Cooling
OS
Monitor
[WD Black 1TB + LacieUSB 320]
Megahalem + 2x FM121s
[W7 Home Premium 64]
[Samsung BX2440]
Keyboard
Power
Case
Mouse
[Ducky 9008G2, Brown]
[Silverstone DA750]
[Lian-Li PC 7B Plus II]
[Razer Deathadder 3.5G]
Mouse Pad
Audio
[Steelseries SX Aluminum]
[AudioGD Compass/AKG Q701]
View all
hide details
CPU
Motherboard
Graphics
RAM
[i7 870 @ 3.88, 1.38v]
[Asus P7P55 LX (1201)]
[2x XFX 6870 (900/4200)]
[Crucial Ballistix 4GB]
Hard Drive
Cooling
OS
Monitor
[WD Black 1TB + LacieUSB 320]
Megahalem + 2x FM121s
[W7 Home Premium 64]
[Samsung BX2440]
Keyboard
Power
Case
Mouse
[Ducky 9008G2, Brown]
[Silverstone DA750]
[Lian-Li PC 7B Plus II]
[Razer Deathadder 3.5G]
Mouse Pad
Audio
[Steelseries SX Aluminum]
[AudioGD Compass/AKG Q701]
View all
hide details