Build Status: Waiting for DS3L to arrive on 3/27/08 (about 10PM Pacific time [GMT -8:00])
My IP35 Pro started giving me post errors about a week ago (it will post "9.0." which isn't in the manual and I can't find what is wrong with it) and I've decided I've done everything in my power to try and solve the problem and I'm giving up on Abit. The IP35 Pro couldn't get my Q6600 much past 3.2Ghz because of the 0.05v Vdroop (I don't like modding electronics unless I've done something similar before) and I just gave up on ever seeing 3.6Ghz. Now I have been eying the DS3L ever since I noticed a lot of people had it and wanted to try it out. Yeah it's not as fancy as the IP35 Pro (when it works), but it still looks sweet. So an hour or two ago I ordered one from Newegg for $89 (with the 3 day UPS shipping and taxes it came to about $105), and it should be here Thursday night.
The only thing I'm not looking forward to is not having onboard RAID. I do have a SATA I RAID controller that should be bootable, but I'm not sure if I'll be able to get it to work. Also I'll be installing XP instead of Vista, because for some reason all the Vista computers in my house either don't work or generally slower when not in games (compared to XP) and all of the XP computers instantaneous. Again, I'm not looking forward to needing RAID drivers for the XP installer.
And while all that will be going on, I'm going to have a friend come over with his dremel (and some other tools) to mod my Antec 900 so I can put everything in one case without greatly losing airflow. (see
this picture
,
this picture
, and
this picture
to give you a better image in your head)
So I guess this is a major turning point in this rig's "life". I'm hoping that this will be a quick and easy changeover.
Edit: This has officially turned into a build log
. I will be duplicating my posts in this main thread for your ease of viewing.


Quote:
Originally Posted by
mrtn400
Ok here is my first update officially making this thread a build log! I got my camera working, but I still am a horrible photographer
. I personally hate it when build loggers have their pictures fragmented throughout the tons of "Subscribed!"s and "Nice!"s so I will be adding them to the main post.
So I finally gutted my case.
But I ran into a bit of a problem. My Tuniq Tower 120's backplate didn't come off very nicely and all of the adhesive is still stuck to the IP35 Pro.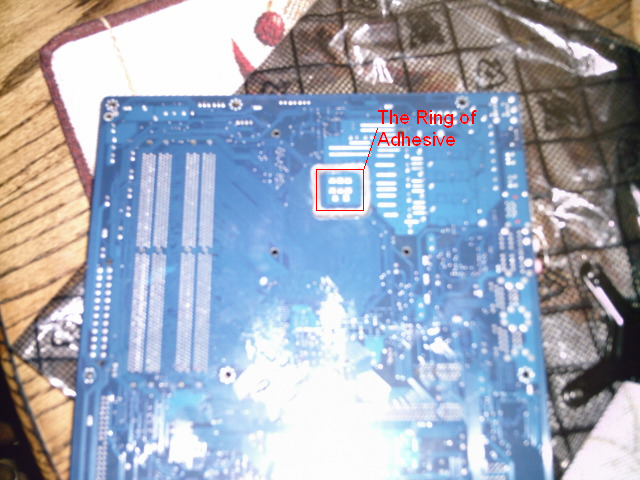 So I'll be using an AC Freezer 7 until I can get another Tuniq.
And I got my RAM and my Q6600 all boxed up so they don't get damaged.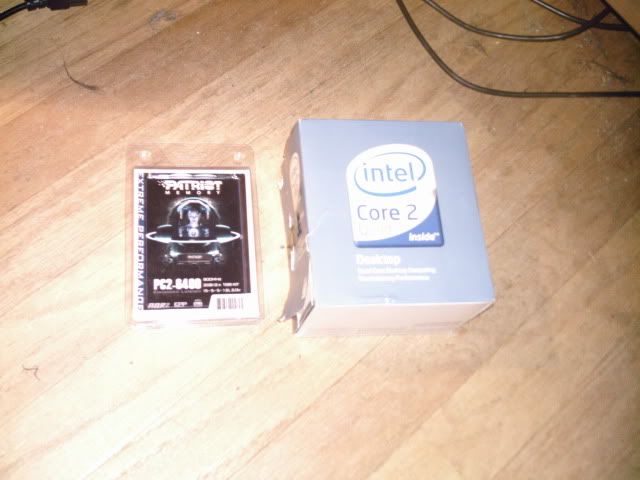 I also boxed up my IP35 Pro, hopefully for the last time.
CPU
Motherboard
Graphics
RAM
Q6600 G0
GA-EP45-UD3P Rev. 1.0
Sapphire 4850
4x 2GB DDR2-1066
Hard Drive
Hard Drive
Optical Drive
Cooling
WD1600AAJS
Random IDE
Sony DVD Burner
Tuniq Tower 120
Cooling
Cooling
Cooling
OS
6x 120mm Scythe SY1225SL12SH Fans
Thermalright T-RAD2
2x 92mm Scythe DFS922512M-PWM Fans
Windows 7 Ultimate x64 SP1
Monitor
Monitor
Keyboard
Power
Acer 19" @ 1400x900
Sceptre 19" @ 1280x1024
Cherry G81-7000LPAUS-2 (MY Switches)
Corsair 650TX
Case
Mouse
Mouse Pad
Audio
Antec 900
Razer Diamondback 3G
A black one with a cat in a hammock
Asus Xonar D1
View all
hide details
CPU
Motherboard
Graphics
RAM
Q6600 G0
GA-EP45-UD3P Rev. 1.0
Sapphire 4850
4x 2GB DDR2-1066
Hard Drive
Hard Drive
Optical Drive
Cooling
WD1600AAJS
Random IDE
Sony DVD Burner
Tuniq Tower 120
Cooling
Cooling
Cooling
OS
6x 120mm Scythe SY1225SL12SH Fans
Thermalright T-RAD2
2x 92mm Scythe DFS922512M-PWM Fans
Windows 7 Ultimate x64 SP1
Monitor
Monitor
Keyboard
Power
Acer 19" @ 1400x900
Sceptre 19" @ 1280x1024
Cherry G81-7000LPAUS-2 (MY Switches)
Corsair 650TX
Case
Mouse
Mouse Pad
Audio
Antec 900
Razer Diamondback 3G
A black one with a cat in a hammock
Asus Xonar D1
View all
hide details