Quote: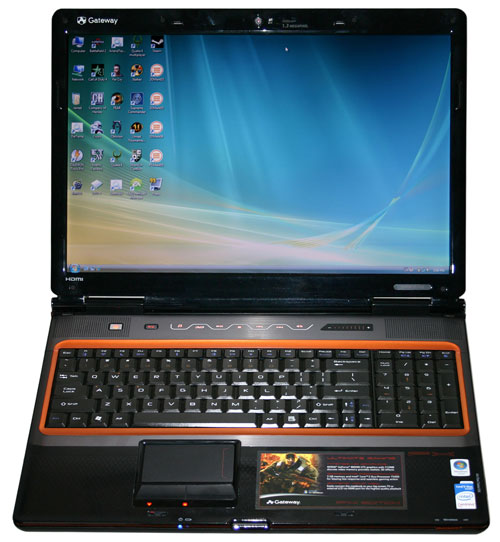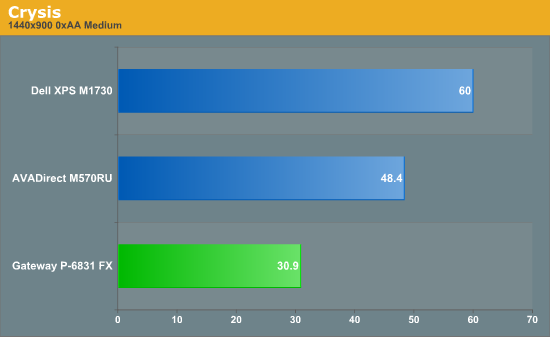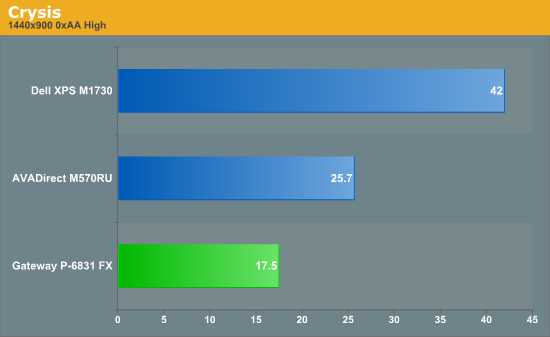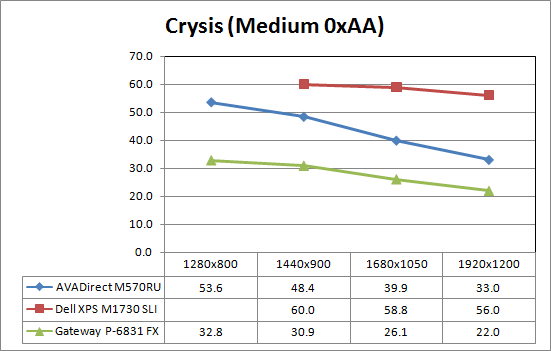 Closing Thoughts

We always enjoy reviewing top-end notebooks, as it's exciting to see just how much performance can be packed into a (reasonably) portable package. It's a lot like eyeballing a sports car that you probably won't buy but you can still lust after, or perhaps being lucky enough to take one for a test drive. Who among us doesn't relish the thought of burning rubber Need for Speed style in an exotic sports car? At the end of the day, however, most of us drive home in our Honda Accords, Toyota Camrys, or — gasp! — minivans. (I myself drive around in a Chrysler Sebring.)

Just because you drive a midrange, midsize sedan doesn't necessarily mean you have to sacrifice in all areas, however. It's possible to get a V6, leather interior, and other upgrades, and even if you will never be able to keep pace with the exotic cars of the world you can at least be reasonably content. If gaming laptops were cars, the Gateway P-6831 FX would manage to attract a lot of attention — and deservedly so. Imagine being able to buy a very nice sports car that could compete with the Dodge Viper at one third the cost, and that's what Gateway has released on the market.

If you've ever been interested in a gaming notebook but have decided that the price/performance just can't be justified, now might be a good time to rethink things. Oh sure, there are compromises made — your gas mileage is going to go down, the car may be a bit bulkier and noisier than you'd like, and in a flat-out drag race you will probably get smoked. But as long as you're only competing against the average business notebook, feel free to rev up your 8800M GTS engine and make some people jealous.

When we first saw Gateway's new FX notebook at CES, we were intrigued. Then they told us the expected price and our jaws hit the floor. We have never seen this much relative graphics performance in a notebook for such a low price. If you're into the LAN party scene and you're thinking it's about time to upgrade your aging desktop, it might be time to finally ditch desktops entirely.

The Gateway P-6831 FX isn't perfect by any means. We don't like the fact that the battery juts out from the rear of the notebook, we really would have liked a 1920x1200 LCD option on some of the less expensive models, the one-year warranty is short, and the LCD contrast ratio isn't very good. Like many OEM systems, it also comes preloaded with a ton of bloatware — that's easy enough to uninstall, thankfully. And would it be too much to ask for four audio jacks so we could use 5.1 headphones with a microphone? But that's just us being greedy.


As far as affordable mobile gaming is concerned, there is nothing else out there that can even come close to the Gateway P-6831 FX. PC design — particularly in the midrange market — needs to be optimized for specific uses. Do you want a powerful CPU in order to handle tasks like video encoding, image manipulation, etc. or do you want a more well-rounded design with the ability to play modern games well? In the case of the latter, balance is especially important in regards to the CPU and GPU; a top-end CPU with a lower-end GPU is not going to provide a great gaming experience, but a good GPU with a less expensive CPU could be the perfect combination. More than any other notebook we have tested, Gateway gets the balancing act required to achieve maximum performance at a minimum price. In recognition of this, we present the P-6831 FX with our Gold Editors' Choice Award. Gateway has seriously raised the bar for what can be achieved in a sub-$1500 notebook, and we're excited to see what they come up with next.



Source