Hopefully this will serve as a permanent guide for anyone who is interested in the different pad options for Grado headphones. This does not cover every possible option out there, only the ones that are most frequently recommended and used in our little community.
~~~~~~~~~~~~~~~~~~~~~~~~~~~~~~~~~~~~
So to start, we have
Grado Bowl pads
.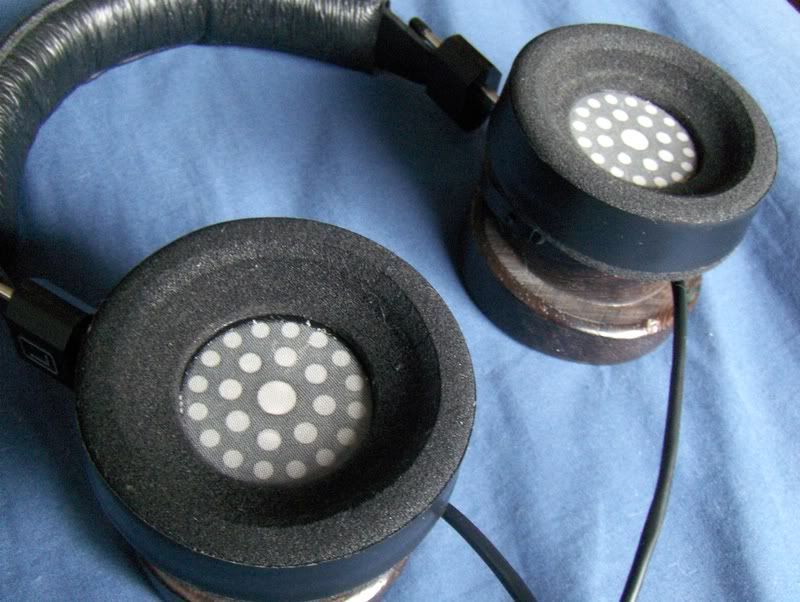 Stock grade - 8/10
Modded grade - 9/10
These are the pads that are packaged with the SR-80, 125, 225, RS-2, and RS-1. My immediate impressions upon putting them on were "uncomfortable, but nice". There are remedies for the discomfort. Wash them in luke-warm water with a bit of shampoo, then let them air-dry. They will be softer and slightly more comfortable.
As for sound, these were initially my preferred pads. That has changed with further comparison that I have been doing for the past few weeks. Because of their slight funnel-shape, they sit your ears farther away from the driver, which I've found adds and maintains overall clarity and also increases soundstage considerably over other pad options. The treble is very pronounced and can be best described as "sparkling". This can be very unappealing for listeners that dislike bright-sounding headphones (then again, those listeners probably should disregard Grado entirely if they dislike a lot of brightness). If the sound presentation from bowls is forward enough for you, then keep them and be done with it.
Possible Mods
:
-
s1rrah's shack hack mod
. Haven't tried this myself as I haven't found it necessary - I'm very satisfied with the treble.
- Taping the bowls. Using electrical tape, cover the entire outside edge of the bowls. This improves bass impact and a slight bit of resonance (not quantity however), which is very helpful with rock music. You can see the tape in the picture I have provided.
~~~~~~~~~~~~~~~~~~~~~~~~~~~~~~~~~~~~
Next, we have
Sennheiser HD414 pads
.
Stock grade - 7/10
Modded *reversed* grade - 7.5/10
These pads are very attractive to those looking to use something other than bowls because they are comfortable, light, and inexpensive.
Possible Mods
:
- Quarter mod. Place a quarter (or any other larger coin) in the center of the wider side of the pad (side with no hole). Using an exacto knife, cut out a circle. The purpose of this is two-fold. If you rest the pad on the cup as normal, there will be no covering over the driver. This is beneficial as it reduces muddiness of the sound. The second part is as follows.
- Reverse mod. This pad can sit on the cup either normal or reversed. The picture I have provided shows the pad reversed. In order to reverse, you must do the quarter mod.
- Color-dye. Yeah, just dye them whatever color you want if you're like me and despise the ugly-ass yellow.
I listed modding before sound because the mods completely change how the HD414 pads sound. I really dislike them at stock. They move your ears closer to the driver but at a sacrifice for clarity (adds a lot of muddiness). Essentially they sound like Flats, but nowhere near as good in impact and involvement. If you do the quarter-mod and reverse them, you will find the sound much closer to bowl pads. However, I have noticed that the treble becomes extended when the pads are reversed, which in my opinion is not a good change. This occurs because reversed will sit you the farthest away from the music, making the treble timid and annoying. These are the most comfortable pads for Grado's though, no question.
~~~~~~~~~~~~~~~~~~~~~~~~~~~~~~~~~~~~
Lastly, we have
Grado Flat pads
. These are more commonly referred to as "flats".
Stock grade - 8.5/10
These pads are a bit more scarce; they can only be purchased at the link I have provided. Many listeners find Bowls and Hd414s to be unsatisfactory, and as such they turn to the more expensive flats. The comfort and fit of these is a bit strange - the foam is very dense (similar to bowls) and as such they have very little cushion or give to them. I would assume that washing these (similar to bowls) will with comfort. I will say that some of the fatigue you'd feel with bowls is eliminated. However, clamping becomes an issue and the headphones will feel slightly loose on your ears. Bending the headband inwards a little bit may help correct this.
The sound characteristics are interesting; this does not mean that they are any worse/better than bowls. Grado's are already very forward in presentation, but with flats it feels like the singer is booming his vocals directly into your face, with the bass drum kicks occurring right behind you. I was originally turned off by the fact that these are sooooo forward in presentation. I felt like I was no longer able to hear all the distinctive sounds that bowls provided me with. My view of this has now changed somewhat - I've come to appreciate just how much flats alter the listening experience. The bass is noticeably improved. Treble is dampened a bit, which those who find Grado's too bright will be happy with. There is slight muddiness to the sound overall. These are intriguing pads, and I personally wouldn't mind having a pair just for real in-your-face listening when I'm in the mood.
Possible Mods
:
- None that I know of. I'd like to find a way to add more cushion.
~~~~~~~~~~~~~~~~~~~~~~~~~~~~~~~~~~~~
Well, there you have it. The 3 most popular pad choices rounded-up. If I had to give the slight edge to any pair, it would have to be Bowls. They seem to provide the sound that I believe John Grado intended these headphones to have. Comfort will always be an issue, but you can remedy it if you so desire. The HD414s and Flats are solid as well, but I feel they change the sound-signature in an unnatural way. Who knows, maybe you'll like that sound signature?
Thanks for reading, and rock on!
CPU
Motherboard
Graphics
RAM
C2D e6600 (3.3ghz)
Asus P5Q (P45)
eVGA 8800GTS 320mb (670/1000)
2x1GB G.Skill HK (900mhz @ 5-5-5-15)
Hard Drive
Optical Drive
OS
Monitor
WD Black 640GB (OS) / WD AAKS 500GB + WD JS 250GB
Sony DVD-RW
Vista Ultimate 32bit
Dell E207WFP (1680 x 1050)
Keyboard
Power
Case
Mouse
Basic Dell ;>
Corsair HX520w Modular
Modded CM Centurion 590
Logitech G5
Mouse Pad
XPS pad
View all
hide details
CPU
Motherboard
Graphics
RAM
C2D e6600 (3.3ghz)
Asus P5Q (P45)
eVGA 8800GTS 320mb (670/1000)
2x1GB G.Skill HK (900mhz @ 5-5-5-15)
Hard Drive
Optical Drive
OS
Monitor
WD Black 640GB (OS) / WD AAKS 500GB + WD JS 250GB
Sony DVD-RW
Vista Ultimate 32bit
Dell E207WFP (1680 x 1050)
Keyboard
Power
Case
Mouse
Basic Dell ;>
Corsair HX520w Modular
Modded CM Centurion 590
Logitech G5
Mouse Pad
XPS pad
View all
hide details