On my
Dell XPS 630
BIOS --> Voltage page, these voltage settings are listed.
CPU Default Voltage (default: 1.3500) [Can't be changed in BIOS]
CPU Voltage (default: 1.325)
FSB Voltage (default: 1.20)
Memory Voltage (default: 1.85)
Chipset Voltage (default: 1.40)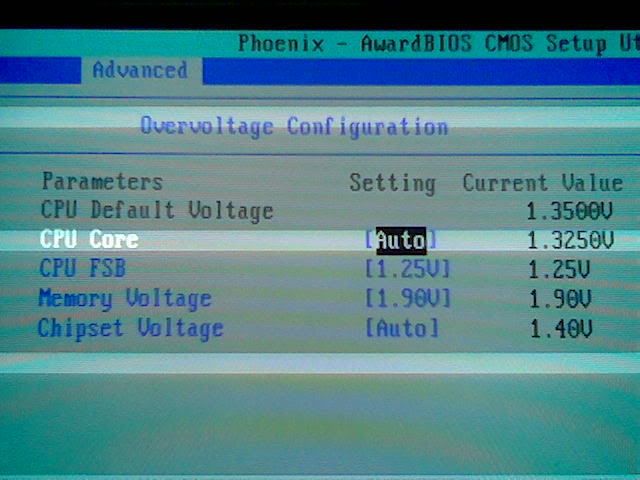 Questions:
Is the '
CPU Default Voltage
' just telling you the default voltage on the system? Or is it different than CPU voltage (VID) below it? (It's different from what I've read: 'VID is the set value of Volts that are fired into your CPU to get it started up')
For
FSB Voltage I/O (VTT)
, what's a safe value for it (nForce 650i SLI)? I noticed the only way I could get past the BSOD on start up at 2.7Ghz (9 x 300) is by upping this to 1.25 (default is 1.20), but I havn't try changing the CPU default voltage yet (unchagable in BIOS).
For
Chipset Voltage
, what does it correspond to exactly (PCI-e, MCH, ICH, etc..) and what's the safe setting for it should I decide to tamper it (default = 1.4)? The info in the BIOS showed 'nForce SPP'.
Spec:

nForce 650i SLI MOBO (C55-MCP51)
C2Q Q6600 G0
2x 1gb PC6400 DDR2 800mhz @ 5-5-5-18
Geforce 8800 GTX
---
CPU
Motherboard
Graphics
RAM
Core i7 4280K @ 4.5 Ghz
EVGA X79 FTW
ATI Radeon R9 290
4x 4GB AVEXIR Core Series (White LED)
Hard Drive
Optical Drive
Cooling
OS
Too many to list
Asus
Watercooled
Windows 7 Homoe Premium 64bit
Monitor
X-star, BenQ, Asus
View all
hide details
CPU
Motherboard
Graphics
RAM
Core i7 4280K @ 4.5 Ghz
EVGA X79 FTW
ATI Radeon R9 290
4x 4GB AVEXIR Core Series (White LED)
Hard Drive
Optical Drive
Cooling
OS
Too many to list
Asus
Watercooled
Windows 7 Homoe Premium 64bit
Monitor
X-star, BenQ, Asus
View all
hide details