If you have both OpenOffice and MSO, try this: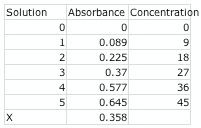 Add that data table to a spreadsheet. Try to graph Absorbance and Concentration, but don't include the last horizontal ROW.
OpenOffice just couldn't get it right. MSO Excel can graph it correctly, but OOo Calc cannot.
It's things like these that sometimes makes me not hopeful about open source...