Basically with so much New HD media coming out, older pc's are stuggling to play them so if your pc handles 1080p x264 etc fine you dont need this faq, the majority here will find this, but if someone is building a cheap HTTPC or wants to put their old rig to use this will be perfect!
Now most single core processors cannot play all 1080p content flawlessly, yes theres exceptions but it depends normally upon birtrate of the video etc.
Before we begin make sure you have all codec packs uninstalled! they are lowsy and cause alot of conflicts, I wouldnt recommend them! Audio wise i would recommend AC3 Filter. Now to video:
First Install these Filters and Players:
The best player for low recources and great playback:
Media Player Classic
x264 encoded with .mkv or .mp4 container
:
For just CoreAVC 1.1 Pro (which decodes x264 and includes haali media splitter)
DirectVobSub (VSFilter) , subtitles
Link
And for those .mp4 /.mkv files use Haali Media Splitter
Site Link
and the
Direct Download Link
- When playing .mkv /.mp4 files you should see the following icon in your taskbar:

AAC audio playback, lots of choices like
FFDShow
, Nero,
CoreAAC
For Everything else audio related,
AC3filter
One of the best Audio decoders out there
To play .ts /.mpeg (Transport Stream and MPEG 2 Respectively)
There are 2 main options
1
.
nVidia Purevideo Decoder
* Note: To use this version of the nVidia Purevideo decoder, I find it runs best using Windows Media Player + the Decoder , you do not need a nVidia Video Card, I run it fine with my ATI X850XT. I do hear
later versions of the decoder do no work with ATI video cards
If you have a nVidia card, I encourage you to use the latest version. (You will know if purevideo is or not working if you see an icon in your taskbar when playing Transport Stream/ MPEG-2 content like the following image

)
2
. You can also use
PowerDVD 7
But although I personally find Nvidia's performance better and colour enhancing technology superior than power DVD's but some people beg to differ.
just make sure that if you install PowerDVD 7 that you disable the h.264 support it has, and continue to use CoreAVC, for h.264.
To disabe PowerDVD's useless h.264/AVC codec go to Start->Run and put:Quote:
regsvr32 /u "[folder]\\VideoFilter\\CL264dec.ax"
Where [folder] is the PowerDVD folder
for example
:
Quote:
regsvr32 /u "C:\\Program Files\\CyberLink\\PowerDVD\\VideoFilter\\CL264dec. ax"
For
Playing .XviD
- use
Koepi's Latest "Experimental Build"
and play it in Media Player Classic (MPC)
For
Playing .x264
- which is most of the High Definition content on SCT
1
. Install CoreAVC.
2
. Make sure FFDShow's H.264 decoding is disable by doing the following:
- Play a .x264 video in MPC
Right click and go to filters. If you see FFDshow there like the following image, then click it: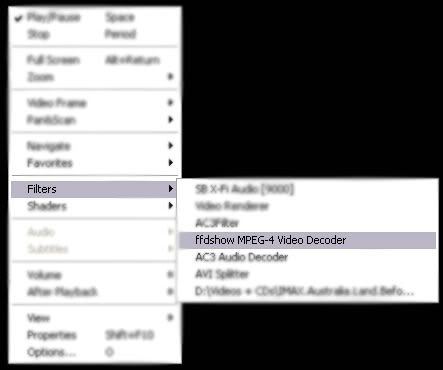 And then you need to go to its video decoder settings, click the Codecs entry in the list to the left, find the H.264 entry in the grid, and change it from "libavcodec" to "disabled". like the following image: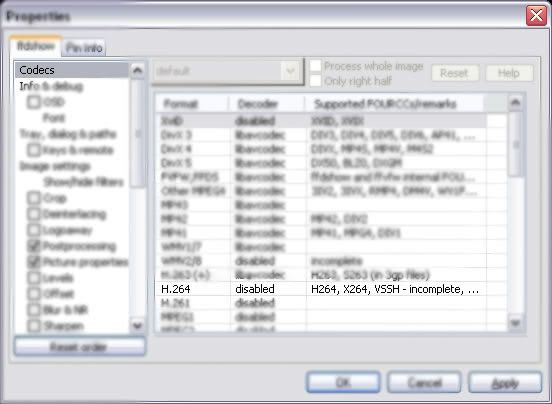 3
. Reopen the .x264 file and now when you go to filters it should like something like this
4
. CoreAVC will now get used instead of FFDShow for H.264 decoding.
How to play Apple's Quicktime Trailers in High Definition with CoreAVC
-This allows nearly anyone no matter how good/bad your hardware is to playback 1080p trailers at normal speeds.
1
. Unistall Apple Quicktime.
2
. Install
Quicktime Alternative
3
. Go to the
Apple Trailers
website
4
. Choose a HD (High Definition) trailer of your choice, I chose Spider-Man 3
5
. Left Click on the Resolution you wish to download, I normally choose 1080p, even though I have a 1280x1024 monitor because I like to think it will have a better image, although some people (mithc) say it will look worse due to aspect ratio changes. So choose whatever you want.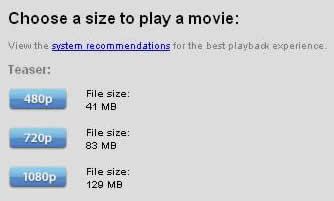 6
.Then choose
Download and Play with Media Player Classic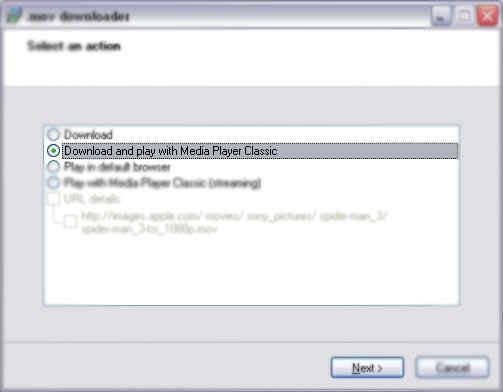 7
. The important part in the next step is to check the box that says "
Rename to .hdmov
" and then once the file is done downloading, open the file with media player classic, and under filters CoreAVC should be there..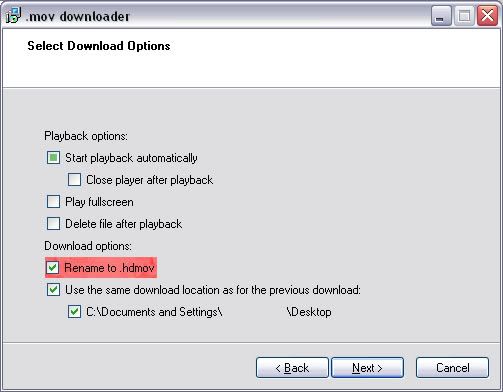 (Note: any h.264 file that has the file extension of apples .mov can be renamed .hdmov and opened with MPC to use CoreAVC, Quicktime Alternative just makes it easier)
P.S.
You can try setting CoreAVC as the prefered codec, to do this
Go to Options -> External Filters -> Add Filter -> CoreAVC Video Decoder - then click prefer -> Apply -> OK
Should work after that you can also add your other codecs, like the ones I have listed. I suggest you keep it in a similiar order, with at least coreavc at the top
With the above codecs etc i was able to play 720p x264's , mpg's and .ts and also 1080i flawlessly, some lower bitrate 1080p played flawlessly on an amd 2400+, 1gb DDR RAM, Nvidia 5200, not bad for an old machine
Hope this helps someone!
CPU
Motherboard
Graphics
RAM
Intel C2D E6300
Gigabyte 965p ds3 rev3.3
Nvidia 7800GT
2GB G SKill DDRII 800 HZ RAM
Hard Drive
Optical Drive
OS
Monitor
Maxtor IDE 500GB
Pioneer 106
Windows XP
19" Widescreen
Power
Case
500W Aspire ATX
Viper PC gaming Case
View all
hide details
CPU
Motherboard
Graphics
RAM
Intel C2D E6300
Gigabyte 965p ds3 rev3.3
Nvidia 7800GT
2GB G SKill DDRII 800 HZ RAM
Hard Drive
Optical Drive
OS
Monitor
Maxtor IDE 500GB
Pioneer 106
Windows XP
19" Widescreen
Power
Case
500W Aspire ATX
Viper PC gaming Case
View all
hide details