Quote:
Yesterday Mozilla foundation released the latest beta version : FireFox 3 beta 5. Today we will continue our
Quote:
review and check the development of this powerful and secure browser .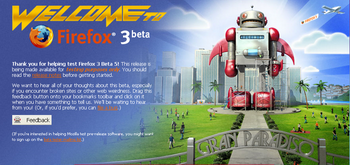 Quote:
Just like Memory usage CPU time was also improved with FireFox 3 . The new browser use about half CPU power than previous one .The new fire fox beta version (5) improves the CPU usage by almost 20 % in comparison with FireFox 3 beta 3 .This is already a nice progress .The above speak about browser optimization . For example, fire fox 2 was clearly built for a simple HTML page while Fire fox 3 shows better performance with a complex page (average 20) .
Source
CPU
Motherboard
Graphics
RAM
Q9450
ASUS Striker II Extreme 790i
eVGA 9800GTX
OCZ (2*2) 4GB DDR3 1333MHz
Hard Drive
Optical Drive
OS
Monitor
RaptorX 150GB, 2*7200.11 1TB
2*Samsung DVD-RW
Vista Ultimate SP1 64Bit
Samsung 2232BW 22" Widescreen
Keyboard
Power
Case
Mouse
Microsoft Ergonomic Desktop 7000
Enermax Galaxy 1000W DXX
Armor+
Microsoft Ergonomic Desktop 7000
View all
hide details
CPU
Motherboard
Graphics
RAM
Q9450
ASUS Striker II Extreme 790i
eVGA 9800GTX
OCZ (2*2) 4GB DDR3 1333MHz
Hard Drive
Optical Drive
OS
Monitor
RaptorX 150GB, 2*7200.11 1TB
2*Samsung DVD-RW
Vista Ultimate SP1 64Bit
Samsung 2232BW 22" Widescreen
Keyboard
Power
Case
Mouse
Microsoft Ergonomic Desktop 7000
Enermax Galaxy 1000W DXX
Armor+
Microsoft Ergonomic Desktop 7000
View all
hide details