Preparation:
First off: Safety is paramount. Respiratory Protection is not an option unless you want to be reduced to a slobbering imbecile, and produce offspring with 3 arms….. hmmm… maybe that is not such a bad thing…
Seriously though, VOC protection is a must, a simple dust mask will not protect you.
**per
afzsom
~ thank you for your consideration for safety. _/\\_
Material Data Safety Sheet
for the resin that I am using.
I suggest that if anyone is going to use this product, or anything that is similar that they read the MSDS very carefully and ensure that all protective measures are adhered to strictly.
If one is not able to dispose of the waste in a responsible manner, then it would be advisable not to pursue a project of this nature.
Secondly, if you are like me, you may need to save and budget for any project that includes carbon fiber. The materials cost is ghastly.
That being said, shall we move on?
Tools and materials:
Here is an example of a decent respirator to use. Latex gloves are also a boon. Not a necessity, but barring anymore of my snide remarks let's just say that you will want to don a set of them; non-powdered is a must.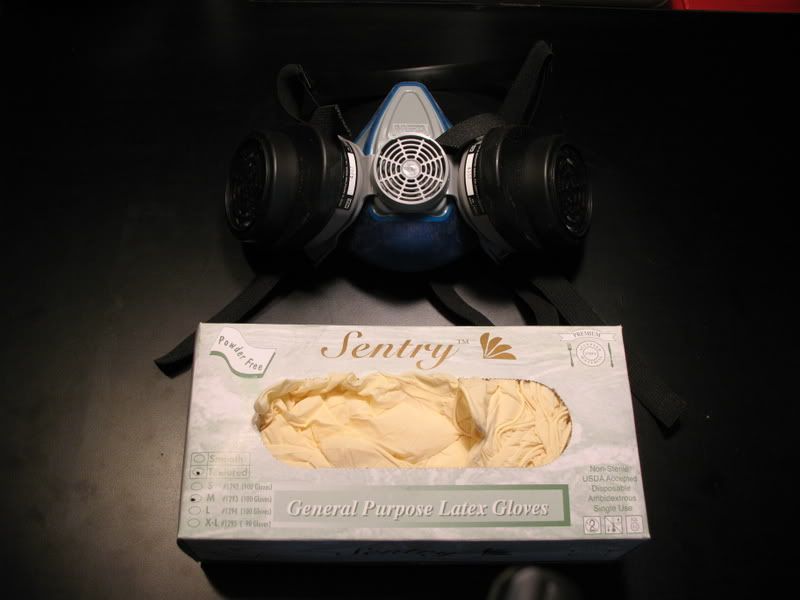 Here is a list and pic of the epoxy and related materials
Epoxy
Hardener
Mixing cup (one with marked measures is recommended)
Stir stick
Spreader
Roller (not necessary, but good if you use the "bunting")
Cutting instruments:
Please note that electric scissors are not necessary, but makes life considerably easier. A quick cost analysis reveals that the cost of the (used) scissors vs. the cost of waste due to unclean cuts weighs in that the purchase was justifiable….
….lol, it sounded like a good excuse to get electric scissors… Hahahahaha electric scissors… hahahaha… uh… erm… I must be getting really lazy.
Two very flat surfaces will be needed to act as the "form". Glass is recommended, but to save a couple of bucks (moola that went toward the electric scissors
) I used these marble tiles that I had hanging around.
These are the weights that I will use for the setting; combined they weigh in at about 40 lbs.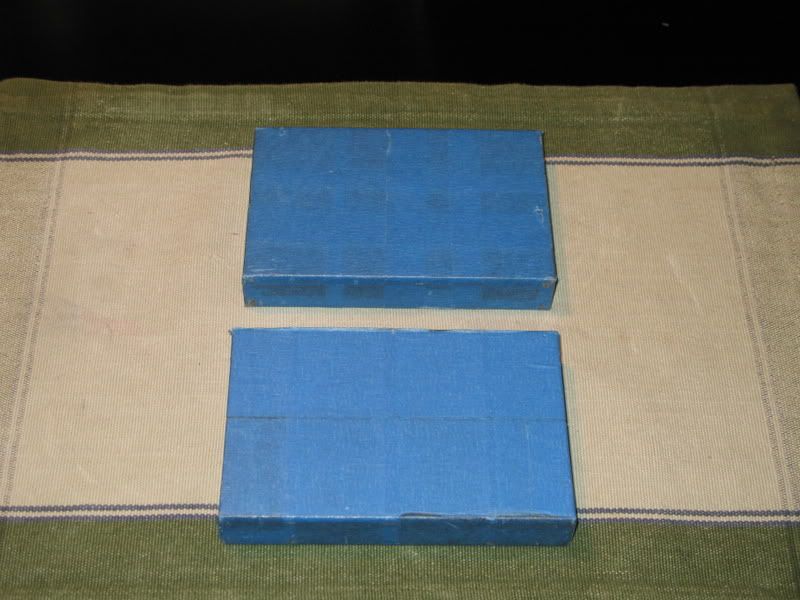 And of course you will need carbon fiber.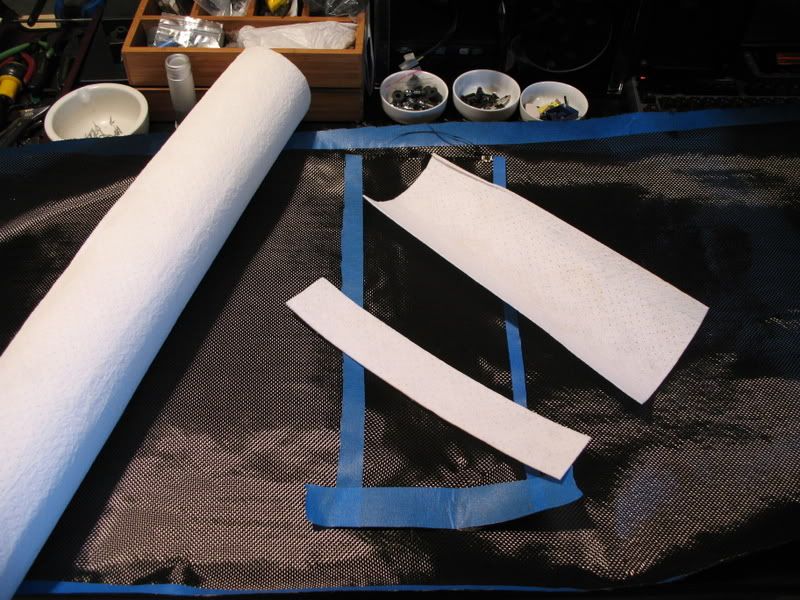 Layering:
As you can see, there is a weave to the carbon fiber. This panel will not use the "bunting", so for added depth and rigidity I will be using 4 layers of carbon fiber.
Note: Rotating the weave by 45-degrees will add torsional strength as well as longitudinal strength; see below
There are several techniques to gain added rigidity; here are the 2 that are most common:
Quasi-Isotropic construction will orient the individual layers in overlapping and multiple directions, this yields a panel that has a good combination of longitudinal and torsional rigidity.
This technique finds the pieces layered as:
Note: all numbers reflect the degree of direction off of 0 degrees.
Bi-laminates use a simpler construction: placing the fibers in two directions only. Because all the fibers are oriented in the 0-degree and the 90-degree orientations, the resulting panel or piece is longitudinally more rigid insofar as thickness-to-thickness when comapred to it's comparable counterparts, while giving up some torsional rigidity. This type of technique is used for panels or pieces where torsional forces are not as high or present at all.
This method finds the pieces layered as:
To simplify and lessen the cost I will only be using 4 pieces. Previous panels have proven to be more than rigid enough to support what I intend to use them for.
ME being a Nooblet disclaimer:
I believe that I am using the correct references to orientation and technique . If a Peep sees an error, please feel free to correct me and I will amend the post accordingly.
Here are the 4 pieces to be used.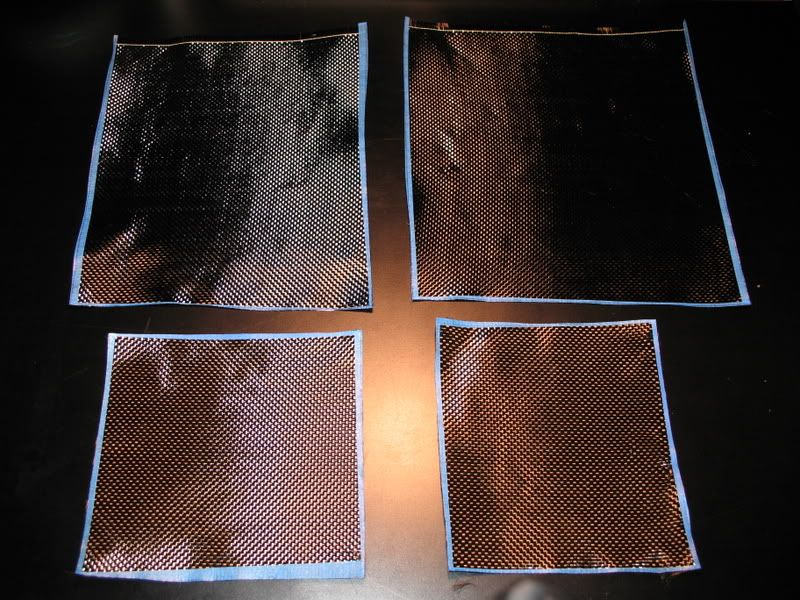 Staggered in rotation to add the previously mentioned rigidity: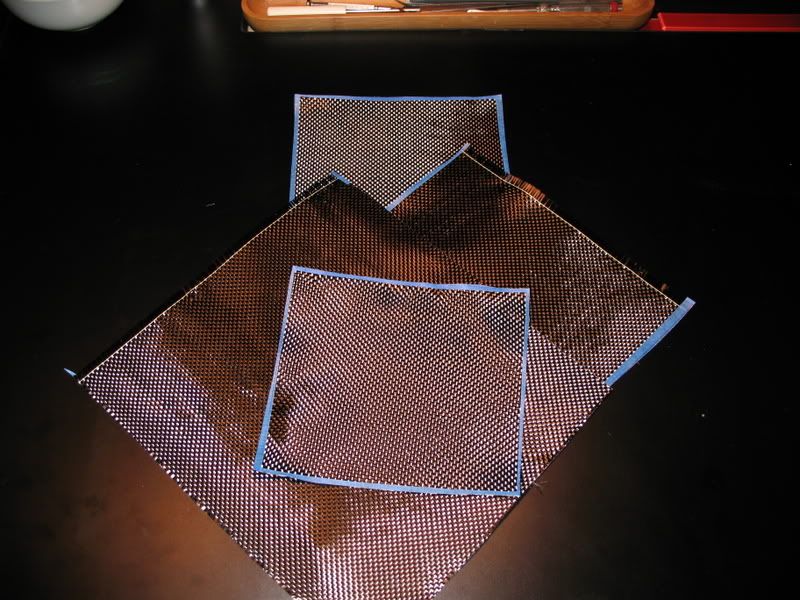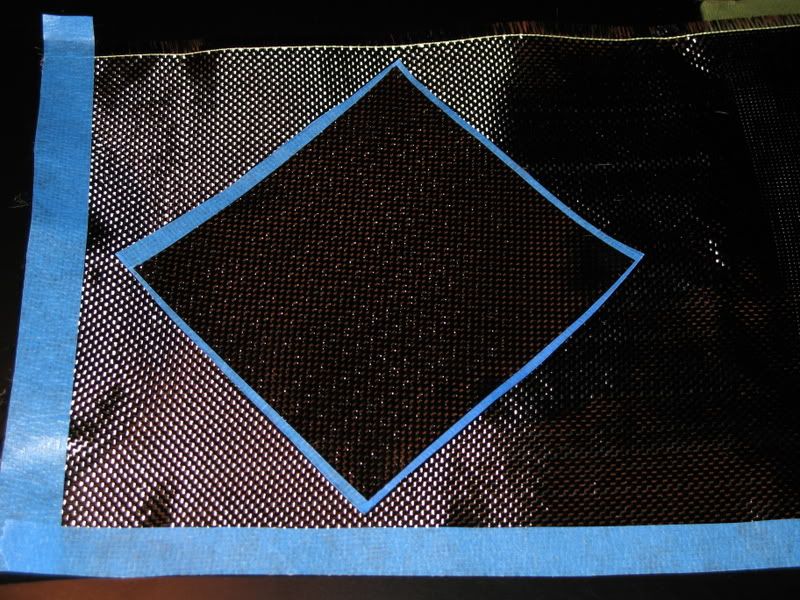 I use Mylar as the bond-breaker.
** Thanks to
justin146
for pointing out that if you use glass as the form, then waxing the glass is required as the bond breaker.
Showing the intended layout: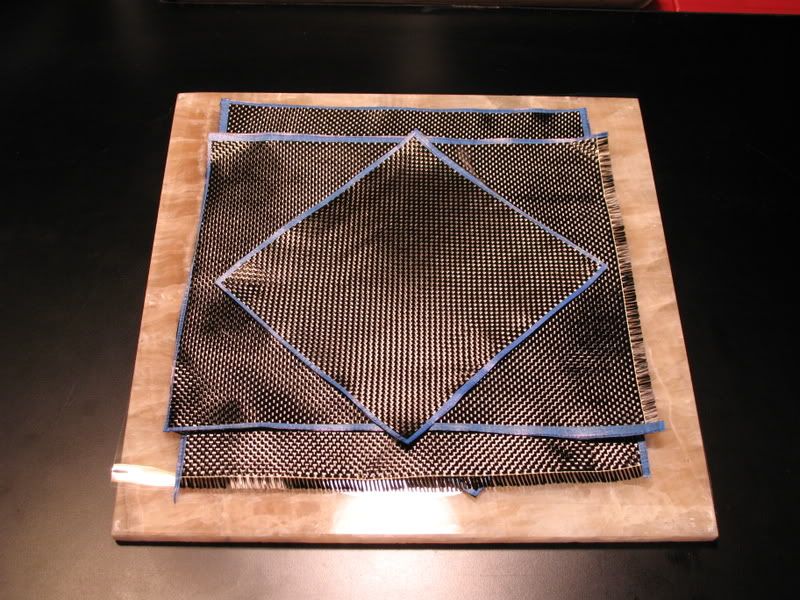 Fabrication
Mix only enough epoxy for the job. Different types of epoxies have different pot-lifes, so make sure you read the insutructions on the container
Epoxy mixtures come in a number of varieties. Please read the instruction for the appropriate percentages.
Completely saturate each layer.
Ensure all air bubbles are removed.
Use a spreader or stiff squegee to to accomplish the previous two points.
Use a clean spreader to get all the air bubbles out of the top piece of Mylar prior to placing the top form on the pieces.
Keeping a few extra small pieces off to the side is a good way to use the excess Resin that is mixed. The panels are not always as clean, but they are good for smaller projects or where cosmetics take a backseat to performance.
At this point I moved outside. I needed to make the panel quickly as I did not want to encapsulate any crap or dust in the panel.
All slathered up, layered and ready for the top form and weights.
Points:
All air bubbles need to removed.
Total saturation is a must
Do not let the epoxy pool around the edges.
Note: I realize that there will be some waste (visible poking out), but I plan to retain the pieces that I cut off if they can be used for smaller panels or support pieces.
All weighted down: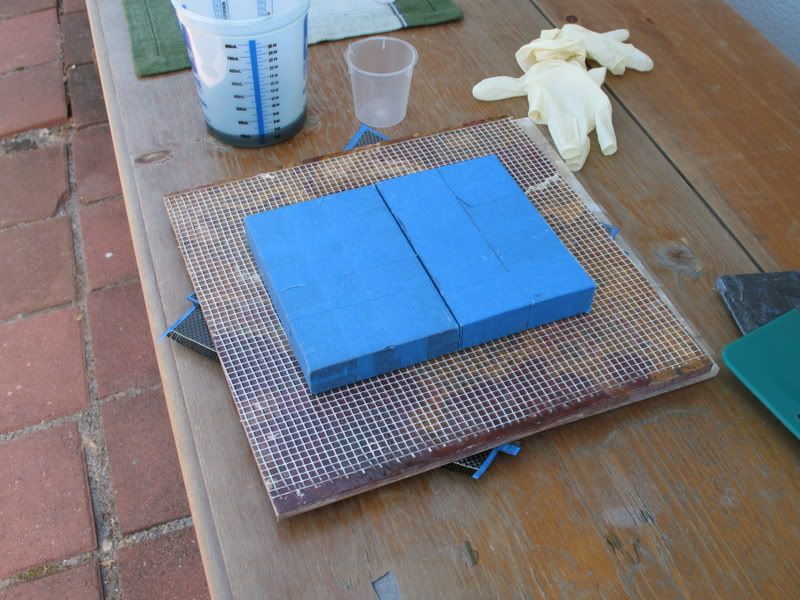 Now I let that sit overnight.
I will update this thread tomorrow or Monday.
Additional updates and experiments will be included as I plan to mess around with mixing CF and some other materials.
Edited by Syrillian - 4/23/09 at 5:24am
CPU
Motherboard
Graphics
RAM
i7 2600K
GA-P67A-UD7
GTX 580
2 x 2GB Corsair
Hard Drive
Optical Drive
OS
Monitor
C300 (OS), Velociraptor (storage)
Lite-On
W7 64-bit Pro
Samsung 275T
Keyboard
Power
Case
Mouse
Black Widow Ult.
Silverstone DA750
Lian Li T60
R.A.T. 7
Mouse Pad
Q-Pad
View all
hide details
CPU
Motherboard
Graphics
RAM
i7 2600K
GA-P67A-UD7
GTX 580
2 x 2GB Corsair
Hard Drive
Optical Drive
OS
Monitor
C300 (OS), Velociraptor (storage)
Lite-On
W7 64-bit Pro
Samsung 275T
Keyboard
Power
Case
Mouse
Black Widow Ult.
Silverstone DA750
Lian Li T60
R.A.T. 7
Mouse Pad
Q-Pad
View all
hide details