Hey Guys im having a few issues with my computer under a few os's (vista ultimate x64 and xp pro)
Firstly i recently re cable managed my system(see in pic) when i added a second Gts 640 to the mix.
First issue:
Systems switches off when playing games just as if ive hit the wall socket switch. then powers back up a minute or two later. Dont think its a power issue (see power supply in sig) any ideas?
Second issue:
i cant boot into vista 64 without bsod. just wont boot into it at all and that is with 2gb of ram taken out (to eliminate the possible 4gb of ram bsod)
i installed vista with my processor set at stock and 2gb of ram at 800. I then set it to the settings which are solid in xp 3.2Ghz and ram at 1066 correct volts etc and it just will not boot without a bsod.
The system is a dual boot setup btw.
heres a picture of the system so that you can see the fan layout etc
Rep+ will be given for good informative help.thanks guys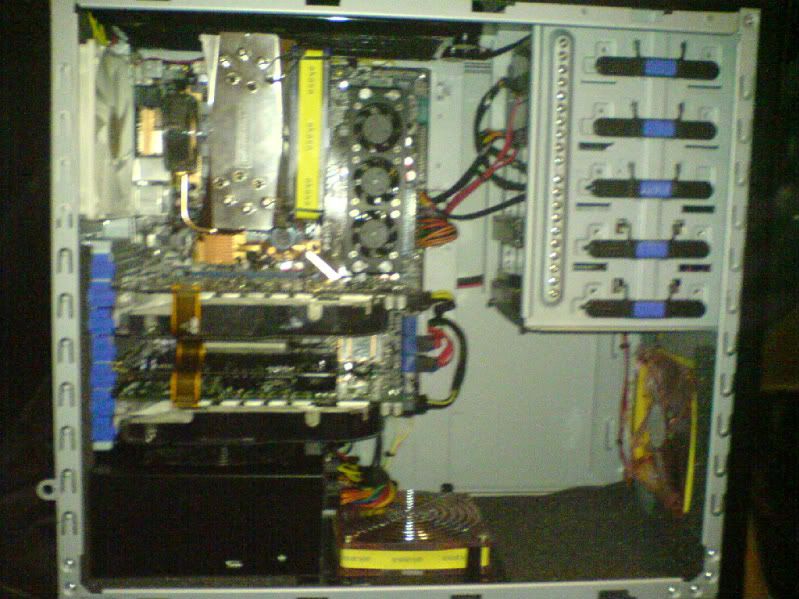 CPU
Motherboard
Graphics
RAM
Core 2 Quad Q6600 @3.2Ghz
Asus P5N-T Deluxe
2x BFG 8800GTS 640 SLi
4GB Crucial Ballistix Tracer Pc8500
Hard Drive
OS
Monitor
Power
750GB
Xp Pro/Vista x64 Ultimate dual boot
19" Philips Widescreen
750w Silverstone Modular
Case
Cm690 Dominator
View all
hide details
CPU
Motherboard
Graphics
RAM
Core 2 Quad Q6600 @3.2Ghz
Asus P5N-T Deluxe
2x BFG 8800GTS 640 SLi
4GB Crucial Ballistix Tracer Pc8500
Hard Drive
OS
Monitor
Power
750GB
Xp Pro/Vista x64 Ultimate dual boot
19" Philips Widescreen
750w Silverstone Modular
Case
Cm690 Dominator
View all
hide details