This is a ridiculous way of cooling my Dell Inspiron 9100 notebook, but it also makes use of a spare power supply that I had lying around.

First off, if you're curious on how to use a power supply without a motherboard, go to this thread or visit my youtube video.
I used six 120mm fans and stacked them up on two rows.
To connect them, I used zip ties. However, the zip ties I had were not long enough to lock in place. So I used a glue gun to hold it. This way it is easy to replace them for future use.
It doesn't get much simpler than that. I could only use five out of the six because my old power supply has five molex connectors.
I did notice a drop of around 3C on all temperatures, but I was kind of hoping for more. It is a nice conjunction with
my air conditioner duct
.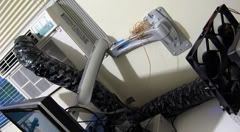 Here is a Youtube link showing the gluing process and the fans in action.
UPDATE
Thanks to JoBlo69's suggestions, I decided to expose the internal components to allow better cooling. However, that would mean I would have no keyboard and mouse. That's no problem since I use external ones.
I've seen a drop of 5C without air conditioning, but a drop of 10C with air conditioning. My hard drive has had the biggest benefit with it staying at 29C.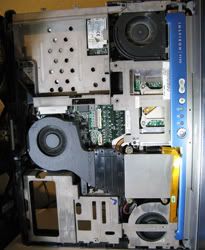 Edited by Cerbera - 5/10/08 at 8:09pm
CPU
Motherboard
Graphics
RAM
Pentium 4 3.2GHZ
Dell 0W1450
Radeon 9700 128MB
2 GB Samsung PC3200
Hard Drive
OS
Monitor
Mouse
100GB Hitachi Travelstar
Windows XP Pro
15.4" WXGA
Logitech MX1000
Mouse Pad
Xtracpads Ripper XL
View all
hide details
CPU
Motherboard
Graphics
RAM
Pentium 4 3.2GHZ
Dell 0W1450
Radeon 9700 128MB
2 GB Samsung PC3200
Hard Drive
OS
Monitor
Mouse
100GB Hitachi Travelstar
Windows XP Pro
15.4" WXGA
Logitech MX1000
Mouse Pad
Xtracpads Ripper XL
View all
hide details