Lots of pictures.
Quote:
know, we've probably been all Eee'd out for a few months; well, at least until Atom gets here. But there was this niggling itch to break stuff, and it was sitting there, and this is bit-tech after all...

Where can we find that extra 16GB of SSD storage? Is there anything new inside? (And sometime later) Can we put it back together?

Essentially, no... or at least, that's the answer for the first two questions.

The main PCB is pretty much identical as the Eee PC 700. The only thing new is that the mobile PCI-Express socket is now used with a 16GB SSD module expanding the drive space. We've used this space to hack extra storage into the original Eee PC 700 in the past.

Given that the screen is bigger, the speakers have also moved into the base of the unit, so instead of getting stereo sound towards your face it's forced into the desk or your lap instead - it's not ideal, but an acceptable sacrifice given the extra screen real estate.

Anyway, here's some hot naked shots for you all to enjoy. Pwor!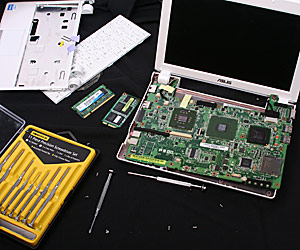 Source