As some of you know, I recently bought a couple hundred TECs. Heres me playing around with one of them.
Using this setup at the moment, 650w server PSU which I had to mod in a molex connector. Works great, but the twin 40mm fans are LOUD.
Power usage
Sadly it only draws about 45-50w (PSU by itself pulls almost 20). However...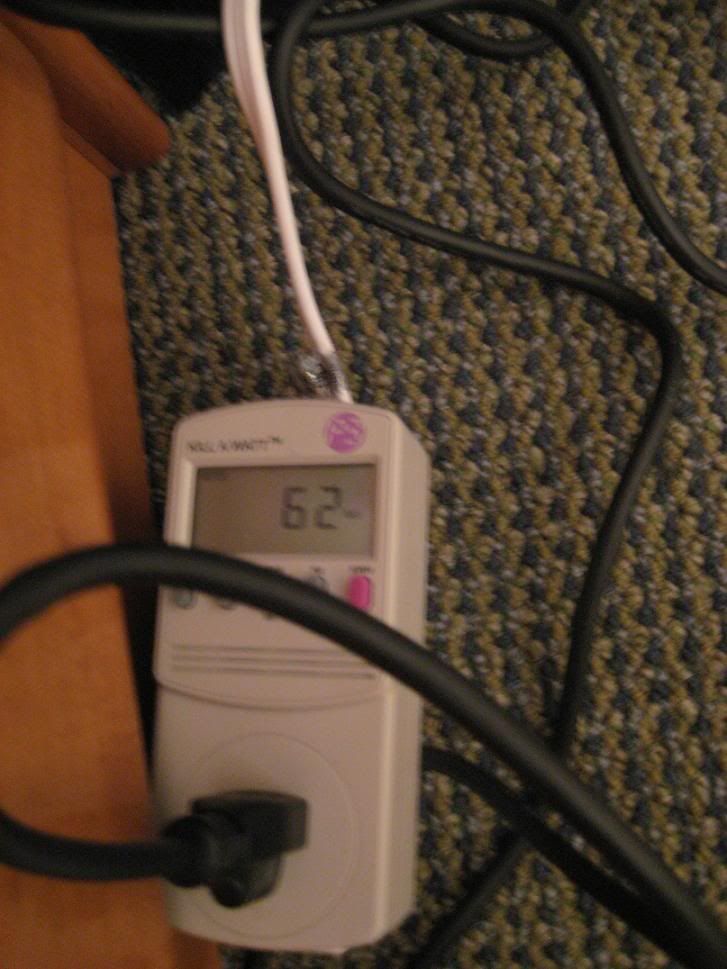 ...It can still freeze a small amount of water. This mounting setup only has a center center of maybe 8mm radius contacting the plate I use to cool. A better mounting system should show better results. Notice how close the hot side comes to not fitting.
Lastly, just a shot showing how it's mounted.
Any comments, suggestions? I want to buy higher powered TECs and do the same thing as I have here. I also need a better cold side mounting plate. Any ideas or product suggestions would be GREAT.
CPU
Graphics
RAM
Hard Drive
Core i5 2410M
HD 3000
8GB
120GB SSD
Optical Drive
OS
OS
OS
Super Drive
OSX 10.7.2
Win 7 Enterprise (In VB)
Ubuntu 10.04 (In VB)
Monitor
Power
13" 1280x800
65w Magsafe
View all
CPU
Motherboard
RAM
Hard Drive
Q9300
Gigabyte P35
8GB DDR2
2TB WD
Hard Drive
Hard Drive
Hard Drive
Hard Drive
2TB WD
2TB Seagate
1.5TB Seagate
1.5TB Seagate
Hard Drive
Hard Drive
Hard Drive
Optical Drive
1TB Hitachi
1TB Hitachi
500GB WD
DVD-RW
OS
Monitor
Keyboard
Power
Win Server 2012
Headless/15" touchscreen
Apple mini USB
PC P&C 500W
View all
hide details
CPU
Graphics
RAM
Hard Drive
Core i5 2410M
HD 3000
8GB
120GB SSD
Optical Drive
OS
OS
OS
Super Drive
OSX 10.7.2
Win 7 Enterprise (In VB)
Ubuntu 10.04 (In VB)
Monitor
Power
13" 1280x800
65w Magsafe
View all
CPU
Motherboard
RAM
Hard Drive
Q9300
Gigabyte P35
8GB DDR2
2TB WD
Hard Drive
Hard Drive
Hard Drive
Hard Drive
2TB WD
2TB Seagate
1.5TB Seagate
1.5TB Seagate
Hard Drive
Hard Drive
Hard Drive
Optical Drive
1TB Hitachi
1TB Hitachi
500GB WD
DVD-RW
OS
Monitor
Keyboard
Power
Win Server 2012
Headless/15" touchscreen
Apple mini USB
PC P&C 500W
View all
hide details