Quote:
Originally Posted by
alk
I think nintendo has got it almost perfect with the Wii. In essence they have done what Apple has managed to do, and created a desireable, unique product (White casing is probably just coincidence!). Not only this, but alot of the Wii's popularity is by word of mouth rather than advertising. Because it's such a multiplayer intensive experience, it get's people talking, which is a far more powerful advertising medium than any TV commercial, billboard, web banner, or magazine ad.

Think about it. Someone comes up to you and starts talking to you about how much fun their Wii is. You may even play someone elses Wii. It's not coming from the mouth of some salesman, or advertiser. It's from one peer to another.
The perfect comic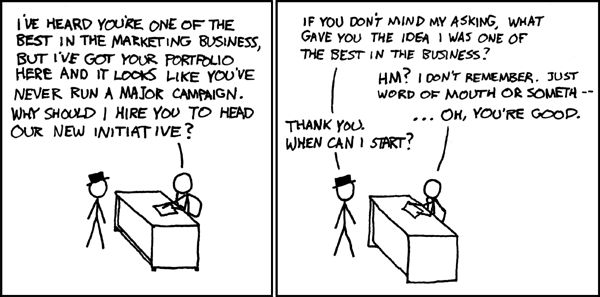 CPU
Motherboard
Graphics
RAM
Q6700
Intel DP45SG
Visiontek HD 4870
2x2GB DDR3 1066
Hard Drive
Optical Drive
OS
Monitor
320 Western Digital + 1TB Black Caviar WD
Samsung Sata
vista ultimate x64/Windows 7 Ultimate 64x
Samsung T220 22 inch
Keyboard
Power
Case
Mouse
Dynex(Temp until G15)
BFG 800 Watt
Antec 900
Logitech G5 Gaming mouse
Mouse Pad
Commando(none)
View all
hide details
CPU
Motherboard
Graphics
RAM
Q6700
Intel DP45SG
Visiontek HD 4870
2x2GB DDR3 1066
Hard Drive
Optical Drive
OS
Monitor
320 Western Digital + 1TB Black Caviar WD
Samsung Sata
vista ultimate x64/Windows 7 Ultimate 64x
Samsung T220 22 inch
Keyboard
Power
Case
Mouse
Dynex(Temp until G15)
BFG 800 Watt
Antec 900
Logitech G5 Gaming mouse
Mouse Pad
Commando(none)
View all
hide details