After just killing the last North Korean with a chain gun and power suit in crysis my heart skipped. I saw off in the distance a little squiggly red line. I quickly tried to stop the game before it was too late. More and more of these red and purple squiggly lines kept popping up. No! I had just spent forever killing those annoying North Korean and didn't save it and now my damn GPU was giving out on me? I mean I've been dealing with this darn loud ass noise for ages and now at 100% the fan cannot keep it cool enough for me?
Enough was enough....
I went went and talked to my good friend Aspire.comptech (of
www.tech-forums.net/pc
) and he recommend a few and then I looked in my wallet and saw that I had no monies.
So I went with the cheap solution that I heard was at least better then the stock cooler.
Arctic Cooling Accelero S1 Rev2
So I ordered off of
www.PetrasTechShop.com
http://www.petrastechshop.com/accoacs1re2.html
Took a week to get to my house -_-
And then I came home and was like "z**** a box!!!†I started skipping around the house in excitement.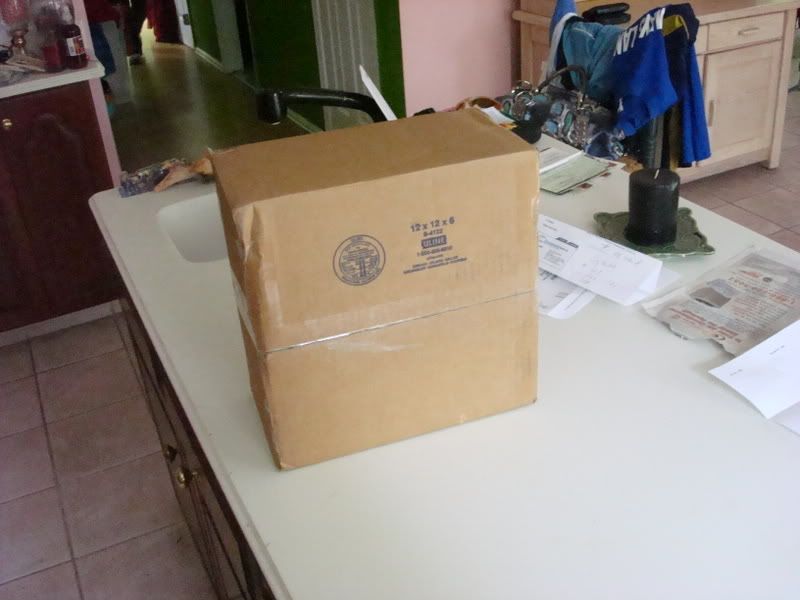 Tore that thing open.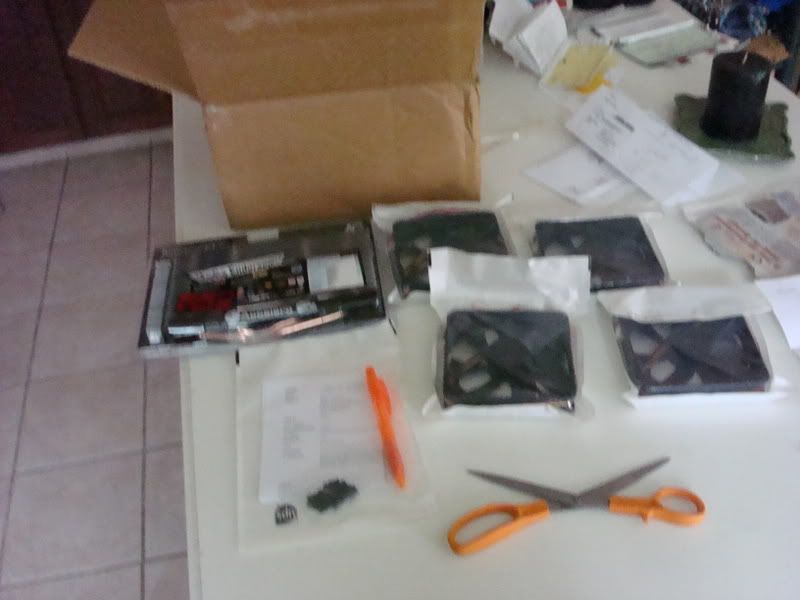 I also ordered 4 fans for my new case (I am using my older case atm since I am getting my case painted by zerodayatk (he is the expert/his dad)(I'll get some pics of that in another thread btw when it's done))
1 of those fans might go on the heatsink later but not atm.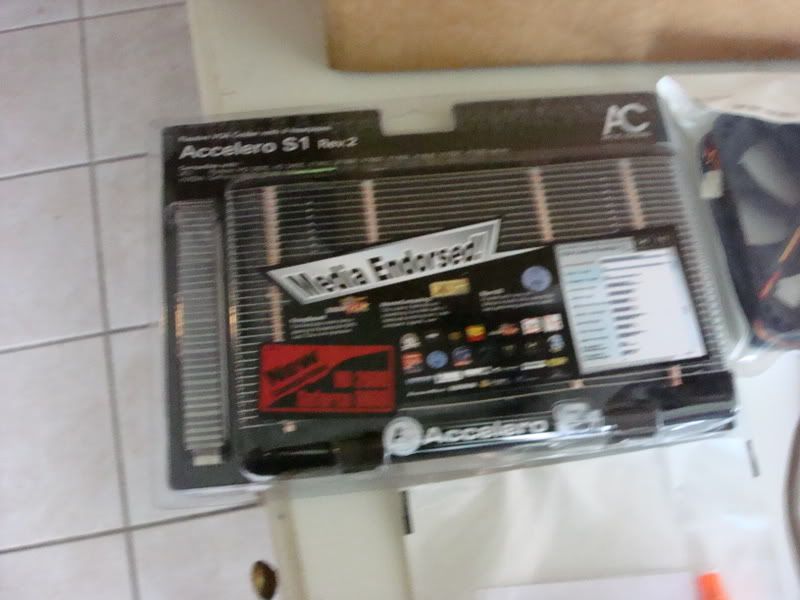 A nice little box... makes it look cheap imo though.
Well here is the stock cooler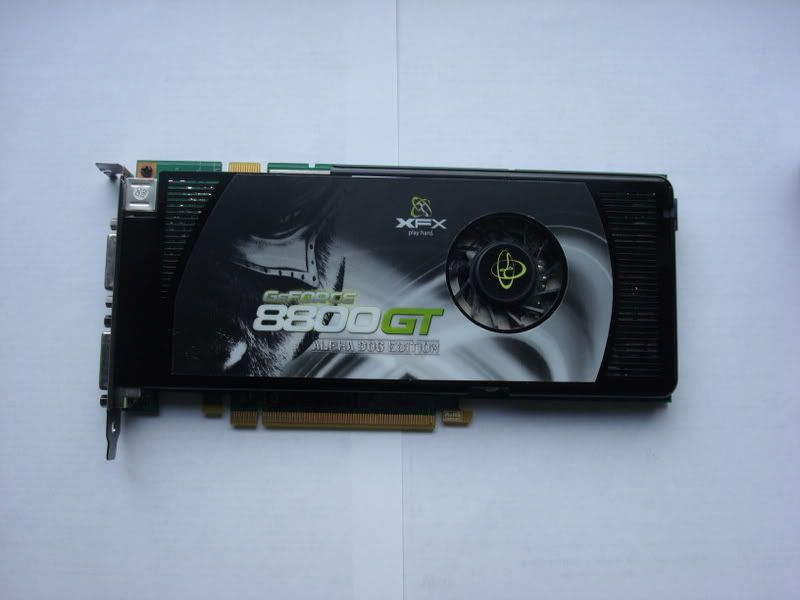 Very pretty, Nice design, I love the green and black....
But srsly... no ****, I don't want 80C's at 100% fan speed EVEN if there is crappy airflow in this case while playing crysis. This is from my understanding the OLDER stock cooling for the 8800 gt, which means that it performs horrible. So yay.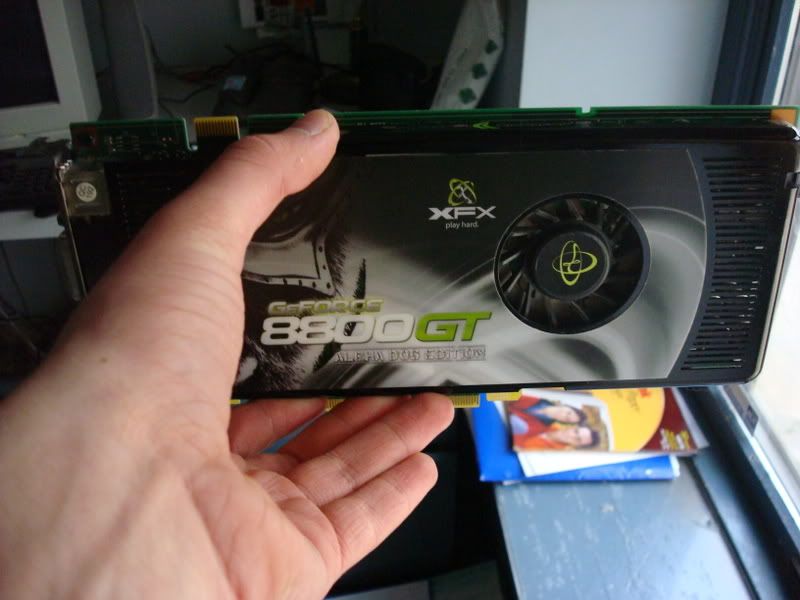 Ya ya, sexy who cares. I WANT COOLER TEMPS WITH SILENCE!
So ya now I look for a screwdriver... I tried some regular screwdrivers and I couldn't find any small enough... So I spent like a few mins looking around and I found these.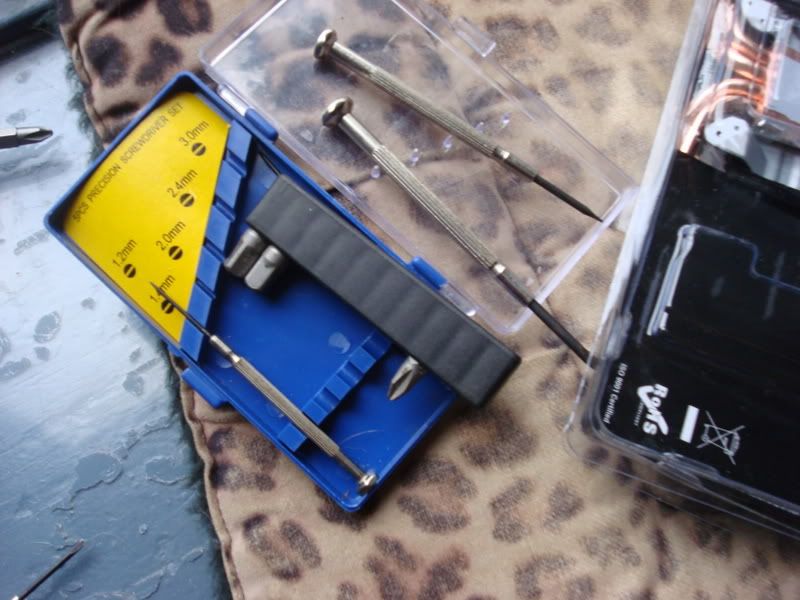 Don't work... I need those X- sized screwdrivers for these screwz... grrr
So after much frustration I looked in my basement and next to an old refrigerator that we used to keep beer in until my mom had my sister I think (ZOMG... idea for cooling! Later though) I found these!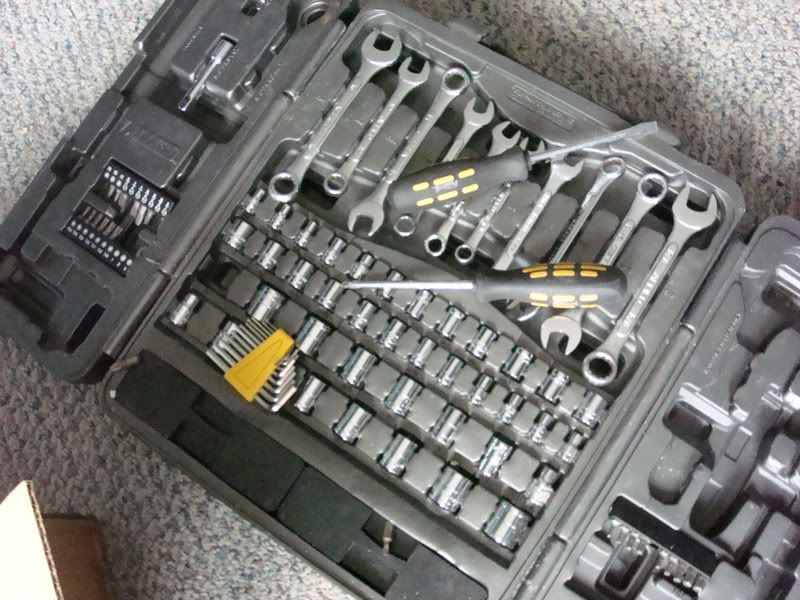 YAY! Finally get it unscrewd with this small ass thing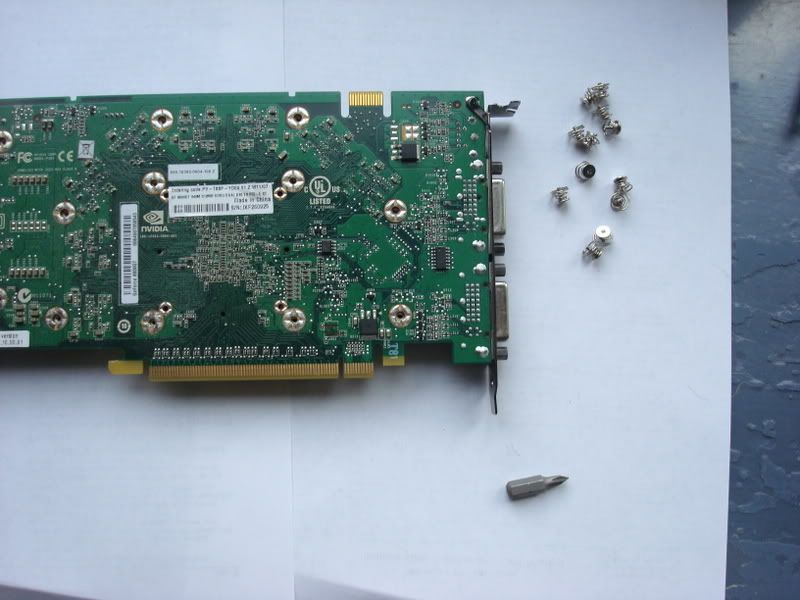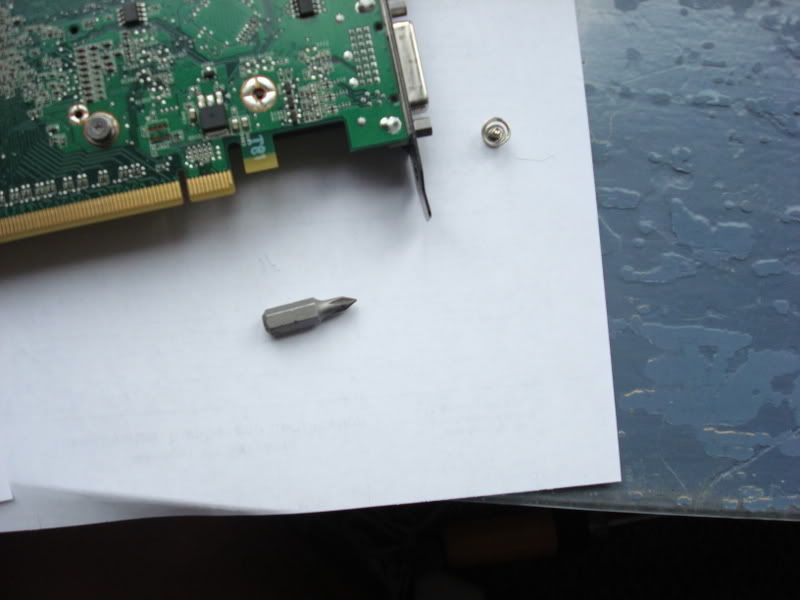 Yay no screws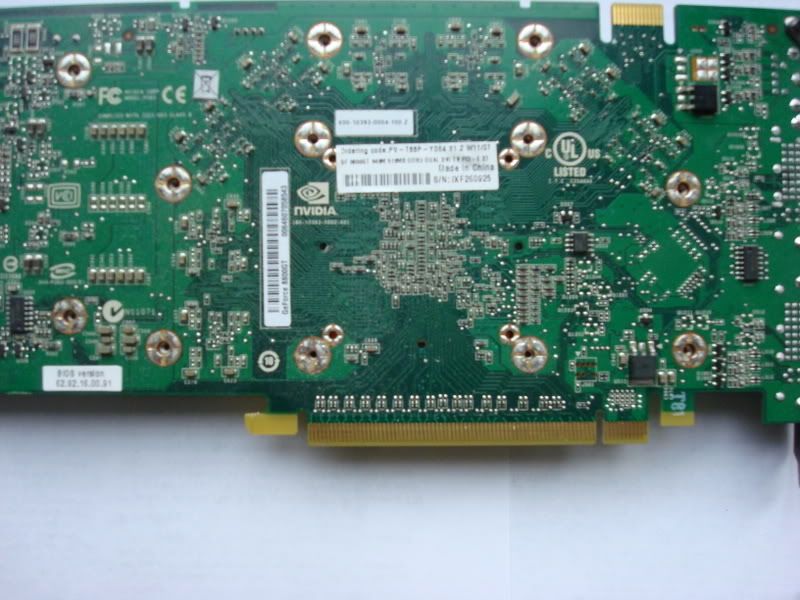 Pop that open and admire the crappy job...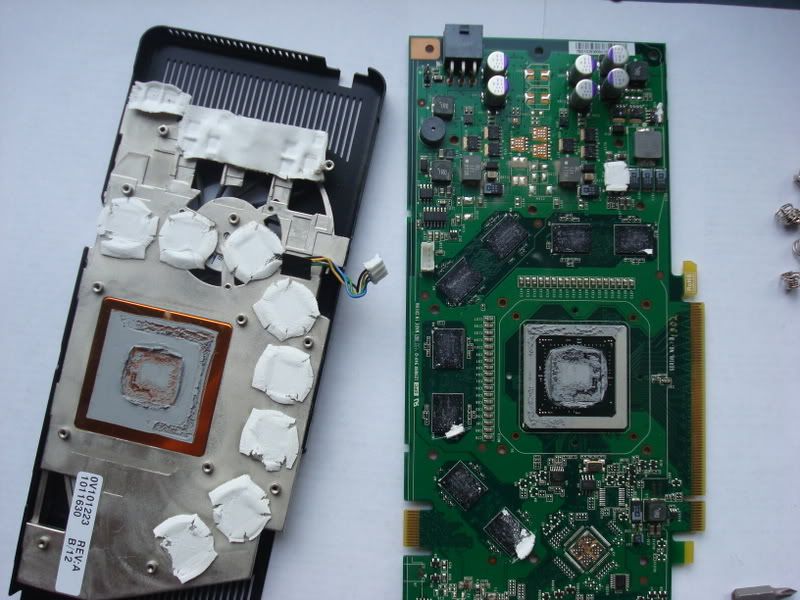 INSERT IDIOT PART HERE
I started reading the directions on how to install, I got lazy, and I just did my own thing basically. This cost me...
I just took the thermal tape from my old stock fan and threw it on the ram heatsinks. But I did take the time to clean them off first even though that does not matter AT ALL!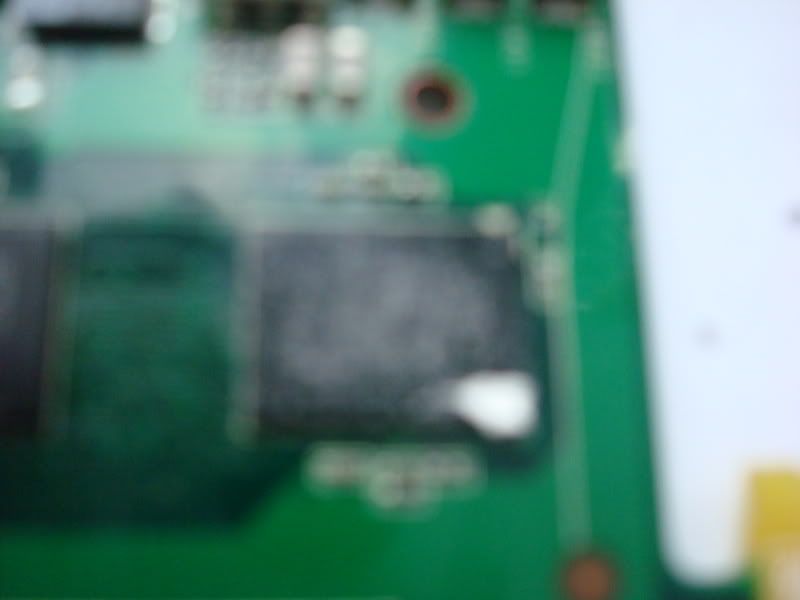 Blurry I know... BEFORE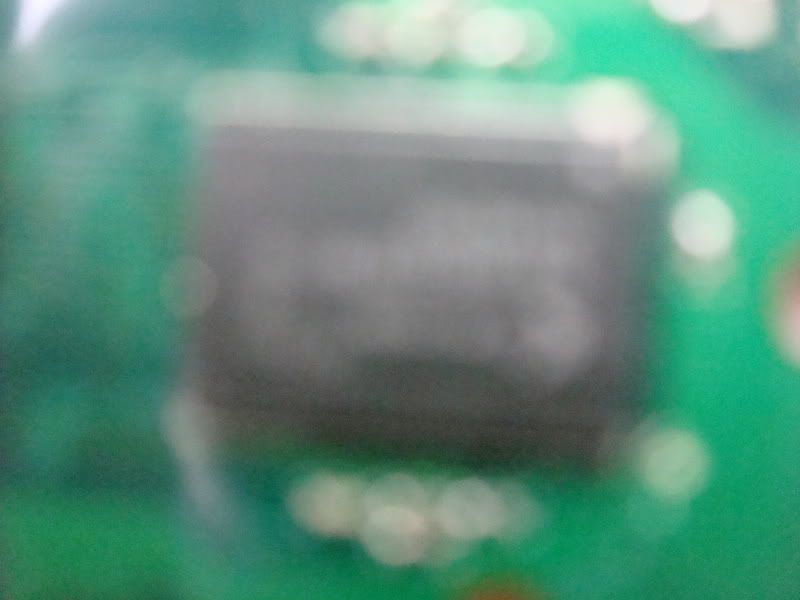 AFTER
grr, Bad camera man sorry.
Please don't laugh...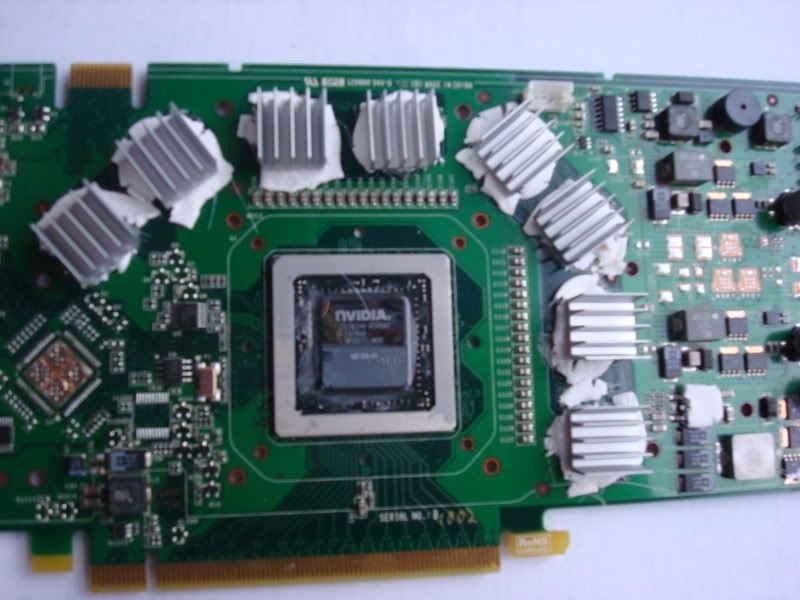 It seemed to work... until I lifted the card up and heatsinks started falling off.....
So after some work I got it to work and now it looks like this and they stick pretty well... I used some tx-1 and it seems to be working but I'm going to get some adhesive **** off of newegg when I get the time...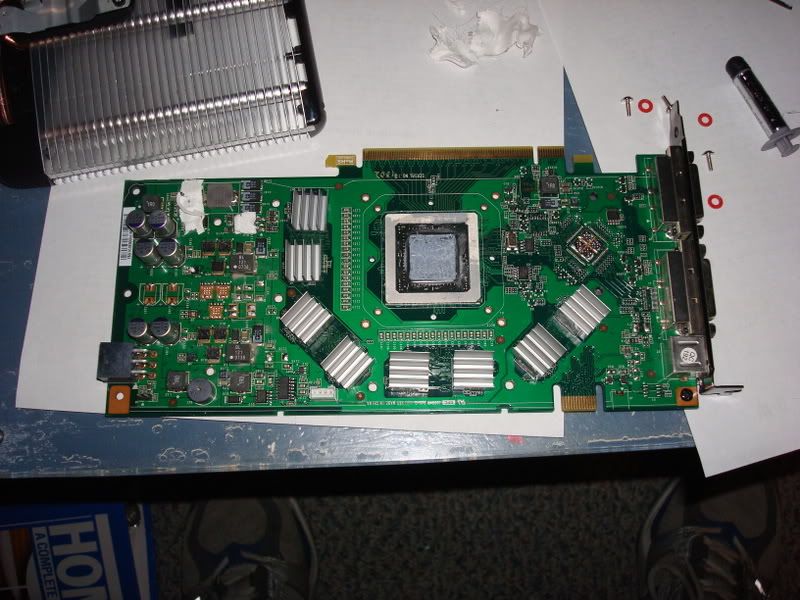 So here is the Accelero with the pre-paste on it... looks pretty hawt.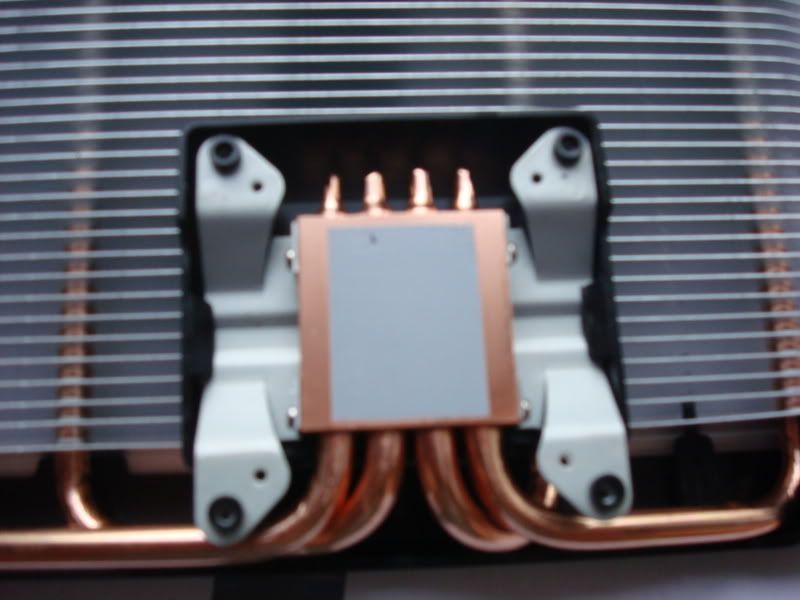 You have to measure the gpu for some reason... but I looked at how it's installed and It didn't make sense to me so I just used this for giggles and ****z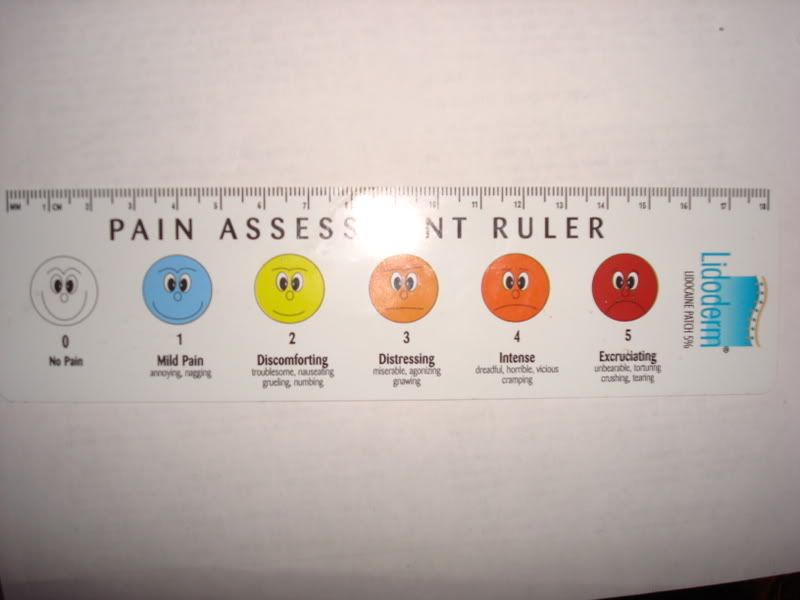 Now I'm ready!
LIFTS!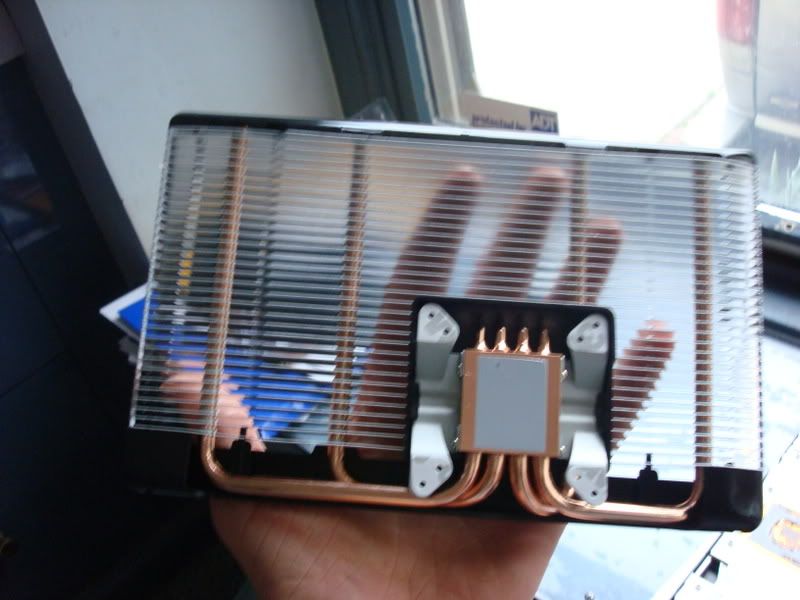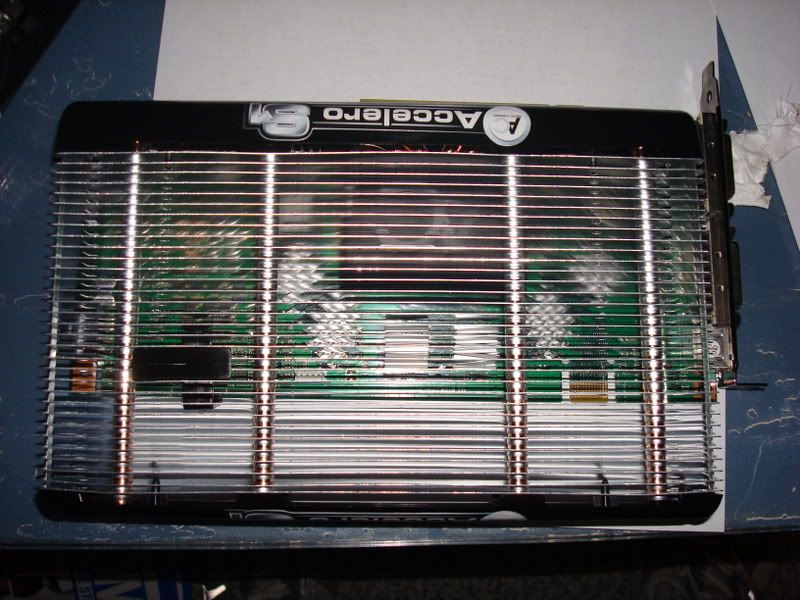 SMACK!
And we have attachment! But wait!?! Gay little black clippys? Oh well this is just freaking great... *Tinker tinker* Ok now I got 1 attached but the other won't fit and I don't see the purpose in them anyways so 1 will do.
Lets throw it in the case!
This is my old case once again and it easily fit inside of it...So no problems there...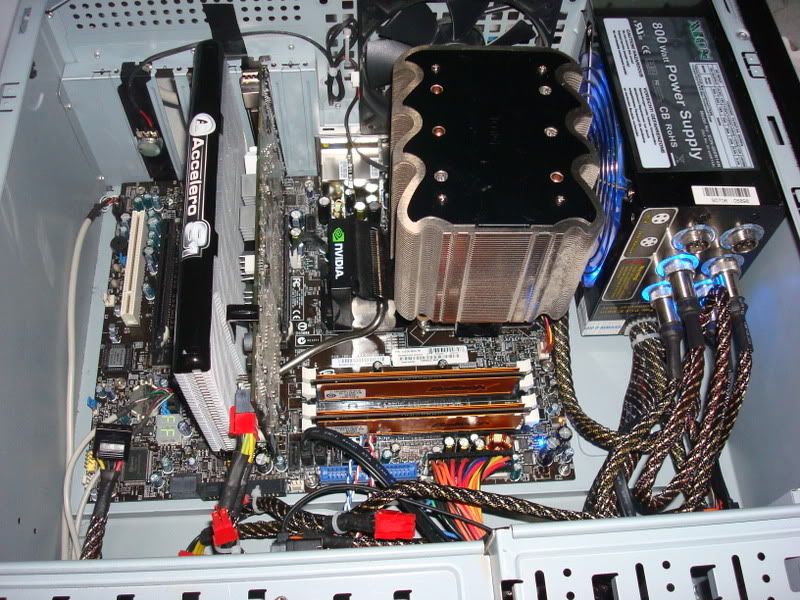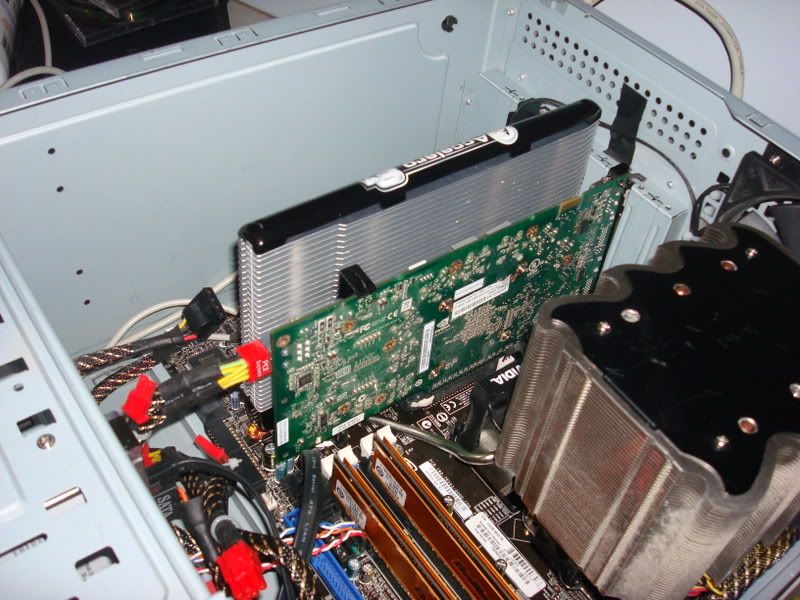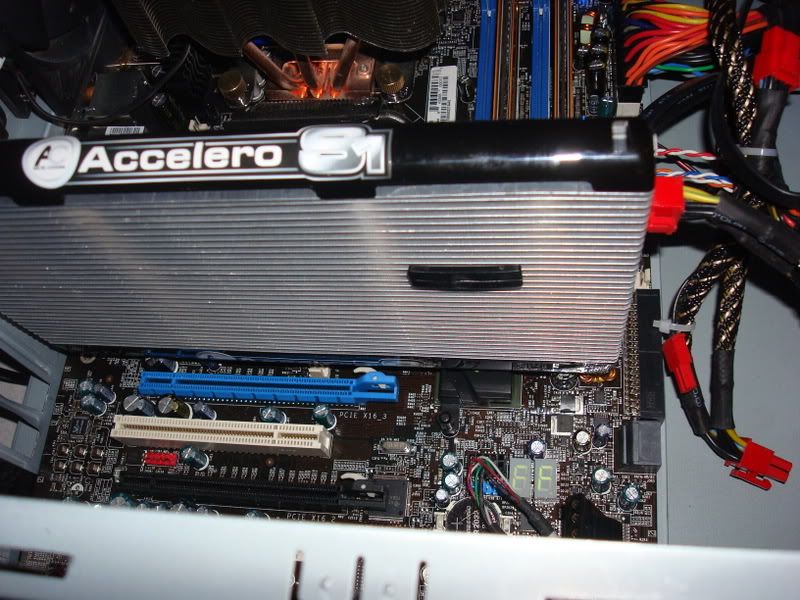 Looks kind of sexy from this view.... hmm. Looks like a grill too...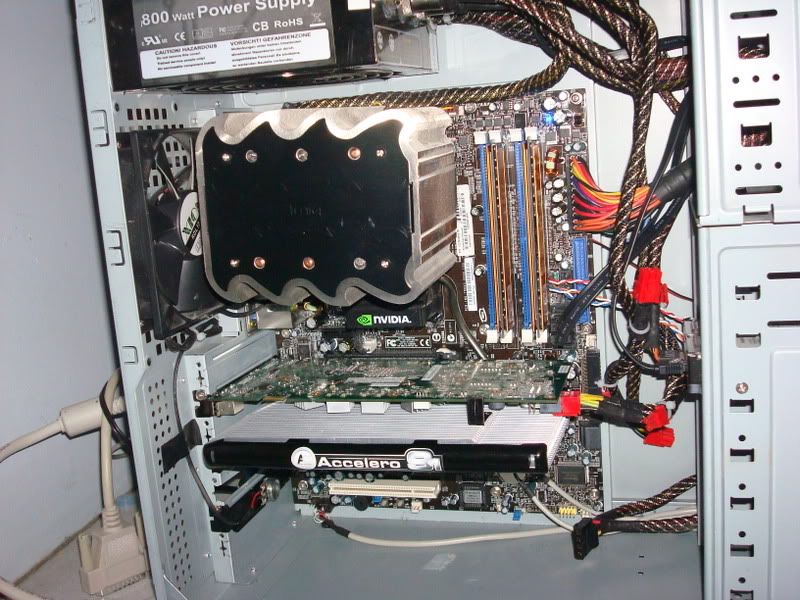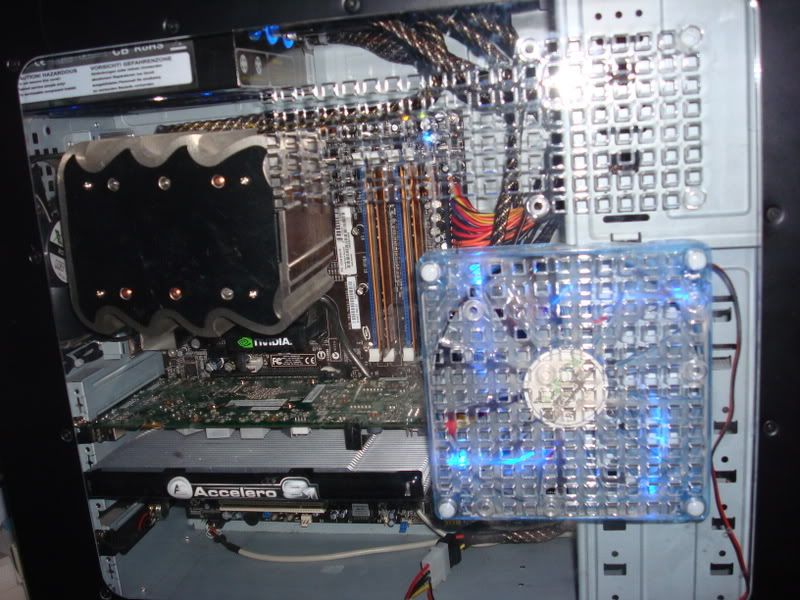 My fan is there because thats the only way I can get it on and have the tuniq at the same itme and I didn't feel like taking the fan off so I just put it there... I think it messes up airflow though but as this case is going to be gone soon IDC!.
From the results I got when I booted up... I did not hear a single thing... I thought I broke something, it is really THAT SILENT! Very impressive... 0 DBA is True!
Then after getting into windows what do I see? 39C IDLE?!??! ***???
I didn't believe it so I waited a while and then it went up to 43C... but thats with this crappy case and airflow AND! No fan attached to it yet . That is a 10-12C drop from my other temps... With no loud "BERRRRRRRRR†going in the background.... ****, very impressive for $30 (You can get these for $25 if you look around)
I ran 3dmark03 for fun and Temps were at 50C after test was done...
Just as a comparison... Last time I ran 3dmark03 with stock cooler and had it at 60%.... I got artifacts right before the cpu tests.... At around 670/1000 I think it was...
I ran 3dmark06, and scored 13,300 about with everything at stock... Didn't take a screenshot as it was late, but I will return with one!
My temps never went above 51C while running it btw.
STILL COMPLETLY SILENT!
I'll be back with some results once I get some time, then I will give you results with a fan attached to it...
It seems to be pretty good, although I was cursing because of my stupidity over the ram heatsinks.... which still continues.
I would say for Price and performance... This heatsink needs a 10/10...
Installation/Quality of parts? like 6/10... god it was painful. And those heatsinks (even when done correctly) hardly EVER stay on according to many people who own this.
Also does not come with voltage regulator heatsinks...According to them it is not needed, but according to all 8800 gt manufactures it IS needed because they put thermal tape on . Also the plastic clippys were gay, and took a while... I kept lawling at male and female part
IF YOU ARE UNSATISFIED WITH YOUR STOCK COOLER ON
ATI:
Radeon HD 38xx series, 36xx series, 2600, 2400, X1950, X1900, X1800, X1650, X1600, X1550, X1300 series
nVIDIA:
GeForce 9600 GT, 8800GTS(G92), 8800GT, 8600, 8500, 8400, 7950GT, 7900, 7800, 7600, 7300, 6800, 6600 series (except 7X00 GS AG
I recommend this!
FYI: For the some of the ATI cards they have voltage regulator heatinks that come with this... They apparently do need it. I heard installiton was also very hard with the 38XX series because of the Ram placements, so beware! Still works though.
CPU
Motherboard
Graphics
RAM
[Lapped]Q6600 G0 @ 3.7Ghz (410x9 w/1.475v)
Asus P5E X38 (RF 0803)
GTX460 768MB @ 880/1760/2000
2x2GB OCZ Reapers 1066
Hard Drive
Hard Drive
Optical Drive
OS
Crucial M4 128GB for OS
2x WD Black 1TB
LightScribe Dvd-Rw
Win7 Ultimate x64
Monitor
Keyboard
Power
Case
24" LG LCD
Logitech G11
Xion 800W
Aurora 570
Mouse
Mouse Pad
razer diamondback 3g
Steel Series Pad
View all
hide details
CPU
Motherboard
Graphics
RAM
[Lapped]Q6600 G0 @ 3.7Ghz (410x9 w/1.475v)
Asus P5E X38 (RF 0803)
GTX460 768MB @ 880/1760/2000
2x2GB OCZ Reapers 1066
Hard Drive
Hard Drive
Optical Drive
OS
Crucial M4 128GB for OS
2x WD Black 1TB
LightScribe Dvd-Rw
Win7 Ultimate x64
Monitor
Keyboard
Power
Case
24" LG LCD
Logitech G11
Xion 800W
Aurora 570
Mouse
Mouse Pad
razer diamondback 3g
Steel Series Pad
View all
hide details