Quote:
Samsung company released a new monitors series : touch of color (TOC). Currently there are are four models: Samsung T190, T220, T240 and T260.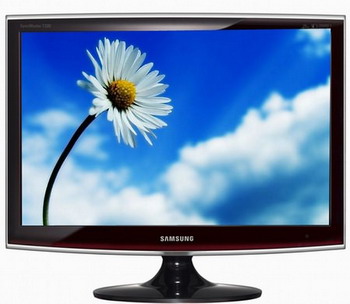 Those monitor are characterized by high performance and new original design.

TOC monitors support multi-monitor configuration , they are equipped with soft-Power function . As improvement in the picture quality and dynamic contrast value we have (Magic-Bright dynamic contrast) up to 20000:1.

The monitors models T190 (19 inch), T220 (22 inch) have a response time equal to 2 ms, while T240 (24 inch), T260 (26 inch) have 5 ms. Last two monitors support also HDMI connection and have approximately up to 50% lower energy consumption (than analogs).

Samsung T260):
Screen Resolution : 1920 x 1200 points (as in T240)
Brightness: 300
Viewing angles: 170°/150°
VGA D -Sub, DVI- D with HDCP, HDMI
Energy consumption: 60 W
Overall sizes: 610 x 502,5 x 245 mm

Samsung t220 cost ($359) and T190 cost ($259) , both models are already available , T240 (499) and T260 ($599) will appear in the end of July.

http://xtreview.com/addcomment-id-50...-and-T260.html

They look nice.