Quote:
Recently , intel presented the dual core processors core 2 Duo e8300 (2.83 GHz), equipped with 6 MB cache in the second level and produced on 45 nm technology. In this case Core 2 Duo e8300 (2.83 GHz) occupied the place between Core 2 Duo e8190 (2.66 GHz) and Core 2 Duo e8400 (3.0 GHz), its wholesale price was equal to $163.

The recent update in intel documentation contains references about core 2 Duo e8300 (2.83 GHz) processor marking , which relates to C0 stepping .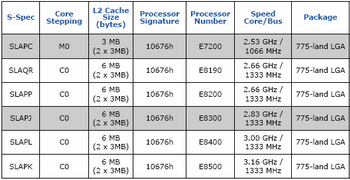 Its belonging with C0 stepping is confirmed by Intel data base .




Note some OEM- version are already available on sale. For example, processor with identical characteristics has the marking form SLAPN: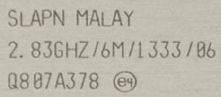 It is possible to assume that this processor is based on more up-to-date C1 stepping.
http://xtreview.com/addcomment-id-50...Duo-e8300.html