Well friends, last night something wonderful happened, a package arrived, and in it, was my new ocz RAM, my sunbeam tuniq tower 120, and finally my Gigabyte GA-P35-DS3L.
My old heatsink scared the crap out of me, my old ram was kinda slow, and my old mobo couldn't overclock if its life depended on it. xD
But i got her all together now, and shes at 2.35 ghz. :3
From a stock speed of 2 ghz, im hoping to get to 3ghz by tonight. 8D
I seem to get the BSOD past 2.4 ghz, this is my first time ocing a intel cpu, i could probably do this all myself, but i know there are some much more experienced then i, and i know you guys will help me out.
Iv'e overclocked before, and i have read lots of guides, but im still not too experienced, so im doing this to make sure i don't screw up. =P
Im going back to default settings, Start me off my friends. Show me the light.
Im on my lappy, so no worries about me leaveing and not coming back. xD
Iv;e done alot of research into my e4400, iv'e seen people get it to 3.3 ghz with about 1.5 vcore, although i couldn't find info about my core limits or temp limits..
Temp: Bios says Its at 36 C, it was at 25 earlier. =P This was the third time installing a cpu heatsink, so im not sure if i need to re seat it.=P
(speaking of lights, how about a pic of my machine?)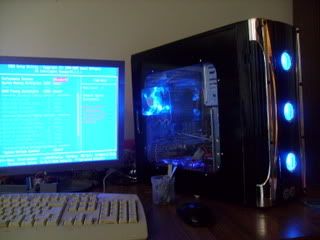 CPU
Motherboard
Graphics
RAM
Intel® Core™ i5 750
Gigabyte P55A-UD4P
2 X Sapphire Radeon HD 5770
G.SKILL F3 2X2GB DDR3-1600
Hard Drive
OS
Keyboard
Power
Western Digital Caviar Black 1TB SATA3
Windows 7 Ultimate (64 BIT)®
Saitek Eclipes
Corsair HX650W Modular
Case
Mouse
Antec Dark Fleet DF-85
G500
View all
hide details
CPU
Motherboard
Graphics
RAM
Intel® Core™ i5 750
Gigabyte P55A-UD4P
2 X Sapphire Radeon HD 5770
G.SKILL F3 2X2GB DDR3-1600
Hard Drive
OS
Keyboard
Power
Western Digital Caviar Black 1TB SATA3
Windows 7 Ultimate (64 BIT)®
Saitek Eclipes
Corsair HX650W Modular
Case
Mouse
Antec Dark Fleet DF-85
G500
View all
hide details