i received my thermochill Pa 120.2 today and there seams to be a problem with the size of the holes.
when i bought it (not from ccl by the way as you dont have them) the info said it needed g3/8 inch fitting which i bought at the same time. indeed these fittings are listed as thermochill fittings.
imagine my suprise when i opened the box to find that the holes in the rad are at least 3/4 inch. all the instructions say i need 3/8 fittings the delivery note says i have them but they nowhere near fit. its hard to tell from the pic but there is a good 3mm gap round all sides.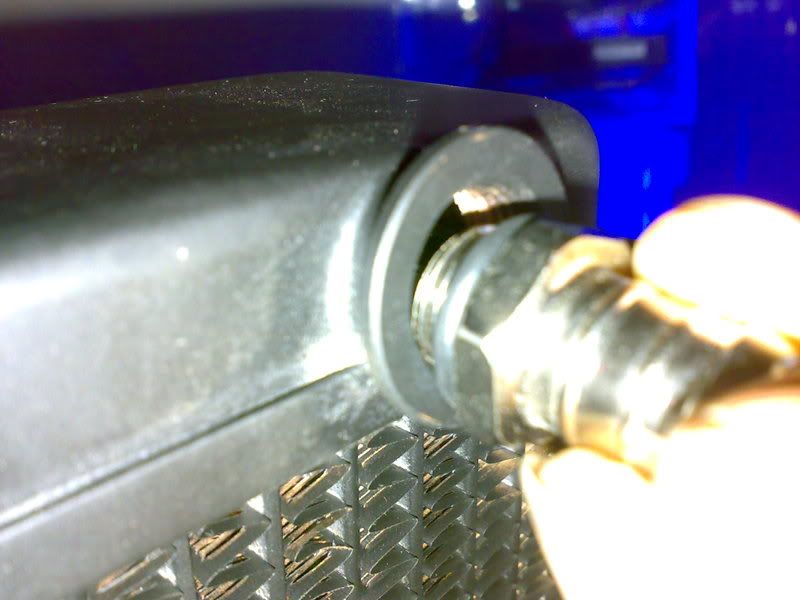 CPU
Motherboard
Graphics
RAM
core 2 duo e6600 @ 3.8 ghz
p5b deluxe wifi
GTX260
4g xms 2 800 mhz
Hard Drive
OS
Monitor
Power
hitachi deathstar250 seagate barrcuda 250
Win7 Ult
yep two o those
hyper type R 600w
Case
Sunbeamtech uv blue
View all
hide details
CPU
Motherboard
Graphics
RAM
core 2 duo e6600 @ 3.8 ghz
p5b deluxe wifi
GTX260
4g xms 2 800 mhz
Hard Drive
OS
Monitor
Power
hitachi deathstar250 seagate barrcuda 250
Win7 Ult
yep two o those
hyper type R 600w
Case
Sunbeamtech uv blue
View all
hide details