i'm collecting the parts for my w/c at the moment. i've had this picture of how i want it to look for a while but i`ve just noticed some thing thats making me think twice.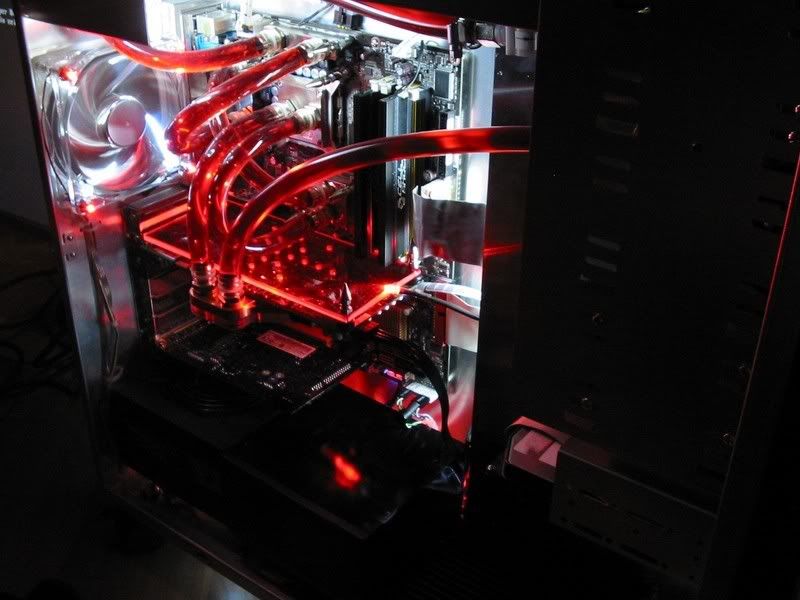 .
this is my muse for this build but i`ve noticed that the prossesor is not first n the loop.
now ok i dont know it all yet but surly this is counter productive to the efficiency of the set up.
by the looks of things the gpu is first in the loop but that would mean that the liquid is going to the hottest part first and carrying that heat round the loop.
i am all for form over function indeed my whole rig is built with that in mind but you can only go so far before she becomes a trailer queen.
i intend to site my rad like so
and would like to get as close to the top pic as possible the pump will be bottom of the case just to the right of the rad (pictured)
CPU
Motherboard
Graphics
RAM
core 2 duo e6600 @ 3.8 ghz
p5b deluxe wifi
GTX260
4g xms 2 800 mhz
Hard Drive
OS
Monitor
Power
hitachi deathstar250 seagate barrcuda 250
Win7 Ult
yep two o those
hyper type R 600w
Case
Sunbeamtech uv blue
View all
hide details
CPU
Motherboard
Graphics
RAM
core 2 duo e6600 @ 3.8 ghz
p5b deluxe wifi
GTX260
4g xms 2 800 mhz
Hard Drive
OS
Monitor
Power
hitachi deathstar250 seagate barrcuda 250
Win7 Ult
yep two o those
hyper type R 600w
Case
Sunbeamtech uv blue
View all
hide details